Login
Log in if you have an account
Dont have an account? Register
Types of Bondage Gear: The Complete Guide
18 Feb 2023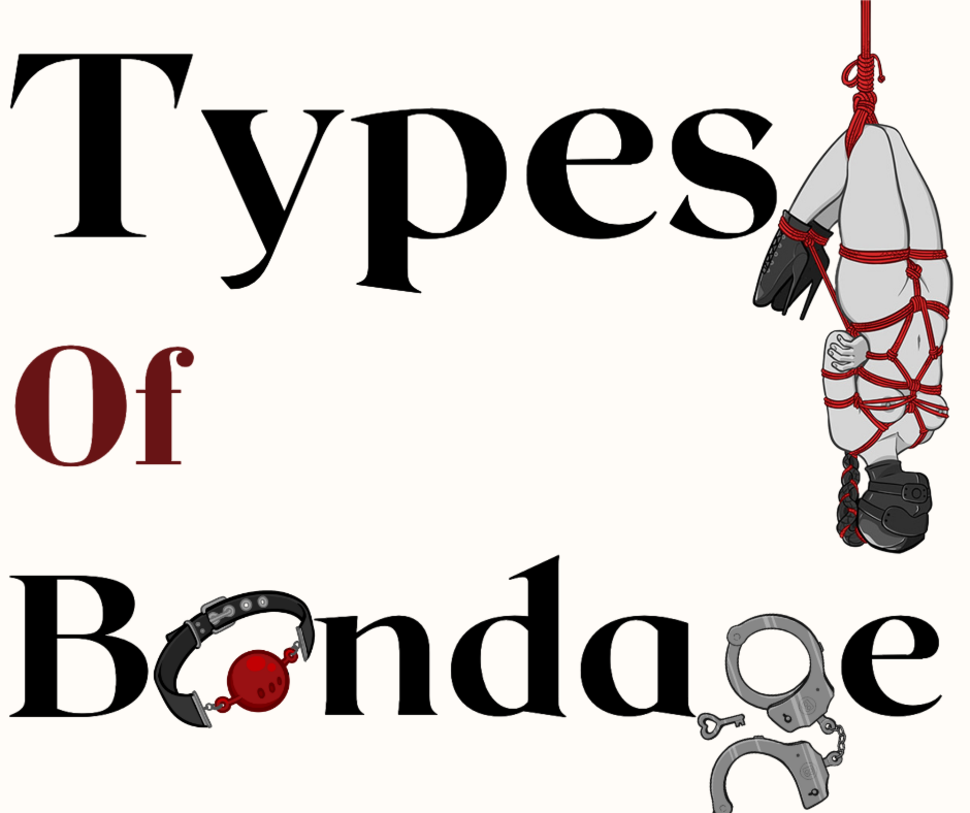 Bondage Safety & Consent  |  Bondage Experience Levels Explained  |  Types of Bondage Gear
Imagine yourself or your partner restrained with nylon cuffs to the four corners of the bed, blindfolded and ready to receive the sensual and sexual attention of the other. Bondage instantly raises the hotness of the scene, which is part of why so many people find the idea of bondage to be so alluring. 
The "B" in BDSM stands for "Bondage," which is the practice of physically restraining one's partner (or self, in self-bondage). Bondage is an ideal entry point for engaging in BDSM play. It is suitable for both beginners and experienced kinksters. There are so many ways to incorporate bondage into your sex life or BDSM lifestyle. In this article, we're going to explore how to practice bondage safely, and we'll take you on a journey through the different types of bondage gear so you can find what's best for you!
Consent, Negotiation, and Safety
Bondage is a versatile form of play suitable for people with all levels of experience. With all BDSM play, be it bondage or another form of kink, it's important to respect consent and practice proper safety. You'll need to negotiate with your partner (discuss the scene beforehand) and adhere to RISK (Risk, Aware, Consensual Kink) and SSC (Safe, Sane, Consensual) play to enjoy bondage safely and fully. 
Essential Bondage Safety
Consent
In BDSM, consent is when a participant gives permission to another person to perform BDSM or sexual activities with or on them. It can only be given if the person is in a rational state of mind (alcohol and drugs are best left out of BDSM play), and it should be unambiguous. A non-committal or lack of response should be considered a no. To have true consent, you must receive an unequivocal "Yes!" response to proposed activities.
Communication, negotiation, and risks
Communicate with your partner and discuss the proposed scenario, including the potential risks. Always negotiate and set safe words and/or signals before any "scene" (a lifestyle term for a BDSM play session). We will discuss negotiation in more detail shortly.
Take your time
If you're new to bondage, keep things simple, start slowly, and restrain one part of the body at a time. This will give you time to get to grips with what you're doing before you incorporate other things. Plus, taking it slowly heightens the anticipation. Enjoy each moment of the scene, and remember that you are taking your partner on a sensual and sexy journey.
Check-In
You've negotiated, identified safe words/signals, and outlined limits – now it's time to play! It's natural to lose yourself in play, but you also need to keep an eye on proceedings — is your partner enjoying the scenario as much as you are? Check-in with each other. There are ways to do this without breaking the excitement of the scene. 
For example, during a spanking you could ask your partner, "Do you like that? Do you want more, you little slut?" or something similar that invites their feedback without ruining the sexy mood. With restraints, you want to ensure the person restrained isn't too uncomfortable — numbness and tingling can indicate restraints are overly tight.
Be Prepared
Always be prepared. Even well-planned scenarios can run into problems on occasion. Make sure you can free your lover from their restraints quickly — keep a pair of safety shears or medical scissors handy. It's also wise to have a first aid kit available, just in case.
Negotiation
We've already touched on negotiation, which involves an in-depth conversation before any play takes place. This is a time for honesty and all players should be open about their likes and dislikes. You can even use a premade checklist for this (available in many BDSM books).
Boundaries, soft limits, and hard limits need to be discussed. What play is deemed acceptable and what should be avoided? A hard limit is something that the person absolutely is not okay with. A soft limit is something they are concerned about but might be open to exploring under the right conditions. 
It's also important to outline the scenario in terms of expectations and how each person would like things to proceed. 
What are your safe words?
Safe words are needed to ensure the scene is safe, sane, and consensual. "Green," "yellow," and "red" are considered standard BDSM-safe words. Green indicates that everything is great, Yellow indicates play should be slowed down or decreased in intensity, and red is used to signify that play should immediately stop.
It's a good idea to identify safe signals too. Occasionally safe words are lost in translation, especially if gags and hoods are being used. A tap of the hand on play equipment or dropping a held object could also be used to denote that play should cease. 
Who will be playing what role?
Who will be in control of the scenario? One partner typically takes the role of the Top (the person acting upon the other) and the other partner takes the role of the Bottom (the recipient of the BDSM actions. There is much confusion regarding the terms Top/Bottom and Dominant/submissive. Top/Bottom refers to who is acting upon whom. Dominant/submissive refers to a form of power exchange in which one person willingly gives up some measure of control to the other, and this often forms the context for a BDSM relationship. It is often (but not always the case) that the Top will be the Dominant, and the Bottom the submissive.
If you're interested in learning more about Dominant/submissive relationships, we offer a D/s dynamics class that offers foundational information, safety essentials, tips, and advice on how to form that dynamic healthily with your partner(s).
What gear will be used?
Determine exactly what gear will be used before play begins and work out how you will incorporate it into a scene. It's always a good idea to take time to work out how to use the gear in your kit properly too. This way you avoid fumbling during the scene and ensure it goes smoothly.
Discuss Triggers, Concerns, etc. 
Before you begin a scene, you need to talk about any concerns or potential triggers. For instance, a submissive might find hoods too challenging due to a past trauma or a bad experience. Will hoods be a hard limit or is it a boundary that can be explored during play (with due care and attention)? The Top needs to be aware of any issues so they can prepare and look out for any issues. 
Play partners should also disclose any relevant medical conditions. Are there any disabilities or injuries likely to affect play? Are you taking medication or do you have a condition that needs to be treated immediately if symptoms arise (such as an inhaler for asthma or an epi-pen for an allergy)? 
What is the plan if something goes wrong during the scene?
Despite our best-laid plans, play can sometimes go awry. What happens if a play partner becomes overwhelmed or unexpectedly becomes upset? How will you handle things if you or your partner become unwell during play? BDSM play often releases endorphins, and these can feel wonderful, but they can also contribute to a person feeling woozy or ill. It's important to be prepared and monitor your partner. As the Top, it is your responsibility to end the scene if your partner becomes unwell. They may not be in a state of mind to utilize their safe word. It is always better to end a scene feeling that you could have gone further, rather than to take it too far and risk damaging your partner physically, emotionally, or psychologically.
What will aftercare look like?
Aftercare is a critical part of any scenario. When your scene ends, take the opportunity to look after one another. The Dominant should ensure the submissive is cared for — they may need a cuddle, a warm blanket, a drink, some food, or a chat. The Dominant has needs too. Both parties need time to decompress and adjust back into normal reality. Which activities your aftercare consists of may vary based on who you're playing with, what you did, what happened during the scene, and other factors.
What Do We Mean By Beginner, Intermediate, & Advanced?
In this blog, we make gear recommendations based on your level of experience. We labeled these levels as Beginner, Intermediate, and Advanced. The recommended level of experience is based on multiple factors (explained below).
We recommend gear to players of specific levels to help you stay safe while playing. As with all forms of BDSM play, bondage play will never be 100% risk-free. Because there is always some level of risk, the best way to approach bondage is to follow the safety & consent guidelines we provided above and educate yourself on the type of gear you wish to play with.
It is important to note that practicing safety, consent, and clear communication are learned skills – it takes many play sessions and self-discipline to sharpen these essential skills!
Beginners
Beginners are players who are new to bondage and/or BDSM. Beginners have little to no experience practicing safety & consent in BDSM. If you have limited experience having thorough negotiations, planning a scene ahead of time, using safewords, and communicating directly and clearly with a partner, we would qualify you as a beginner. Beginners are learning how to read their own bodies and those they play with (if applicable). It is important to learn how to listen to your body and know when to stop, slow down, or keep going! 
We recommend beginners to start with entry-level bondage gear and resist the urge to play with more advanced gear! Establish a strong foundation first to best minimize risk in your future endeavors. 
Intermediate
Intermediate players have explored BDSM before and feel comfortable following and practicing safety & consent guidelines. If you are new to bondage but have experience with BDSM play, you may border beginner and intermediate, but prior experience practicing safety and consent will help you easily advance!
Intermediate players know when to slow down, stop, or keep going based on what their and/or their partners bodies' are telling them. 
Advanced
Advanced players have extensive experience with BDSM and bondage play. They are very comfortable with safety & consent rules and practice them consistently. They know how to safely explore new forms of play and gear. They are skilled at reading their own bodies as well as others and easily avoid pushing anyone past their limits. They know the basic information needed to play with a new type of gear (foundational rope knots, anal stretching, etc.) and are confident in their ability to learn new gear!
Types of Bondage Gear 
Restraints, hoods, cuffs, collars, spreader bars, and more – the sheer amount of bondage gear available can be daunting to newcomers. That's why we're here to share our personal and professional knowledge on the best bondage gear to get you started.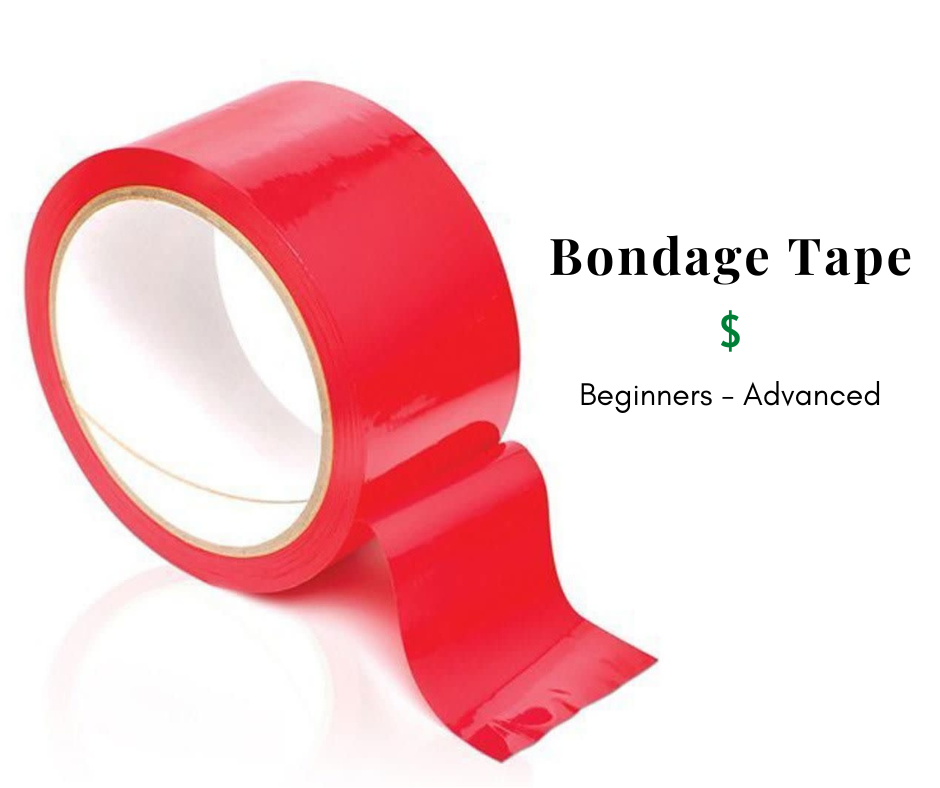 Budget: $

Experience Level: Beginners - Advanced
We highly recommend bondage tape for both bondage enthusiasts and beginners. Bondage tape is known for being incredibly affordable and versatile. It resembles a wider form of electrical or duct tape, but it doesn't share the stickiness. Instead, bondage tape is electrostatic — wrap it around limbs and the tape will stick to itself alone.
Bondage tape is simple and safe to use. Bondage tape is reusable – when you're done with play, simply unwind it or cut through the tape.
Create your own hogtie by binding wrists to ankles or wrap it over the eyes or mouth (careful to ensure they can still breathe) for some quick and easy sensory deprivation equipment. You can even use bondage tape to restrain someone to furniture, such as bed frames, tables, chairs, and dungeon equipment. These are just a few suggestions for how you can use bondage tape, but don't let us limit you! Bondage tape is a tool that allows you to explore your creativity.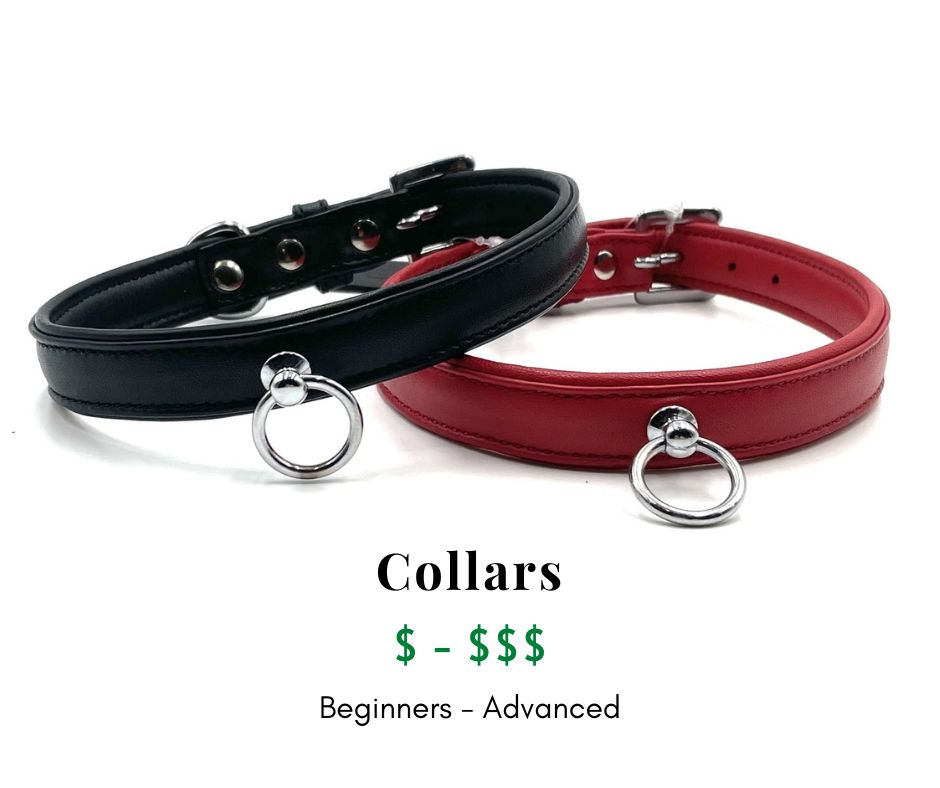 Budget: $ - $$$

Experience Level: Beginners - Advanced
Frequently viewed as a symbol of power exchange, the collar is often presented to a submissive / slave / bottom by their Dominant / Master / Top, although using a collar is not limited to this dynamic alone. A collar can be worn during a scenario to enforce roles — the Dominant takes control and the collar-wearing submissive obeys. Collars can also be worn to signify a longstanding power exchange D/s relationship. 
Collars vary in size, shape, style, and material. They range from affordable to expensive, depending on the style and material. Suitable for both newbies and more seasoned players, collars are fixed around the neck and can be locked or attached to a leash. 
Delicate collars are suitable for day wear, but substantial collars will draw more attention and are more suitable for sexual or BDSM play.
We do not recommend using slim collars to tug and pull on your partner during play. Slim collars can place too much concentrated pressure, increasing the risk of harming the trachea. We recommend using wide, broad collars to distribute pressure evenly. 
Be sure to communicate with your partner – ask how it feels when you begin pulling, and be very careful as the neck is a vulnerable part of the body. Any form of choking play has the potential to cause serious injury and we do not recommend more than gentle tugging on the collar or leash.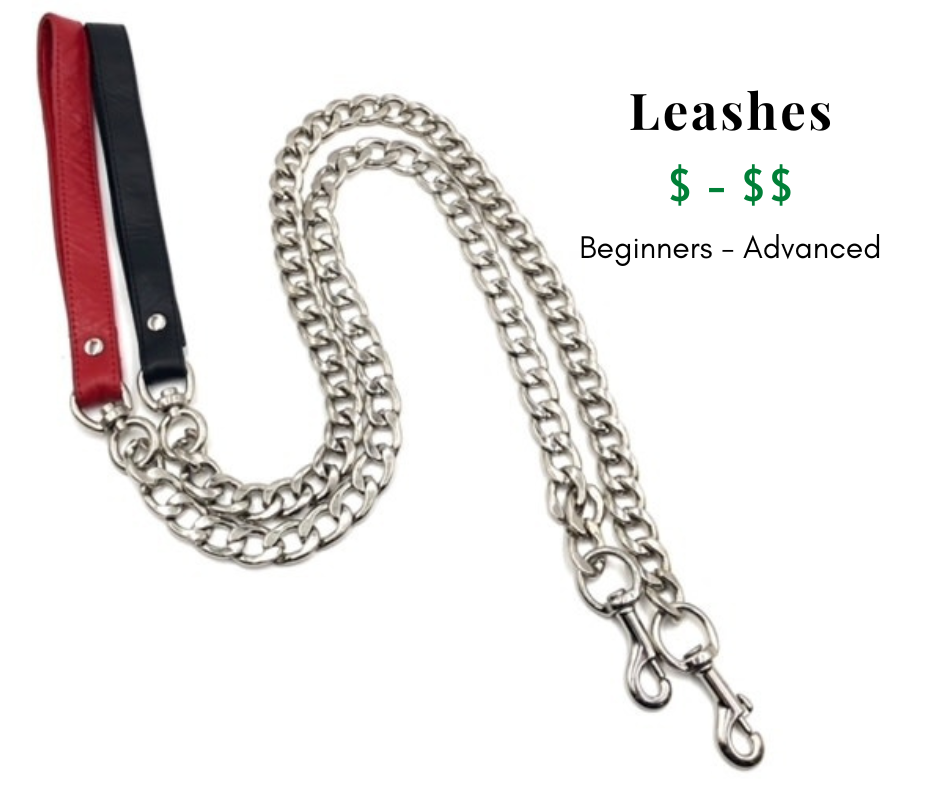 Budget: $ - $$

Experience Level: Beginners - Advanced
What better way to guide and control a collar-wearing submissive than to attach a leash and force them to do your bidding? 
Ideal for every type of kinkster, regardless of their experience level, the leash is usually comprised of a metal chain that attaches to an O-ring at the front of the collar. You'll also find a handle (usually cloth, leather, or faux leather) to make handling easier.
Leashes are ideal for pet play and humiliation games, or even for parading your submissive around at BDSM events. Leashes differ in cost and quality. If you intend to use your leash for tugging and pulling during play, we recommend a high-quality leash made with a thick metal chain.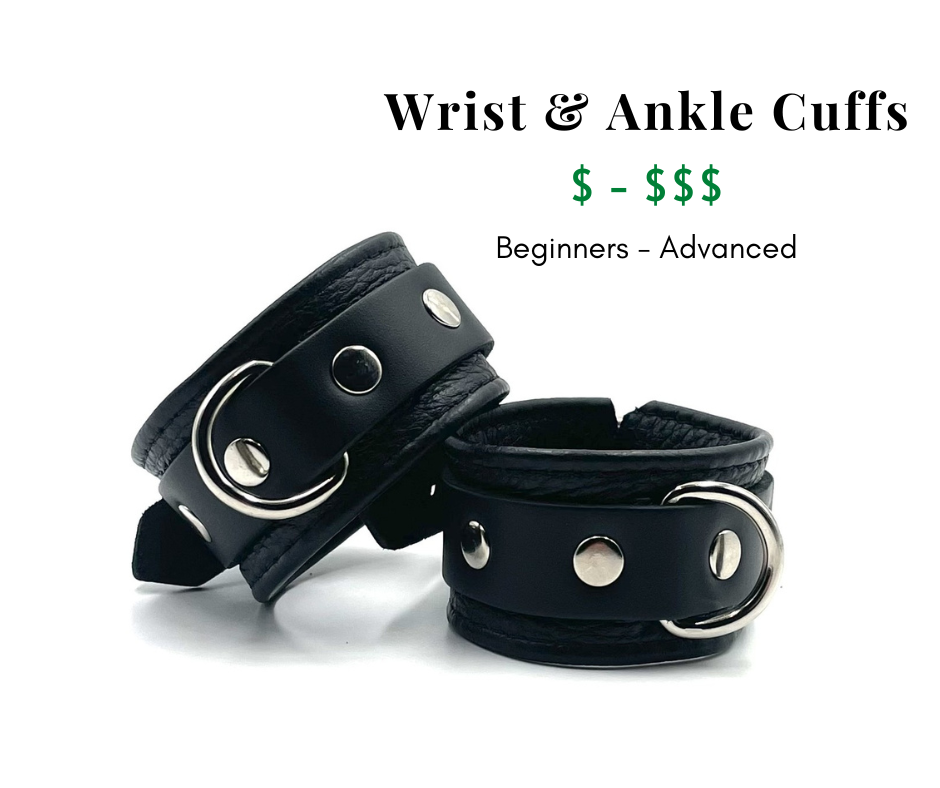 Budget: $ - $$$

Experience Level: Beginners - Advanced
Perfect for immobilizing a submissive and keeping them in check, wrist and ankle cuffs can be used in all sorts of creative ways. Link ankles or wrists together, connect ankles to wrists, hogtie your partner, or secure them to dungeon equipment while you have your wicked way. 
Cuffs vary in price depending on the material and design.  Nylon cuffs are great for beginners, offering affordability, comfort, and ease of use. They are often available in kits which include all four cuffs. Leather cuffs provide an ideal combination of durability, comfort, and control, and are available with many different textures, colors, and lining materials. Metal cuffs are best used with caution, as their rigidity makes them more likely to cause injury if used improperly. That being said, some bottoms love the feeling of cold, durable, heavy steel, and metal restraints offer a hardcore aesthetic.
Whatever cuffs you choose, familiarize yourself with how they work and how they unlock. If they come with keys, always keep a spare someplace that your Bottom can access easily, and inform them of where it is in case of emergency.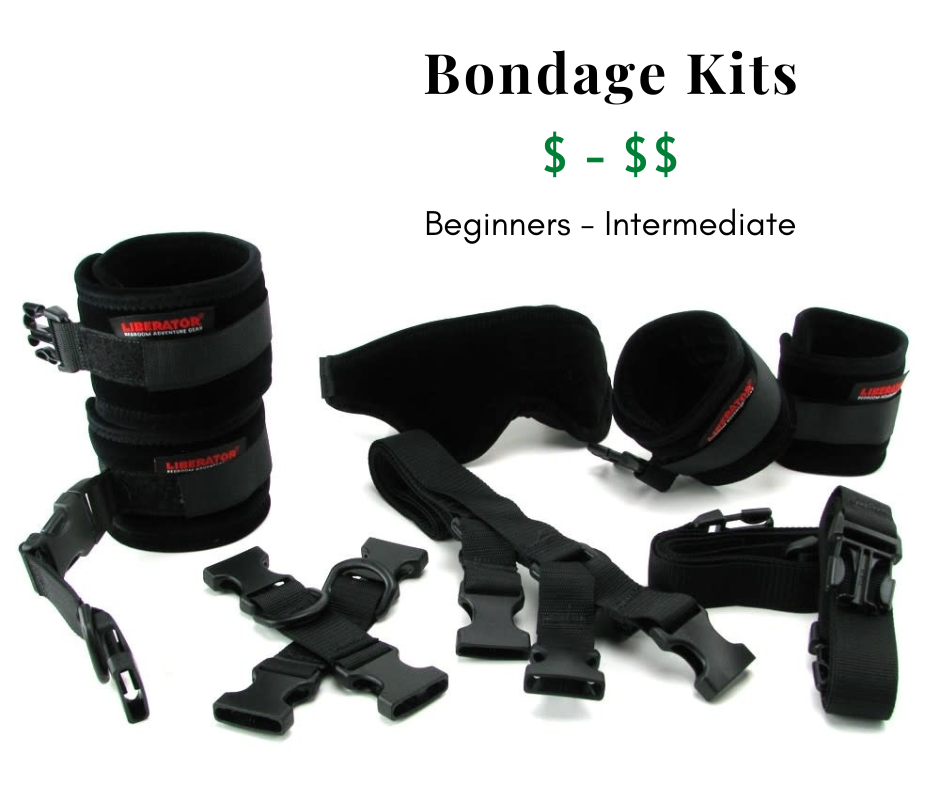 Budget: $-$$

Experience Level: Beginners - Intermediate 
If you're looking for an all-in-one solution to bondage, a bondage kit is the perfect answer. Great for those who are newer to BDSM, bondage kits are a solid value, offering interesting methods of restraint and ease of use, often at an affordable price. 
Items vary from kit to kit but can include cuffs, hogties, under-the-bed restraints, ball gags, etc. Render your submissive powerless and enjoy exerting your control. Use one or two items or go all in and use the whole kit!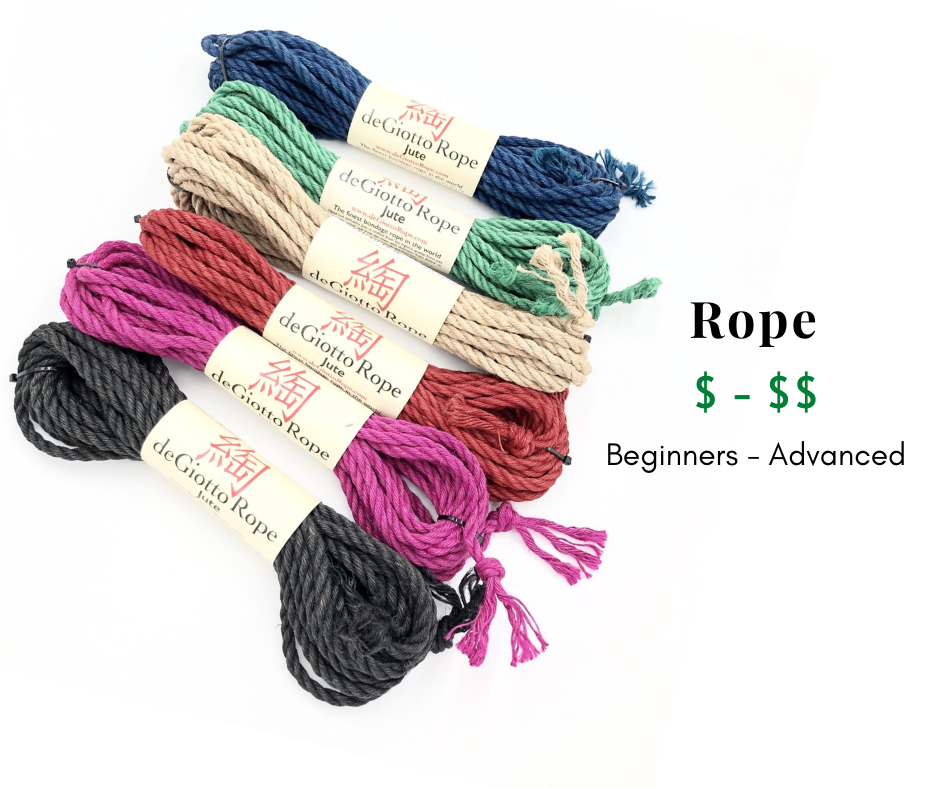 Budget: $ - $$

Experience Level: Beginners - Advanced
One of the most versatile bondage tools out there, rope is a must-have for kinksters who value creativity, patience, aesthetics, and affordability. The options are seemingly limitless with rope: tie wrists, bind ankles, create fashion or play harnesses, opt for a full-body tie or suspend your submissive from a fixed point. 
Do not use hardware store rope. They are not made for play and are often unsafe for any BDSM activity. Buy your rope from a reputable bondage retailer who specializes in quality gear.
Synthetic rope (often nylon) offers a combination of value and smooth texture. Nylon tends to be thicker than rope made with other materials. The thickness of the rope allows for easy tying and untying, making it the perfect option for those learning new knots. Thicker materials are also safer to use on a partner when you are beginning to get the hang of the ropes!  
Cotton offers softness at an affordable price and is another great choice for beginners. Many experienced rope riggers prefer hemp rope, which offers superior strength, durability, holds knots well, and softens with use. Hemp is what most use for full-body rope suspensions due to its strength. 
Some manufacturers offer a cotton/hemp blend, which offers some of the durability of hemp with the immediate softness and affordability of cotton. Jute is the favorite rope of those who enjoy a scratchy sensation from their ties, and thinner jute is often used in cock and ball torture ties.
Natural or synthetic silk rope is usually the softest and is great for wrist and ankle ties or body harnesses and rope corsets. 
Rope can be great fun, but safety is a priority – try a rope workshop, take an online safety course, or read an educational book. It is vital that you have safety scissors on hand in case a partner needs to be freed immediately..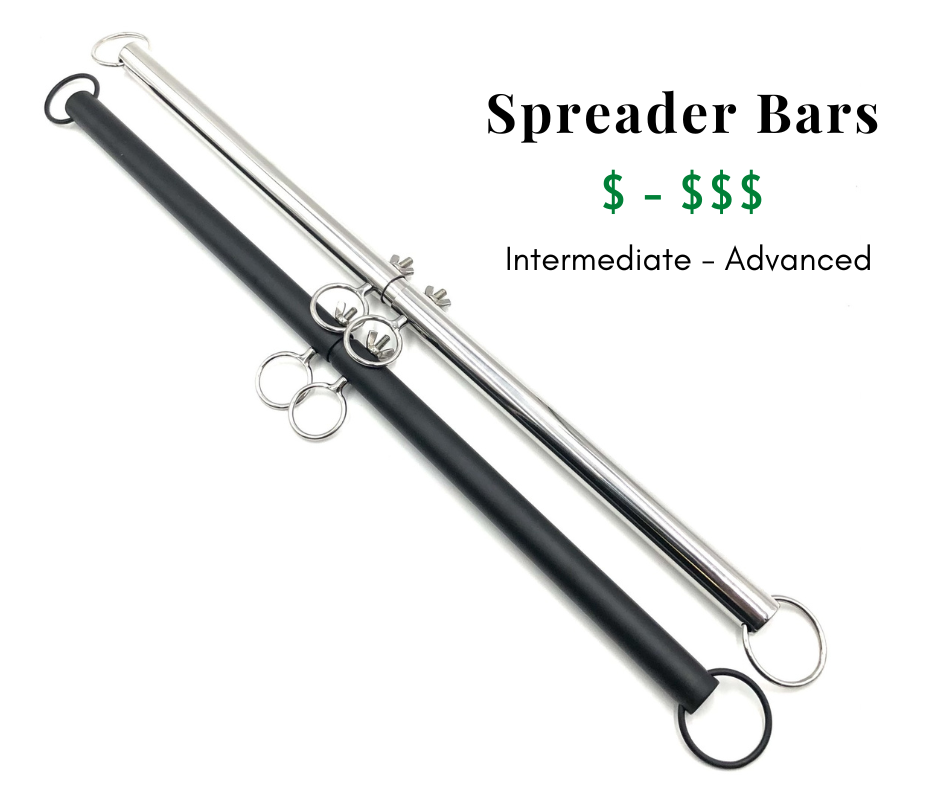 Budget: $ - $$$

Experience Level: Intermediate - Advanced
Usually made from metal or wood, spreader bars are designed to force the submissive to adopt a spread-eagle position 
Cuffs are placed around each ankle, and then attached to points at the end of each bar. As an alternative, the bar can be used to separate knees or to hold the arms wide apart.
More expensive than some forms of restraint, wood and metal spreader bars are best suited for intermediate and advanced BDSM players. Beginners can give the bars a try but you might prefer to use one made with a softer, more pliable material, such as leather or nylon.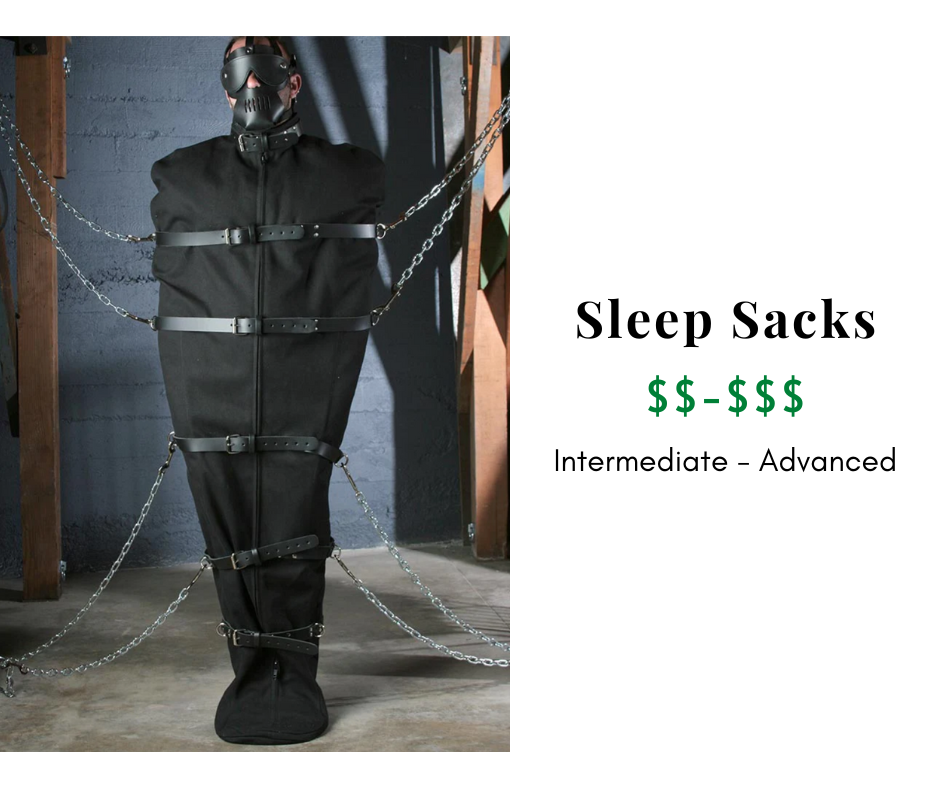 Budget: $$-$$$

Experience Level: Intermediate - Advanced
Another more extreme form of restraint aimed at intermediate to advanced BDSM players, the sleep sack provides full body lockdown to ensure the submissive is completely immobilized. 
Sleep sacks cover the submissive from top to bottom and resemble a sleeping bag – albeit a much tighter version. Some sleep sacks come with a hood to cover the head while others restrain from the neck down. Sacks are made in a range of materials including leather, neoprene, cloth, and latex. Sleep sacks tend to be higher in price in comparison to other types of bondage gear – price is dependent on the material and quality of the sack. 
For safety's sake, you'll need to have a comprehensive negotiation with your partner and feel quite comfortable with bondage play before using a sleep sack in a scene.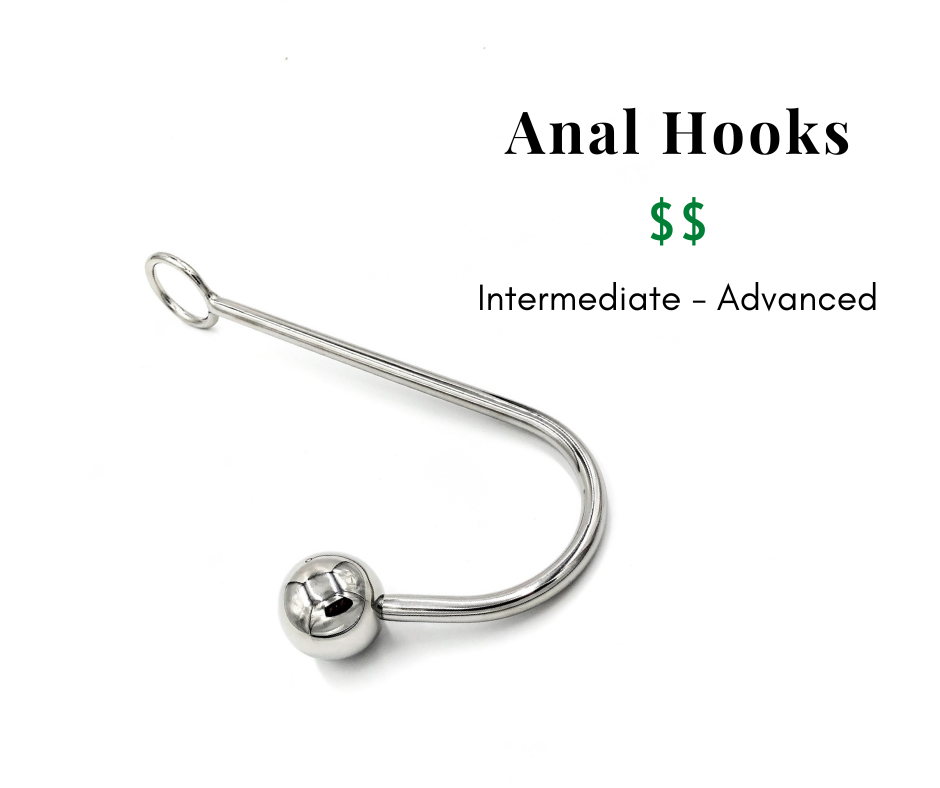 Budget: $$

Experience Level: Advanced
Not for the faint of heart, anal hooks are for those who have plenty of BDSM experience. The anal hook looks a bit like a meat hook and is often made from stainless steel. A curved metal bar with a ball or bulbous point at one end and a small hole at the other end, the bulbous end is inserted into the anus while the other end is attached to rope or strapping. 
Tie the rope to other rope restraints on the body or a collar to keep your partner in a vulnerable position for some predicament bondage. Pair an anal hook with cuffs and a mouth gag to keep your partner vulnerable in more ways than one. Anal hooks are a fantastic choice for those who love humiliation.
The bulbous end is typically removable to allow for interchangeable plug sizes and shapes. 
Hooks may require some practice to use, and a quality anal lubricant is a must.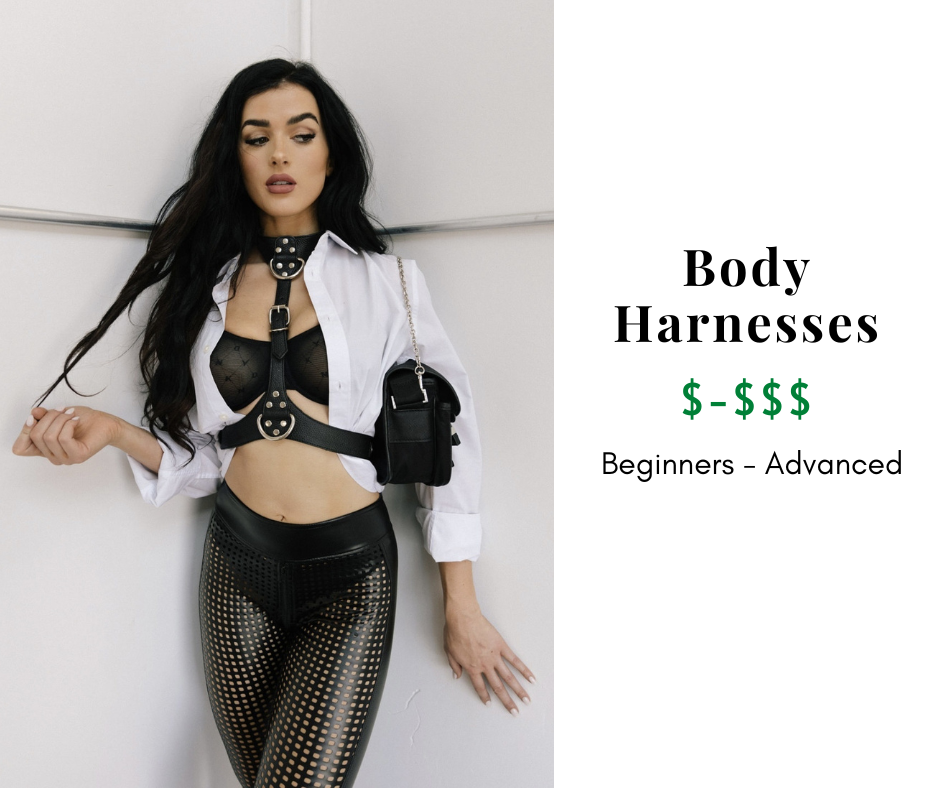 Budget: $-$$$

Experience Level: Beginners - Advanced
Body harnesses not only work well as restraints but are also stunning statement pieces, making them perfect for fetish parties and club events. Usually made from leather or faux leather, body harnesses incorporate straps that fix around different areas of the body to allow for easy, versatile bondage. 
Great for players of all levels of experience, you can often clip cuffs to various straps on the harness, allowing you to keep control of the submissive. Price varies for a body harness and greatly depends on the style, quality, and material of the harness. Some are even made with exotic leathers, gold-plated fittings, and crystal accents.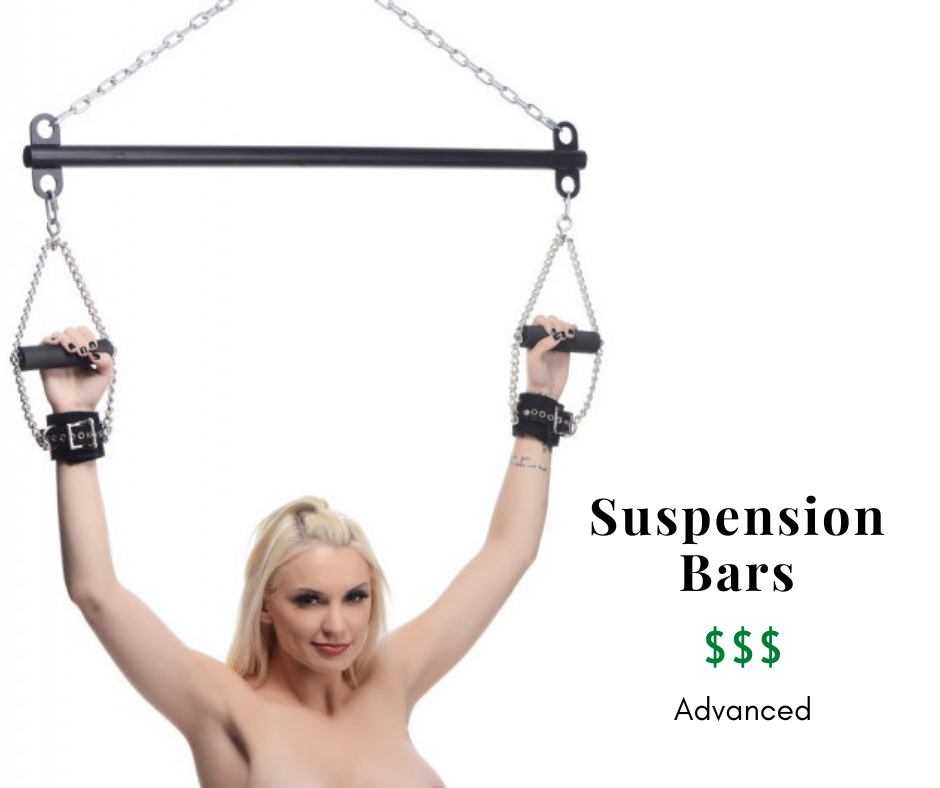 Budget: $$$

Experience Level: Advanced
As the name suggests, a suspension bar enables you to suspend a partner, dangling them seductively in the air while you torment and excite them. Aimed at those with plenty of BDSM experience, suspension bars are generally expensive but buying high-quality suspension gear is vital for safety.
Made from robust material, such as steel, suspension bars typically feature eyelets and chains for easy fitting. You'll need a pair of suspension cuffs to secure your wrists before suspension (you might have to purchase these separately). Quality bars are designed to take the weight of most people – be sure to read the weight limitations on the manufacturer's website. It's also a good idea to try hanging from the bar yourself (holding on with your hands) before restraining a submissive to it.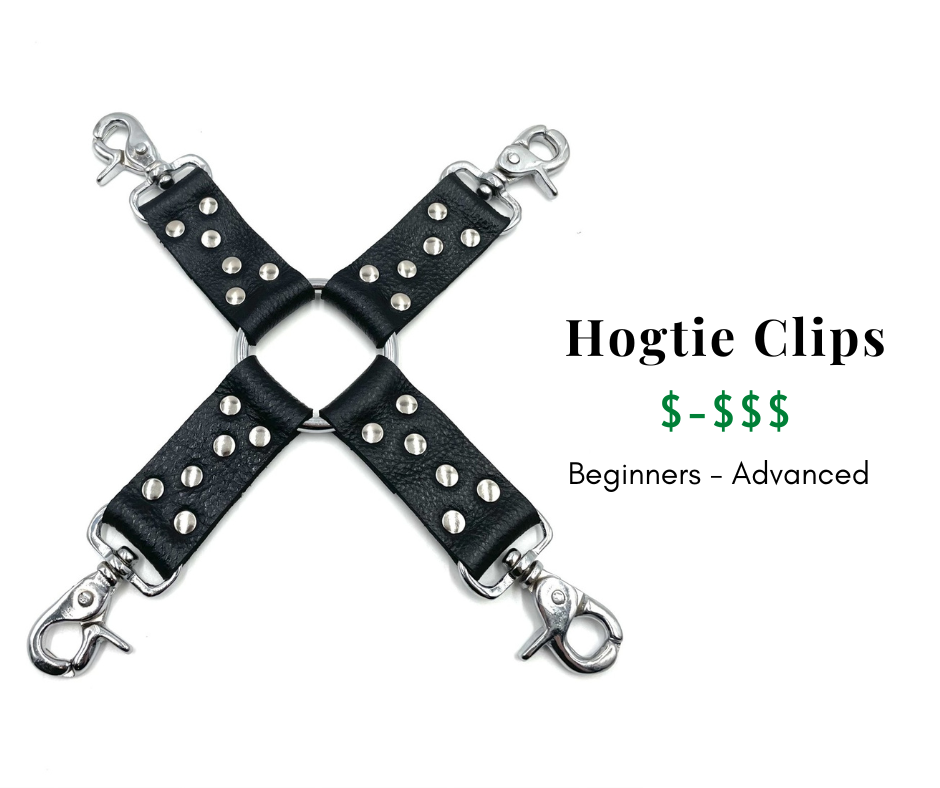 Budget: $ - $$$

Experience Level: Beginners - Advanced
If you're a fan of fuss-free play, hogtie clips could be the perfect addition to your toy bag. Fast and easy to use, hogtie clips snap onto ankle and wrist restraints via O-rings or D-rings. Leather hogties are more durable and higher priced while nylon hog ties are less durable but more affordable.
You can use hogtie clips to facilitate various positions — for example, have your partner  kneel, place their hands behind their back before clipping the wrists and ankle cuffs together with the clips on the hogtie. 
The submissive will be forced to kneel in position, unable to escape, while the Dominant toys with them. 
If the flexibility required to get into the classic hogtie position is not attainable, there are alternative positions that might better accommodate varying physical abilities.
Hogtie sets can be used by players of all levels, but if you're new to play, remember that it's always best to take things slowly.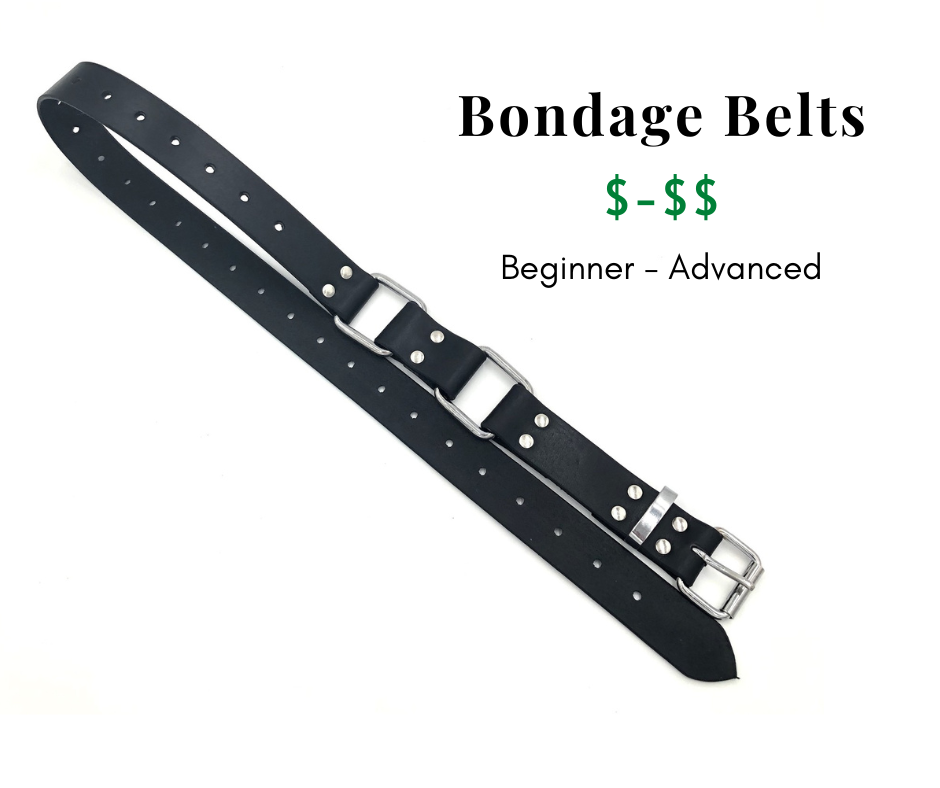 Budget: $ - $$

Experience Level: Beginners - Advanced
Bondage belts are worn around the midriff and can be used in conjunction with other restraints such as chains and cuffs. The belts are ideal for all bondage fans, from those who are new to play to those with lots of experience. 
The price of a bondage belt can vary, in line with the style, what it's made from, etc. Many belts are made from leather or faux leather and feature a D-ring or O-ring to attach chains or straps.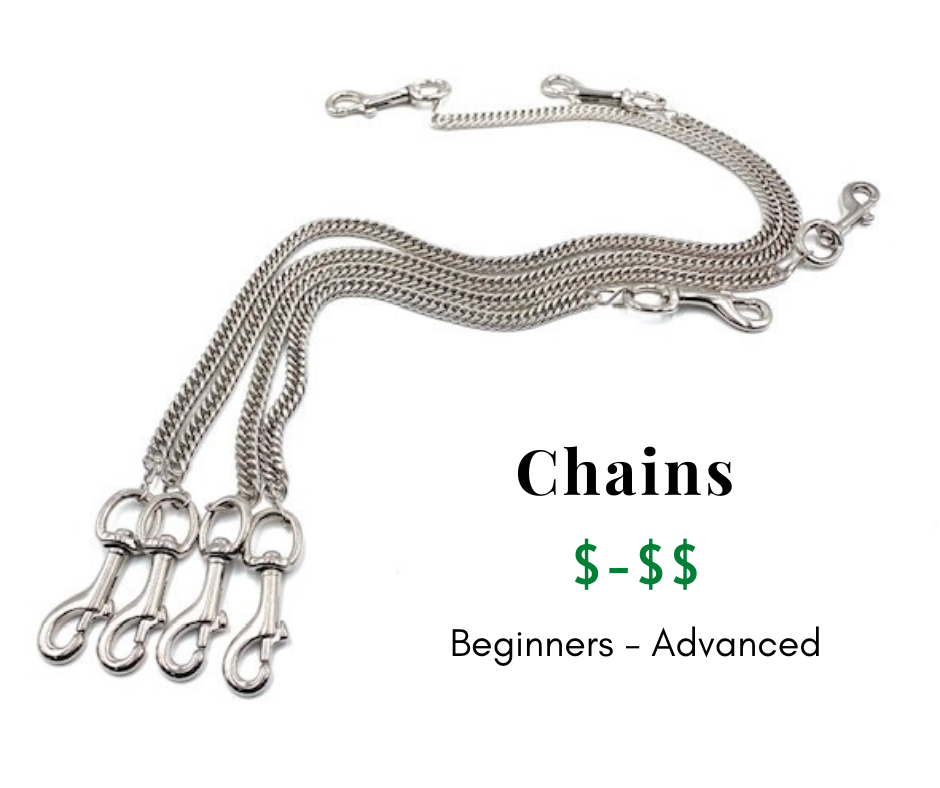 Budget: $

Experience Level: Beginners - Advanced
Chains are relatively affordable and create a more hardcore aesthetic when it comes to bondage. Those newer to the scene can opt for lighter chains and those with more experience can go for heavy, more cumbersome chains. 
Chains can be draped around a submissive and combined with other restraints such as cuffs, bondage belts, etc. Take care when using chains, and never wrap a chain around the neck. Chains can't be cut or broken easily, so be sure to have a plan in place to quickly unravel the submissive if the situation arises.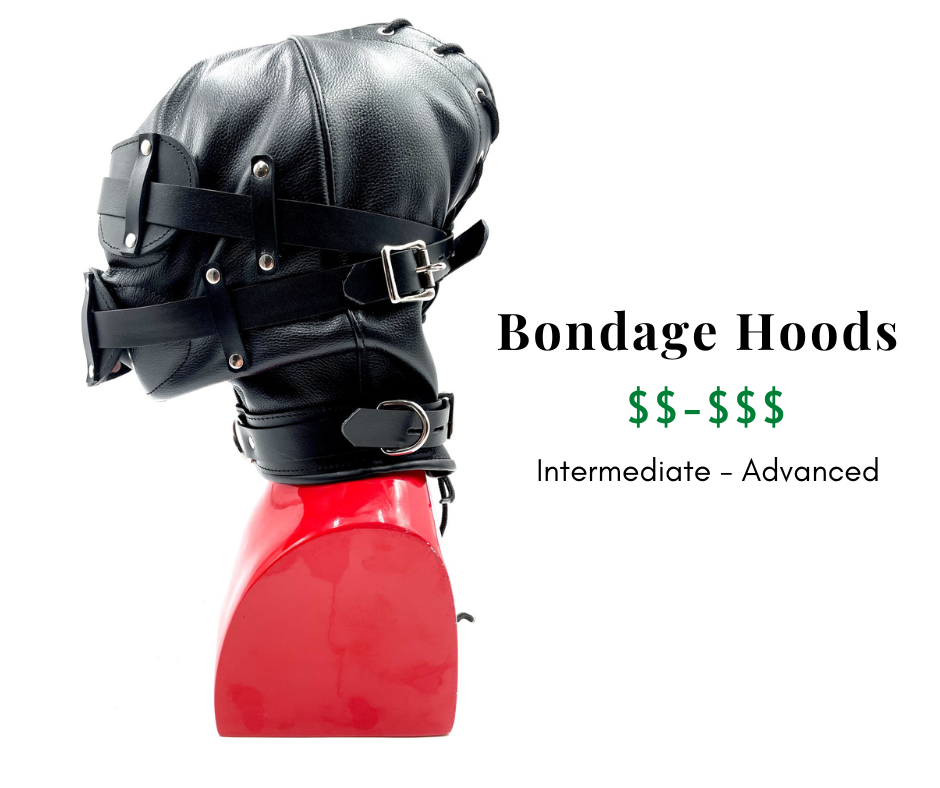 Budget: $$ - $$$

Experience Level: Intermediate - Advanced
Keep your submissive in the dark and leave them guessing what you're going to do next by placing a bondage hood over their head. Keep it simple by using a cloth hood or go for something a little more extreme, such as a leather hood with zip-up eye and mouth areas or a latex hood with nothing but small breathing holes.
Hoods vary in price – price is dependent on the design and material. If you're new, it's a good idea to stick to lighter cloth hoods. As you progress in experience, you can move onto leather and latex/rubber hoods. Before exploring more "hardcore" hoods, we do recommend developing strong communication skills and comfortability with bondage.
Hoods are perfect for sensory deprivation and abduction play, but they can feel claustrophobic at first. The submissive should begin by wearing the hood for short periods to get used to how it feels.
Because hoods do involve sensory deprivation and can make it difficult for a submissive to speak, move, or make noises, we do recommend that all parties practice using their established safewords/grunts/gestures until each person feels confident that they will be understood during the scene.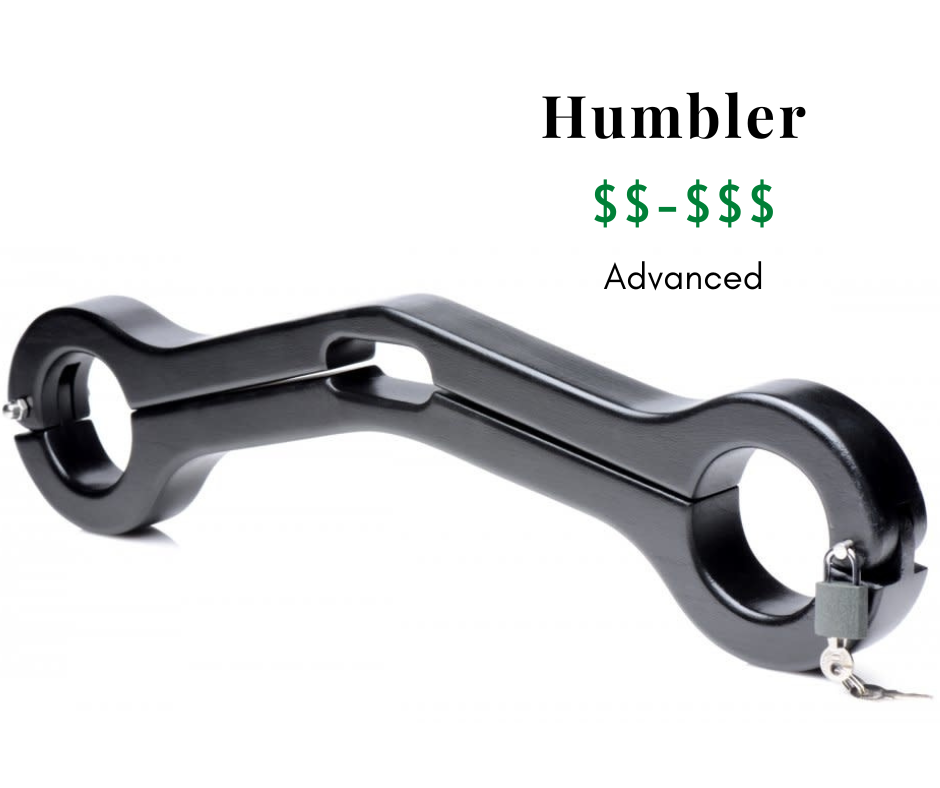 Budget: $$ - $$$

Experience Level: Advanced
Specifically designed for submissives with testicles, the humbler usually consists of two curved bars that clamp together. The Dominant bends the submissive over to ease their ballsack through their legs. The humbler lies across the scrotum and clamps between the penis and testicles, forcing the submissive to maintain a position on their hands and knees. 
Not for those who are new to BDSM, the humbler offers an intense experience and would suit those keen on humiliation, degradation, and CBT play. Humblers vary in price from average to expensive but make a great addition to a well-rounded kit bag. Some even feature inputs for electrical play!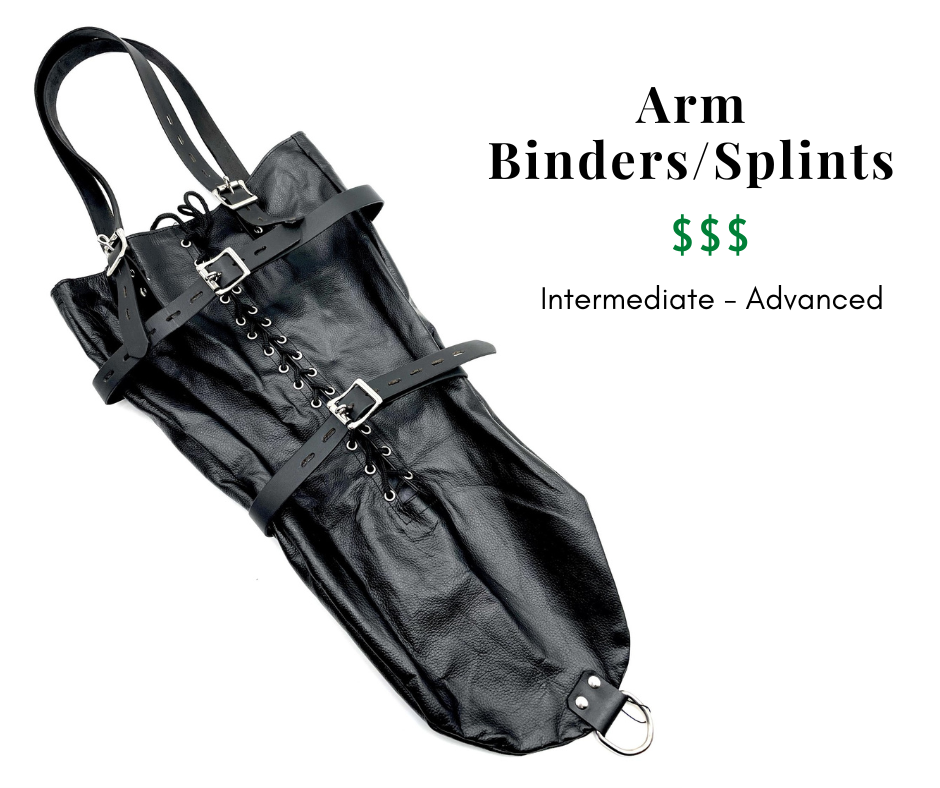 Budget: $$$

Experience Level: Intermediate - Advanced
Keep arms restrained and out of the way with arm splints and binders. These bondage aids have a hardcore look and work well to keep the submissive immobile. Arms can be bound in front or behind, depending on the design. Splints and binders are generally for those with lots of BDSM experience. 
Arm splints and binders are at the higher end of the BDSM budget, but it's worth indulging if you're looking for quality gear that not only restrains your submissive but also looks the part.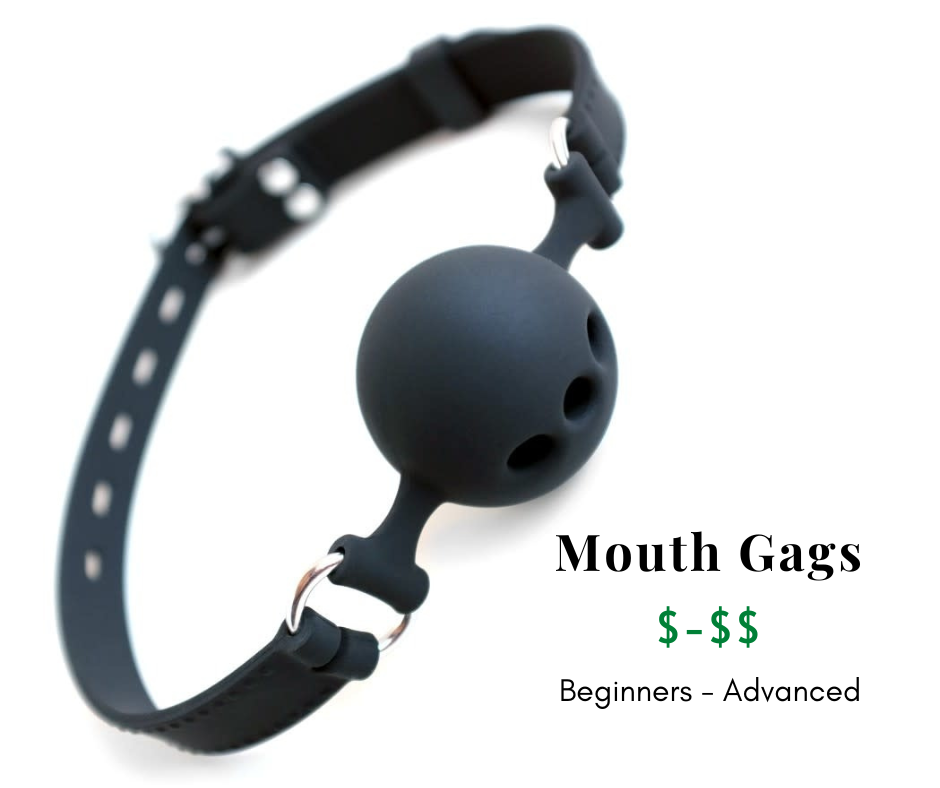 Budget: $ - $$

Experience Level: Beginners - Advanced
Got a chatty submissive? Want to subdue your lover during sex? Then invest in a mouth gag. Mouth gags come in a range of designs, sizes, colors, and prices, and they can be used by all bondage lovers. 
Try a traditional ball gag (straps fit around the head and a ball is lodged in the mouth behind the teeth to silence the submissive). 
Alternatively, opt for something a little different such as a dildo gag, funnel, or even mouth spreaders that leave you no choice but to keep your mouth wide open to receive whatever your top desires.
For those who struggle with TMJ or jaw pain, bit gags help avoid pain flareups by allowing the wearer to bite down on a flat, soft tube.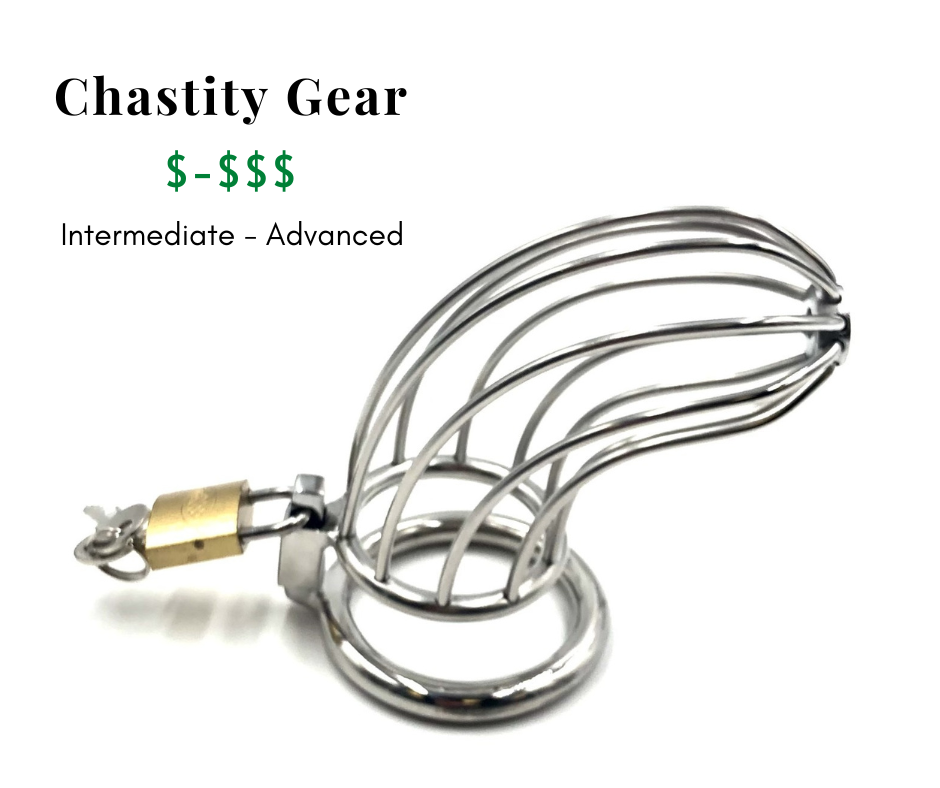 Budget: $ - $$$

Experience Level: Intermediate - Advanced
Enforced chastity can prove frustrating and fun (the perfect mix) and are often used to reinforce a power exchange or D/s dynamic. With chastity gear suitable for all genders, chastity devices include cages and belts to lock away the genitals and prevent sexual arousal. Best used by those with some level of BDSM experience, chastity devices vary in price, material, and style, so it's worth looking at the range available. 
If you're going to lock your poor submissive into a chastity device, agree to a timespan upfront, make sure you know how the device locks and unlocks, and be sure to keep keys safe and accessible in case of emergency. 
Want to explore cock cages but not sure how to measure and which cage is right for you? Read our blog on how to choose which type of chastity cage is right for you and how to measure for one.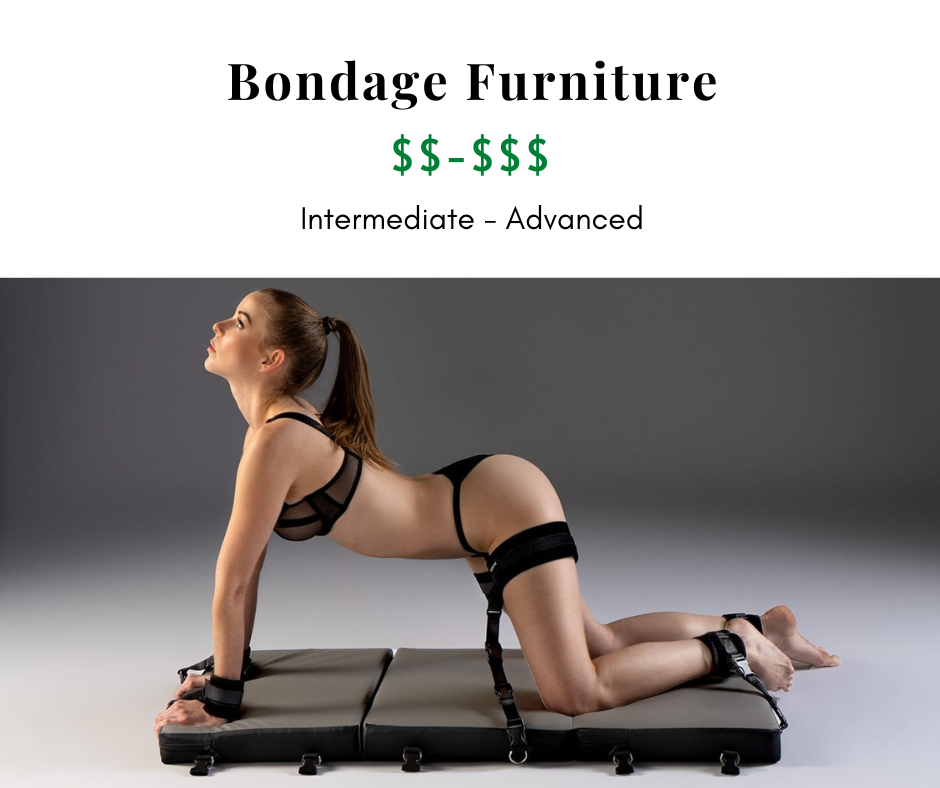 Budget: $$-$$$

Experience Level: Intermediate - Advanced
From spanking benches and bondage tables to St Andrew's crosses and cages, there's a wide range of bondage furniture available to furnish a dungeon or your home! Bondage furniture doesn't come cheap and you'll need plenty of space for it, but having your own equipment means you can play whenever the mood takes you.
Beginners should familiarize themselves with bondage furniture at clubs and events before buying their own. If you are going to invest, make sure you follow assembly instructions to ensure safety. 
Ready to Play?
Bondage can spice things up in the bedroom or dungeon for adventurous singles, couples, and groups. We've given you the essential information on the types of bondage restraints available, and hopefully a few ideas on how you can enjoy BDSM scenes with different types of gear. Remember to play safely, and check out our other blog articles for more information on specific BDSM topics, including strap-ons, chastity play, and more!