Login
Log in if you have an account
Dont have an account? Register
3 Kinky Gift Collections for Valentine's Day
06 Feb 2023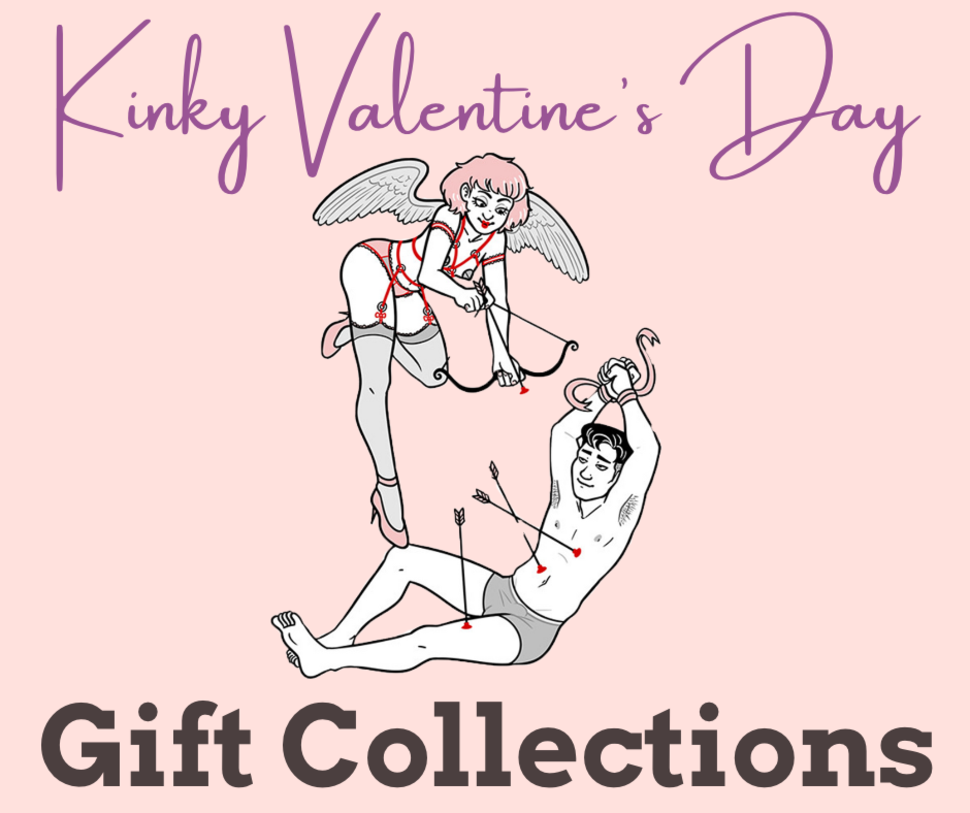 Valentine's Day is a day of worship. Perhaps worship looks like massaging oil into your lover's skin before a sultry, candlelit photoshoot. Or maybe it's following your Mistress' orders: standing still and silent while your she whips you with a cane. Whatever worship and reverence looks like for you, Valentine's Day is the perfect excuse for a long evening filled with sexy playtime.
Kinky Gifts for Sensual Lovers to Hardcore Players
Whether you're spending Valentine's Day with your play partner, lifelong lover, or any dynamic in between, this day was made for intimacy. Explore new kinky avenues or upgrade your current gear this Valentine's Day. 
Our staff at Bondesque curated a few kinky gift collections that will suit anyone's fancy. This year's collections include:
Sexy, Softcore Gifts for the Bedroom

Kinky Gifts for Date Night & Long Distance Couples

Hardcore BDSM Gear for Kinksters
Sexy Softcore Gifts for the Bedroom
Our staff-recommended gifts for beginners to kink & BDSM, couples, and anyone looking for a sensual night in. Each gift in this collection is complementary to the other items, so you can easily pick and choose what interests you. 
This satin blindfold is not limited to a single purpose. Restrain wrists & ankles, tie it into a soft mouth gag, wrap it around the head as a blindfold, or any other way you can think of. Satin is known for its soft and silky feel, making it perfect for a sensual Valentine's Night. 
Rich in essential fatty acids, vitamins, and minerals that nourish and hydrate the skin, the EB Hemp Massage Oil is the perfect addition to your Valentine's Day evening. With so many ways to play, it is unsurprising that an oil massage is a great companion to many of them. Keep reading for more suggestions on how you can incorporate a sensual massage into your romantic evening. 
Spanking is not limited to hardcore play. The I Love You paddle is made with high-quality, real leather and features a padded side for soft, thuddy spanks and a flat side for satisfying slaps. Intimacy can look so many ways, and your partner proclaiming "I Love You" after every spank is most certainly one of them.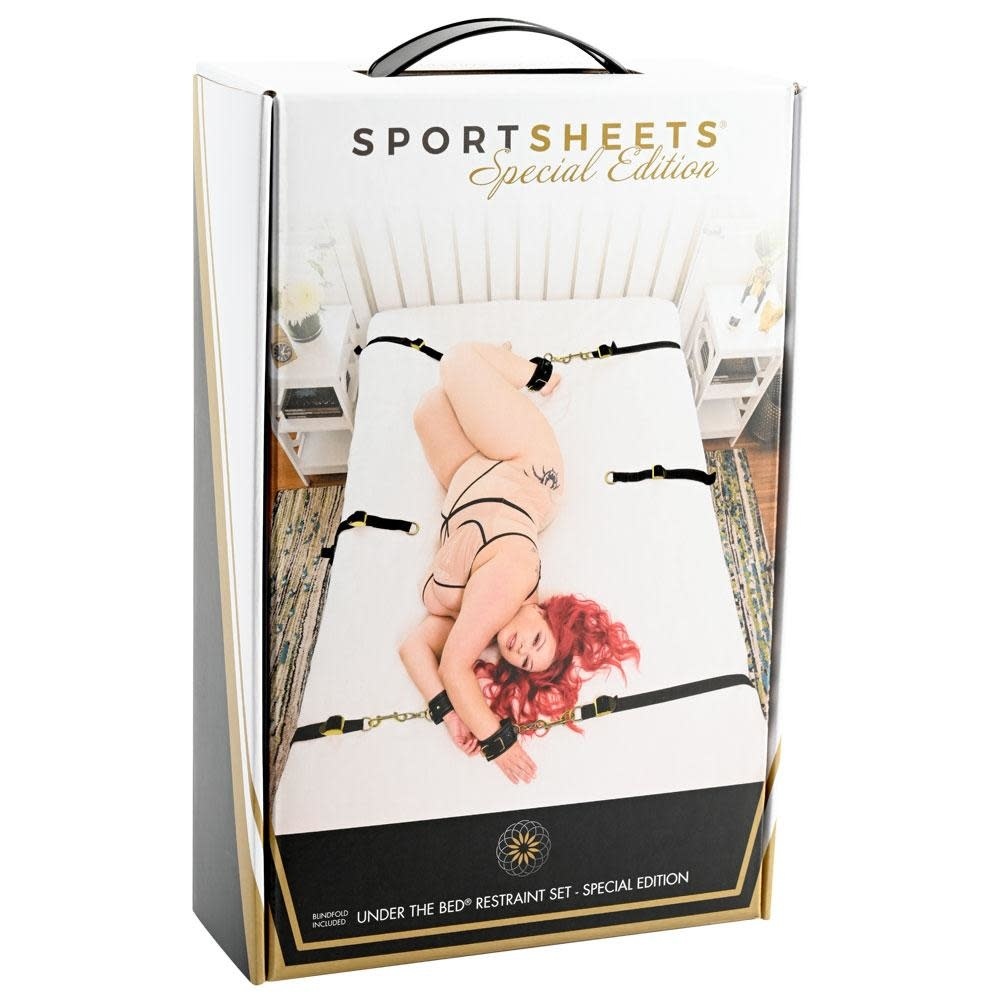 Keep your lover right where you want them with the Under the Bed Restraint Set. Explore playful positions and discover new dynamics as your evening progresses. With soft cuffs, easy-to-use clips, and adjustable straps, this set is both practical and comfortable for extended play sessions. Pair these restraints with a blindfold and sensory play for a sensual and soft bondage scene. 
Whether you're spending Valentine's Day alone or with a lover, playing with strokers is a sexy element to add to your night. With your lover's mouth free, they're free to roam your body elsewhere. Pair your Fleshlight with a silky water-based lube to truly emulate oral. 
There is truly unparalleled intimacy in discovering the secrets of your lover's body, and what better night to venture than Valentine's Day evening? These ticklers are made with soft, fluffy ostrich feathers that just might give your partner goosebumps! Ticklers pair nicely with restraints, blindfolds, and oil massages. 
BDSM
Collar
and Leash
Jaguar Collar by Aslan Leather
Reinforce a dominant and submissive dynamic with a collar around their neck and strong chain leash, reminding each partner who belongs to who. This collar is made with real, durable leather and features three D-rings, leaving you room for creativity. Attach a high-quality chain leash and guide your partner where you want them to go. Whether that's between your legs or a different sex position, your wish is their command.
Wax play is not only beautiful but also highly sensory. These candles are body-safe and low-temp, reducing the risk of harm. Give you partner an oil massage before dripping wax onto your lover's skin and watching each drop slowly glide down their skin. Finish the activity off with a sexy photoshoot in the soft glow of candlelight. 
The iCollection Daisy Red Lingerie Set is a made from high-quality materials that feel soft and comfortable against the skin. The rich red color exudes confidence and sex appeal, making it the perfect lingerie for a special occasion or a night in with your partner. With its delicate lace detailing and feminine design, this lingerie set will have you feeling confident and gorgeous. 
The After Your Heart Bra Set is a charming and seductive lingerie set that is sure to ignite passion and desire. Made with high-quality materials, this set is both comfortable and durable, making it perfect for long nights of play. The bra features underwired cups with a gorgeous heart design and delicate lace accents that will flatter your figure and highlight your curves. The matching panty adds a playful and alluring touch, completing the set with its heart detailing and cheeky cut. 
Gifts for Date Night or Long Distance Couples
For couples that plan to spend the night out on the town and want to add a spicy element to the evening, this list is loaded with discreet, wearable vibrators. For long distance couples, each toy in this list is app-controllable and can be controlled all the way across the world! Simply pair your toy with the manufacturer's app and you're ready for endless fun. 
The Moxie by We-Vibe is an app-controlled, wearable panty vibrator designed to clip snugly onto your underwear and worn under your clothes. Featuring powerful yet quiet vibrations, smooth silicone, and a rechargeable motor, the loads of app features are just the cherry on top.
Simply one of the best app-controlled cock rings on the market! The stretchy silicone ring is designed to be worn on the shaft. Featuring powerful vibrations that can pleasure not only you but also your partner during penetrative sex, this ring is perfect for both partnered and solo play. If your partner is not within your reach this Valentine's Day, connect with them over the app and let them control your cock ring with thousands of vibration options. Don't know why cock rings are so great? Read up on all the benefits of wearing a cock ring in our blog "6 Reasons Why You Should Wear a Cock Ring".
The We-Vibe Chorus was made for simultaneous orgasms! This toy simulates the clitoris and g-spot at the same time with powerful vibrations. If that's not enough, this toy was also designed to be worn during penetrative sex so both you and your partner can share in the stimulation. The Chorus can be controlled with the app, featuring highly-customizable vibration options and long-distance control.
Hardcore BDSM Gifts for Kinksters
For those who live the BDSM lifestyle, this gift list is for you. Upgrade your current gear collection or add something new. All gear listed here is durable, high-quality, and made for intense play. This staff-curated list features some of our tried-and-true gear.
Experience complete sensory deprivation with the Lockdown Leather Hood. This hood is made with durable, soft leather, and the adjustable design ensures a perfectly tight fit. Pair this bondage hood with leather straps, giving them no option but to sit still and submit.
The Spike Metal Wrist Shackles are a premium set of shackles that will keep your submissive mindful of their every movement. Featuring thick stainless steel and large spikes, these cuffs truly are as hardcore as they look. They can only be locked and unlocked using a small allen wrench, ensuring that your submissive has no easy opportunity for escape. 
The Leather Arm Binder is sure to keep your submissive in a....bind (we couldn't resist!). Made with high-quality leather, this binder is comfortable (enough) to wear during a play scene and will keep your submissive firmly restrained.
Keep your partner on their knees in a position of submission for as long as you please with the Enforcer. Its simple but effective design traps your submissive's balls in between the adjustable wooden panels safely. Whether you need an ottoman to throw your feet up on or a small table to place your favorite sex toys, the Enforcer can provide. 
Looking to be pounded mercilessly by your favorite toys? These high-quality harnesses made with durable, real leather are not only beautiful but also more affordable than other harnesses on the market. Designed with a wide corset backing and snaps for interchangeable o-rings, these harnesses include key features that make this a sustainable harness you'll love long past Valentine's Day!
Whether you're new to electro play or need a few additional tens units, the Mystim Tension Lover will satisfy. Complete with one tens unit, four electrostim pads, two cords, batteries, and a manual, this kit has everything you need to play this Valentine's Day evening. One tens unit can control up to four compatible electrostim toys. Looking for gear other than pads? Explore other compatible stimulators here. 
There are so many ways to ride. Shut your submissive up with the Ride Me mouth gag and keep their mouth busy in other ways. Made with a thick leather strap and smooth silicone that are both durable and comfortable to use.
The Give Me Thorns crop will have your submissive wondering if they weren't careful about what they asked for. Made with premium leather and small, firm studs, this crop is a weapon to behold.
Punisher is in the name but it's truly hard to discern just how mean this whip is until you're receiving its biting stings. The Punisher Whip features two thick, braided tails made with high-quality leather. The firm handle widens at the base for easy gripping so you can deliver the perfect strikes. 
Cherish Valentine's Day
Spend time cherishing your partner this Valentine's Day. We encourage you to slow down and take your time. Fill the evening with lustful activities and finish it off with a glass of wine, snuggling, and your favorite movie. We hope all of you have a kinky Valentine's!