Login
Log in if you have an account
Dont have an account? Register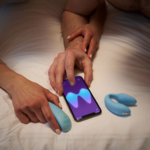 Sex Toys
We personally select the toys we carry based on their premium quality, body-safe materials, satisfying power, ergonomic design, and durable functionality.
sex toys for everyone
We personally select the toys we carry. If we wouldn't use them ourselves, we won't sell them to you! We carry some of our favorite brands that we think you just might like too: Lovense, Satisfyer, We-Vibe, FemmeFunn, Hitachi Magic Wand, Le Wand, Womanizer, njoy, Gender X, and others. 
Frequently Asked Questions
How do I choose a toy to buy?
There are so many sex toys out there – we definitely don't take a "one size fits all" approach! What sex toy will fit your needs is highly dependent on what you're looking for from a toy.
If you have a vulva...
We typically categorize toys by primary use: external, internal, and dual stimulation.
External
If you're looking to stimulate yourself externally, there are quite a few options. Amongst the most popular external stimulation toys are wands, clit suction toys, and versatile yet simple toys.
Wands are great for those looking for versatile toys that feature deep, rumbly vibrations.
Clit suction toys use air pressure technology to stimulate the clitoris without directly touching it. They are great at heightening the sensitivity and pushing you over the edge over and over again! 
Simple vibrators can be used in many ways and vary in shapes and sizes. A great example of this type of toy is the bullet vibrator, but don't limit yourself! Some of our favorites include finger vibrators, handheld toys, and others. 
If you're on testosterone and need something that won't overstimulate you and/or will work with your changing anatomy, we recommend Body Kisses by Gender X and the Packer Gear FTM Stroker by CalExotics. Both of these toys are suction toys that have larger openings than your average suction toy and suction engineered specifically for people on T. 
Internal
Internal stimulation sex toys are typically made to stimulate the g-spot. The toys are typically designed with a curve and sometimes texture to keep things exciting!
If you're looking for plenty of g-spot stimulation, vibrating g-spot toys are a great option.
If you like something more simple and great for partnered play, we recommend curved wands.
If you don't want to do the work but still want to be stimulated, there are wearable and self-thrusting toys out there for you! 
Dual Stimulation
Dual stimulation toys stimulate both the g-spot and clitoris at the same time. 
How do I use a sex toy?
How do you clean sex toys?
Which toys are good for long distance relationships?
Are there sex toys for males?
I'm trans and on hormones. What toys are good for me?