Login
Log in if you have an account
Dont have an account? Register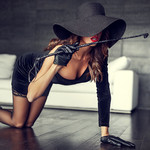 BDSM Paddles
Paddles are the essential tool for spanking enthusiasts. You want to be put over the knee until your panties are soaked or your boxers stained? A good paddle will take you over that edge and serve you for years to come. Whether you want a sensual blossoming of the buttocks or a sadistic striping across the ass, our paddles will fulfill all your desires with superior function, form, and aesthetics.
Signup for our Newsletter
Subscribe now and get 10% off your next order!