Login
Log in if you have an account
Dont have an account? Register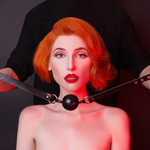 Mouth Gags
Mouth Gags are a great choice for those who like to bite! Be aware – many of our gags will lead to excessive drooling! If that's what you're into, you've reached the right page.
How to Choose a Mouth Gag
Mouth gags aren't one-size-fits-all! With so many mouth gag options out there, it might be hard to decide what's best for you. To help guide you in the right direction, our staff has answered a few FAQs below:
I've never used a mouth gag before. What should I get?
We recommend breathable ball gags if you're brand new to gags! Being able to breathe through your mouth while using them makes it easier to introduce them without it becoming overwhelming. You can wear them longer than non-breathable ball gags as well, making them great even for those who are experienced. And if you're into drool, these gags were designed to deliver!
I experience jaw pain when wearing ball gags. Are there are any alternatives?
There are plenty of alternatives out there! Some of our favorites include bit gags and mouthguard gags. Both of these gags still muffle and incapacitate the wearer but don't hold their mouths open and are easy to bite down on, preventing jaw strain.
Which gag should I get if I want to keep someone's mouth open so I can stuff it?
If you're into forced mouth stuffing, we love to use ring gags and mouth spreaders! They're just perfect for forced stuffing, spitting, and plenty of other naughty things you can think of. 
GET 10% OFF
Subscribe to our newsletter and receive a 10% discount on your next order