Login
Log in if you have an account
Dont have an account? Register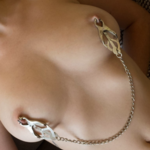 Nipple Play
Nipples are one of the most common erogenous zones, and the experience of sensation in them varies greatly between individuals as well as over time. BDSM enthusiasts see this as an opportunity to explore pain, sensation, and endorphin release through the
Nipples are one of the most common erogenous zones, and the experience of sensation in them varies greatly between individuals as well as over time. BDSM enthusiasts see this as an opportunity to explore pain, sensation, and endorphin release through the use of clamps (restricting blood flow) and suckers (increasing blood flow). 
If you're new to clamps, wear them for less than 10 minutes. When you remove them, you will likely feel the most pain as the blood flow returns. 
For more sensual play, start with suckers to increase blood flow and sensitivity.
GET 10% OFF
Subscribe to our newsletter and receive a 10% discount on your next order