Login
Log in if you have an account
Dont have an account? Register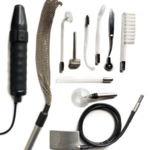 Electrosex
Bring the power of electro-stim into your bedroom or BDSM play and experience new pinnacles of pleasure!
What is Mystim like? Imagine satin smooth silicone nestled deep inside you, pressing right up against your inmost pleasure button. Then imagine that at the touch of a button, you can deliver precise sensations ranging from throbbing to buzzing or even tingling -- a direct pleasure infusion to your p-spot, g-spot, or whatever other spot you choose. If that sounds irresistible, then you just might be an electroslut!
What is a violet wand like? Violet wands deliver external sensation ranging from pleasure to pain, along with visual stimulation as the electricity arcs between the wand attachment and the skin. For extra fun, get the body plate attachment and conduct sensation through your fingertips or any metal toy you hold! Congratulations, you're now a bedroom superhero.
GET 10% OFF
Subscribe to our newsletter and receive a 10% discount on your next order