Login
Log in if you have an account
Dont have an account? Register
The Complete Kinky Christmas Gift Guide of 2022
07 Dec 2022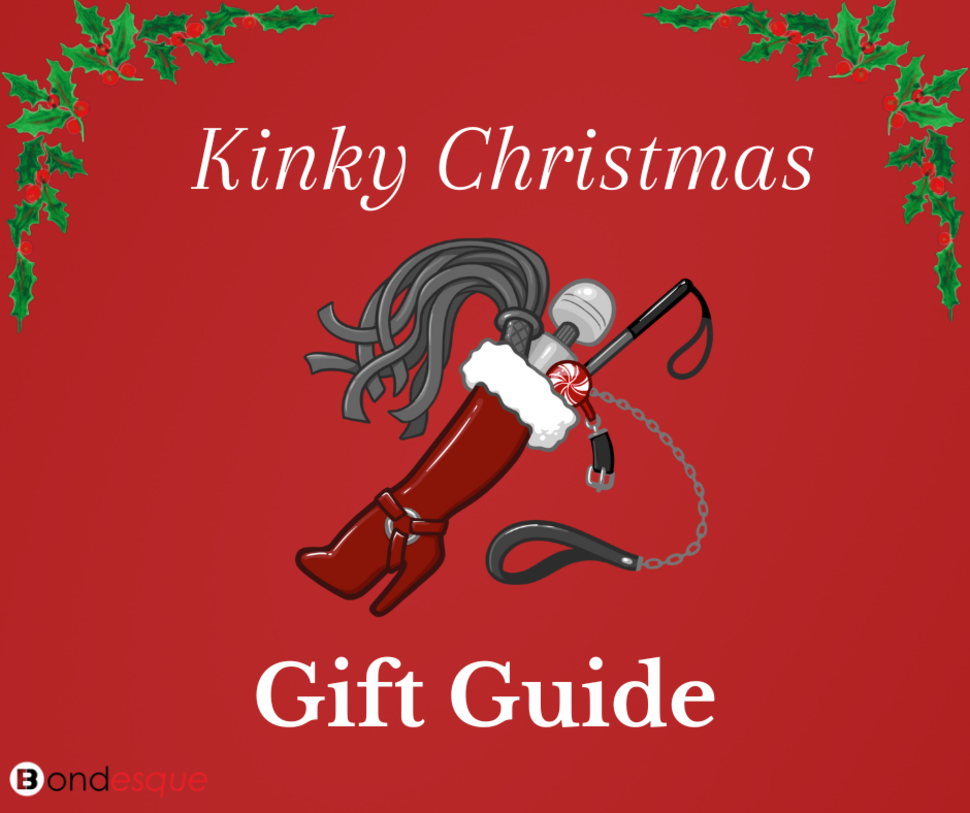 Stocking Stuffers | Bondage | Sex Toys | Collars & Leashes | Sexy Apparel | Anal Toys | Bedroom Furniture | Strap-on Play | Spanking
'Tis the season to get freaky! Spread the love this Christmas and give your favorite people the greatest gift of them all: kink!
The Best Kinky Christmas Gifts of 2022
From stocking stuffers to restraints, this list has plenty of toys, gear, and goodies to keep all of you busy for months to come. 
Stocking Stuffers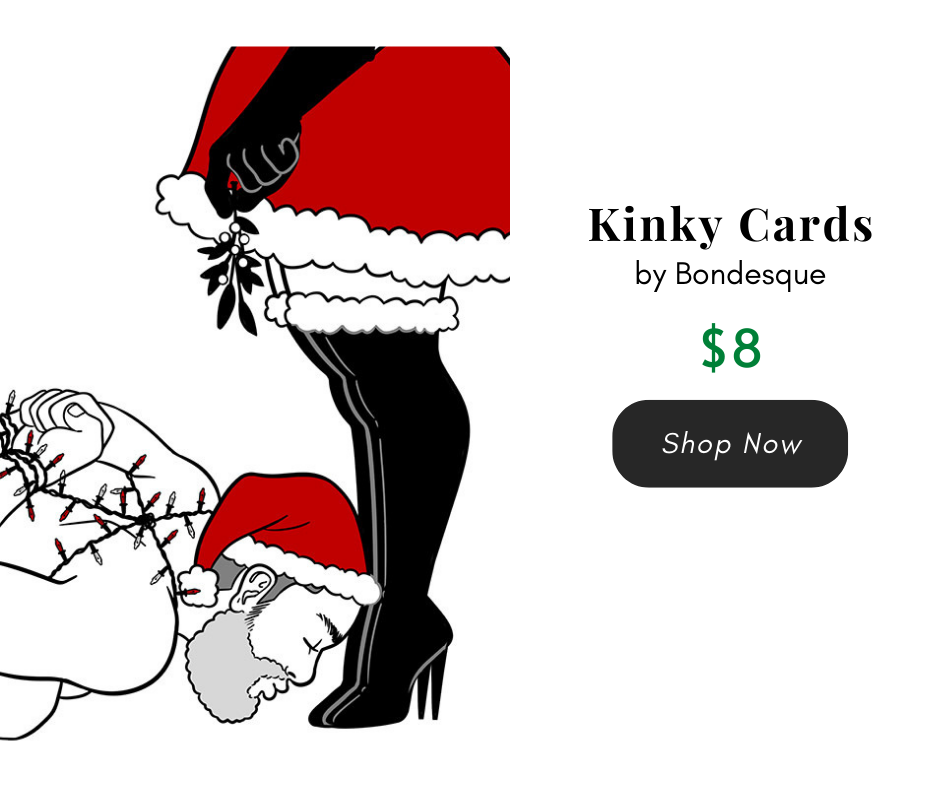 What's better than a Christmas card of you and your family? A Christmas card of a festive sub restrained in Christmas lights and kissing the boots of his mistress, of course.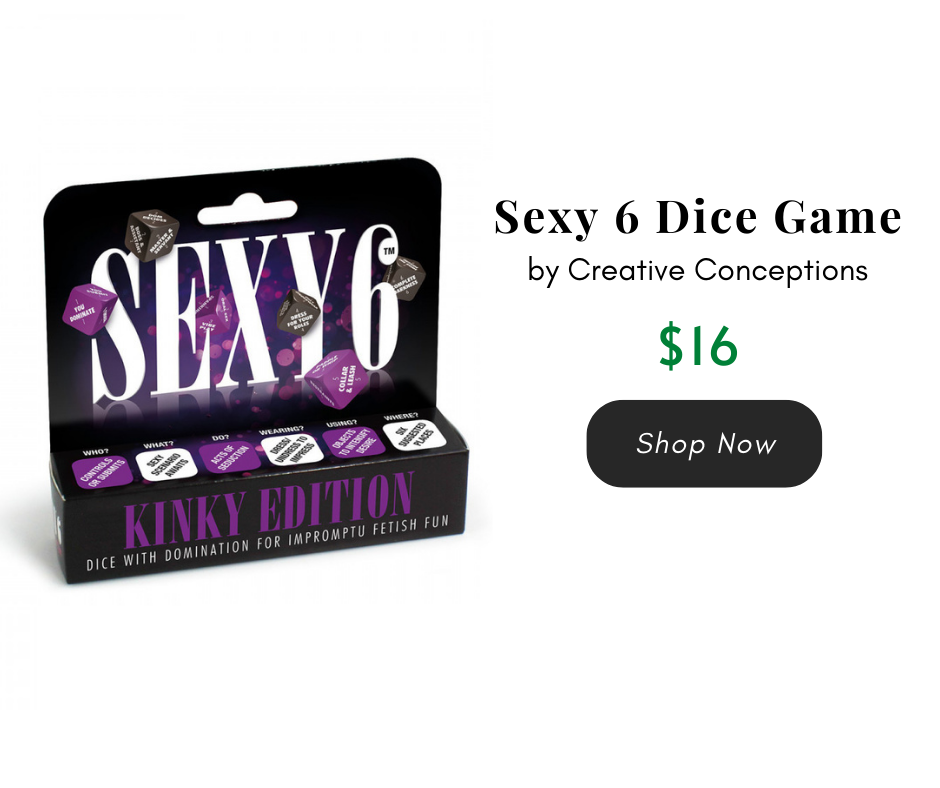 The Sexy 6 Dice Game is the gift that will keep on giving. Roll your way into a naughty night filled with erotic fun. A dice game is an easy way to explore new kinks and sexy scenes with a partner.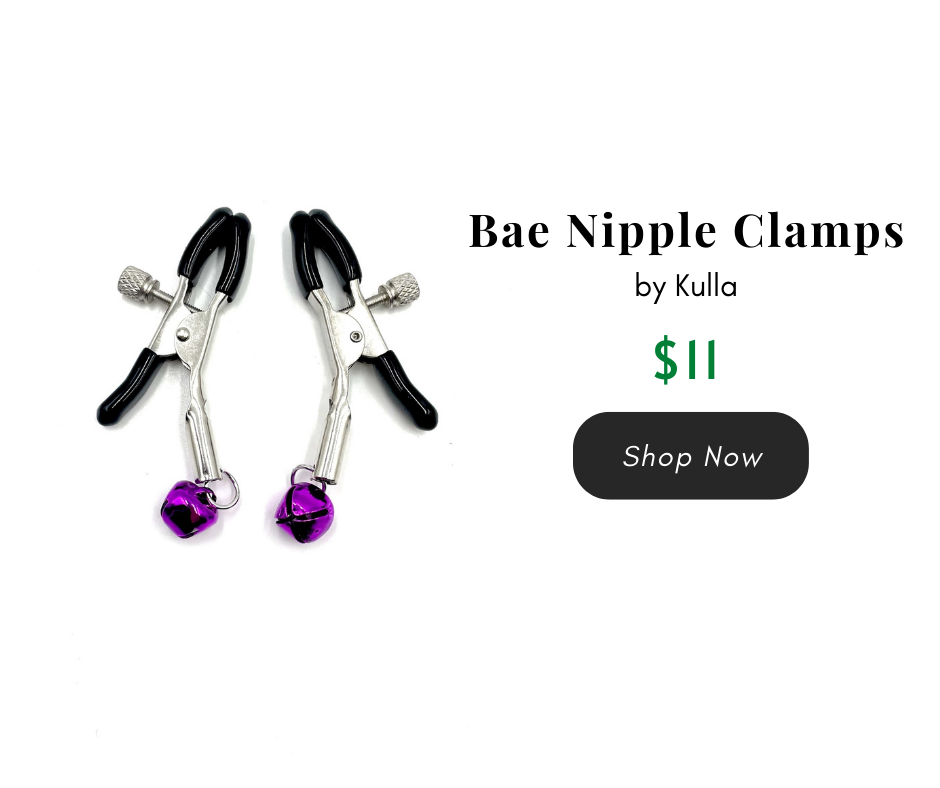 When it comes to kinky Christmas presents, nipple clamps are the perfect gift for both sub and dom alike to revel in pain and pleasure. What better way to ring in the season than jingle bell nipples?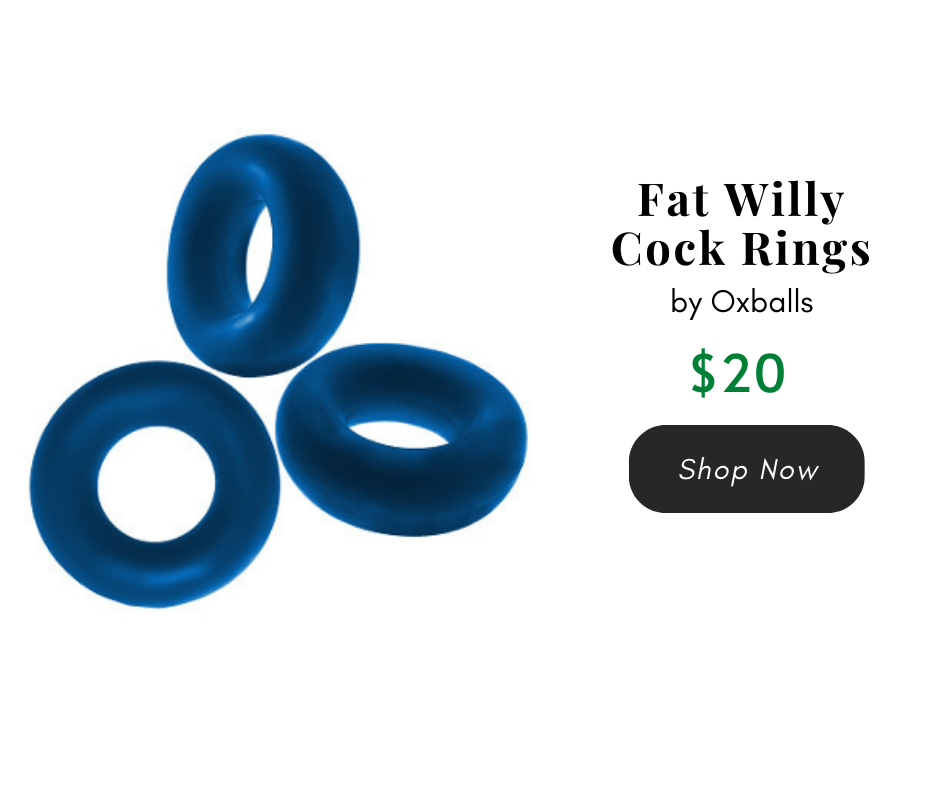 Finally, a cock ring that grips hard but doesn't pinch! If you're looking for a great gift idea, these soft and stretchy rubber cock-rings will make every erection harder and longer lasting. This gift is great not only for the wearer but also the partner receiving, as you can imagine!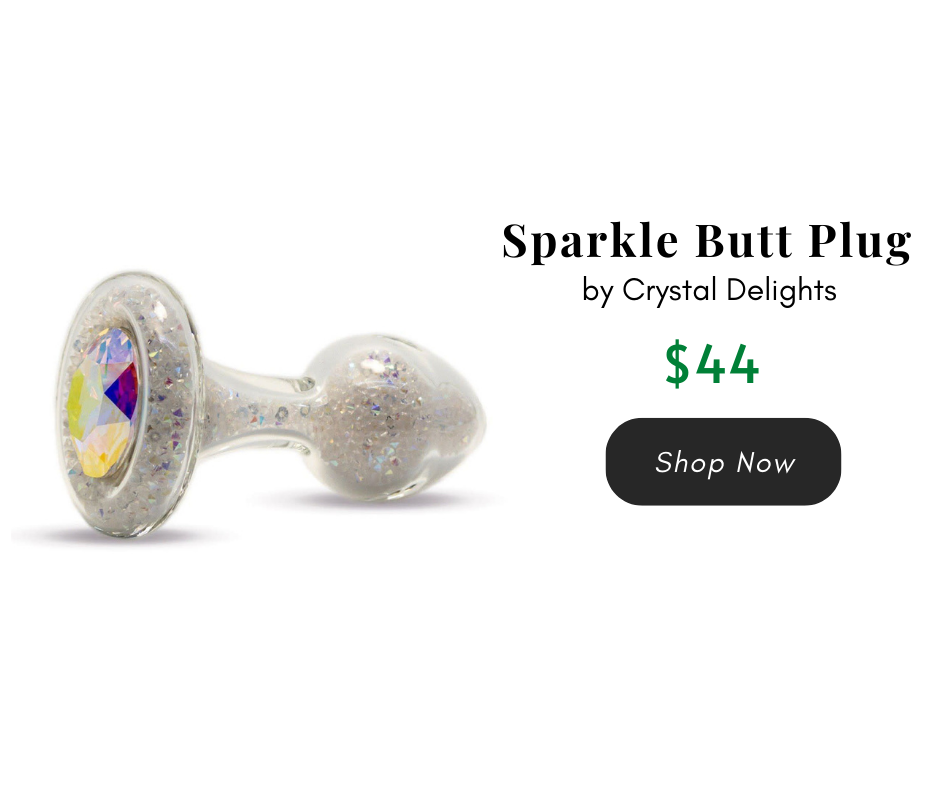 These colorful and sparkly butt plugs are sure to deck out your partner like a well-decorated Christmas tree. Body-safe and available in a kaleidoscope of different colors, these butt plugs are as hot to look at as they are pleasurable to use.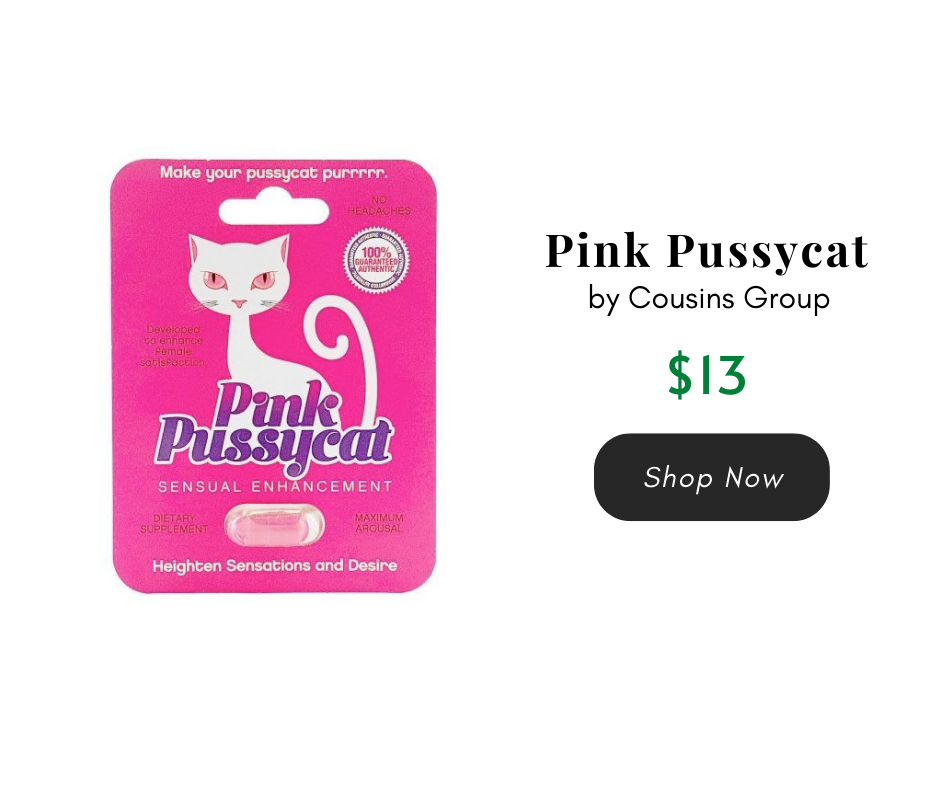 The Pink Pussycat Female Enhancement Gummies boost sexual libido, heighten sensitivity, and increase natural lubrication. Grab a pack or ten of these fast-acting and long-lasting gummies. For a great stocking-stuffer gift idea, look no further!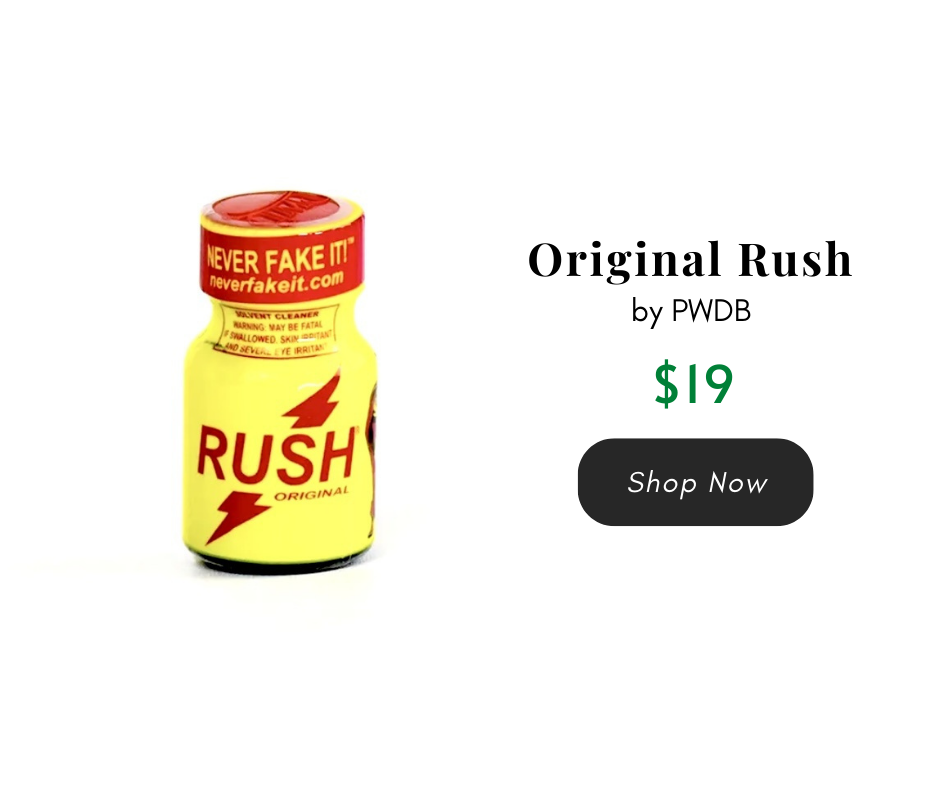 For those looking for instant body relaxation or to let your mind drift for just a moment, you'd be surprised the benefits of cleaning your VHS! We, of course, would never suggest something we're not supposed to...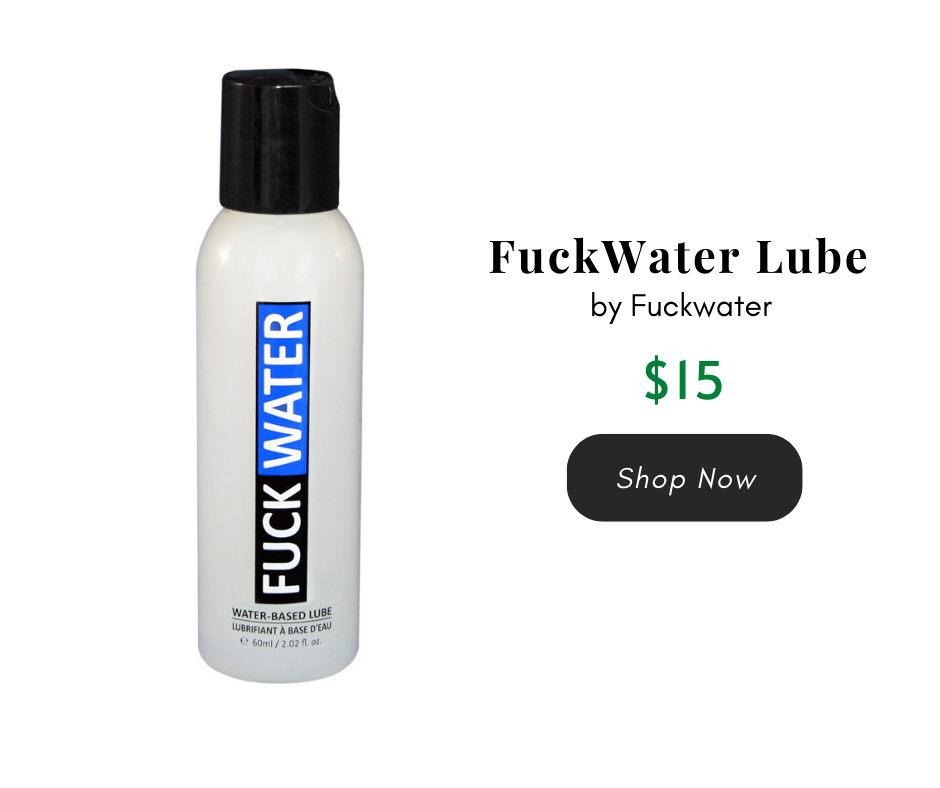 One of the best water-based lubes on the market, the cleverly named FuckWater is the perfect gift for couples this holiday season. This lube is knowns for its smooth, silky, and long-lasting formula. 
Warm up this winter season with hot wax! Available in an array of colors, these erotic wax-play candles are a safe way to explore temperature play. Body-safe and low temp, they do not require much heat to melt, making it easy to avoid burning the skin.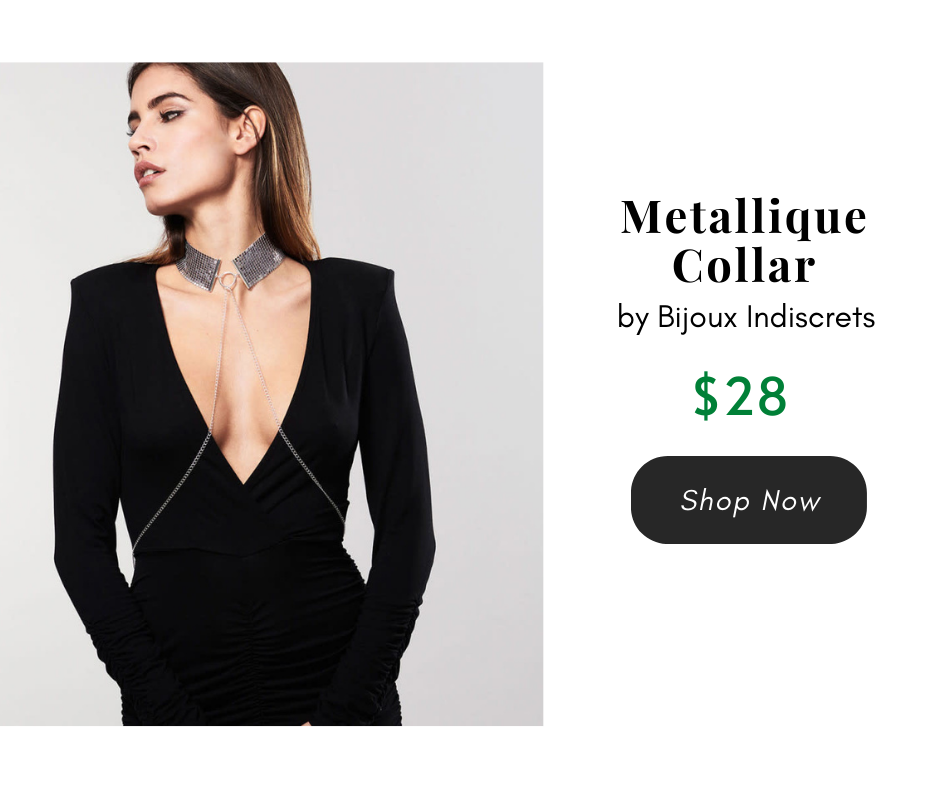 Spice up your gift giving and add the Bijoux Indescrets Desir Metallique Collar to your partner's stocking this holiday season. This collar is an elegant and discreet way to symbolize dominance over your partner.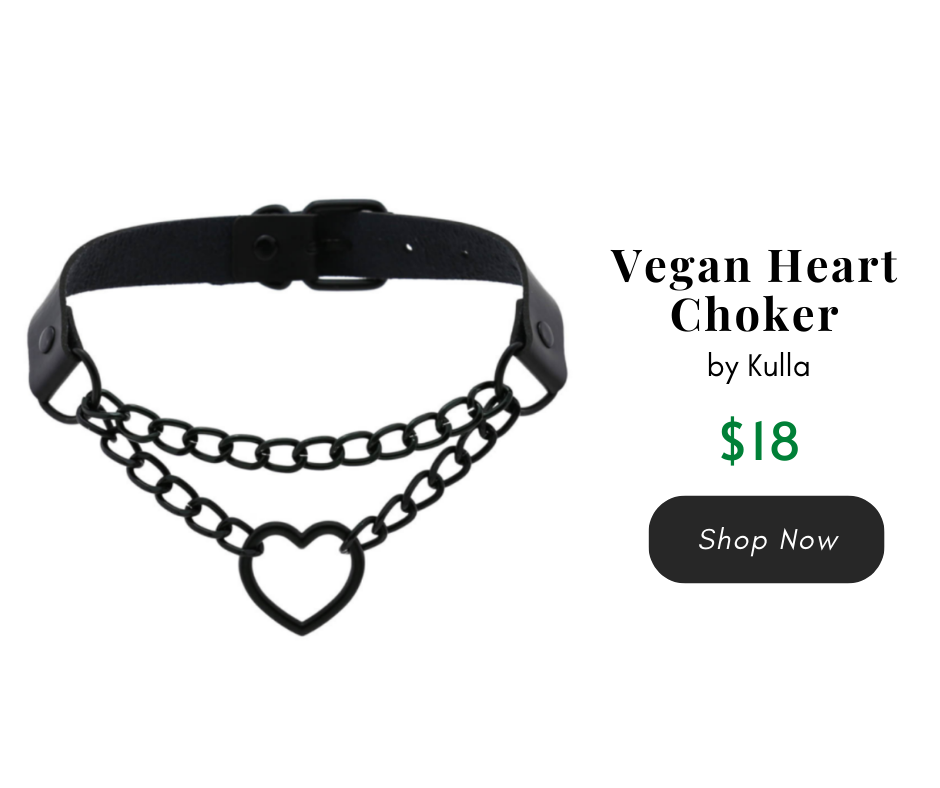 When fashion and submission mix! Black metal accents make this choker eye-catching and a great accessory to any outfit.

Bondage


Are you ready to gift wrap that special person this holiday season? The Special Edition Under-the-Bed Restraint Set comes with 4 cuffs and 6 connection points to give you and yours plenty of options to explore your favorite ways to restrain.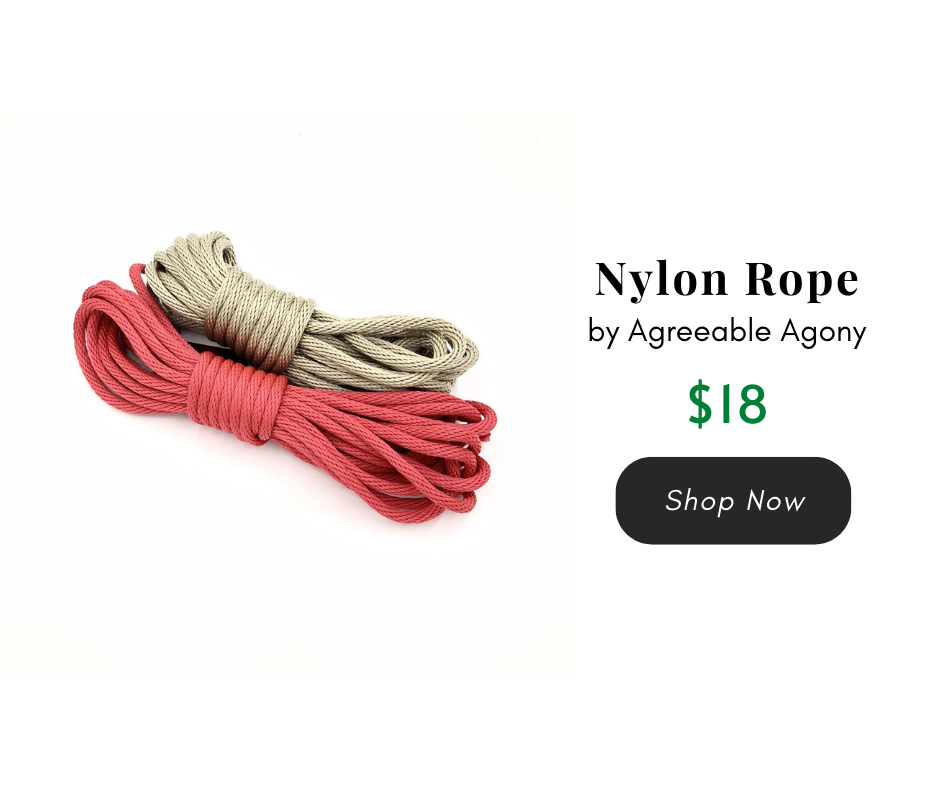 This 30' rope is perfect for lowering Santa down the chimney or for tying up your partner! It's smooth to the touch and thick for easy tying. A great option for beginners to rope bondage! Don't forget safety scissors. Finish off the gift with tickets to a rope bondage class.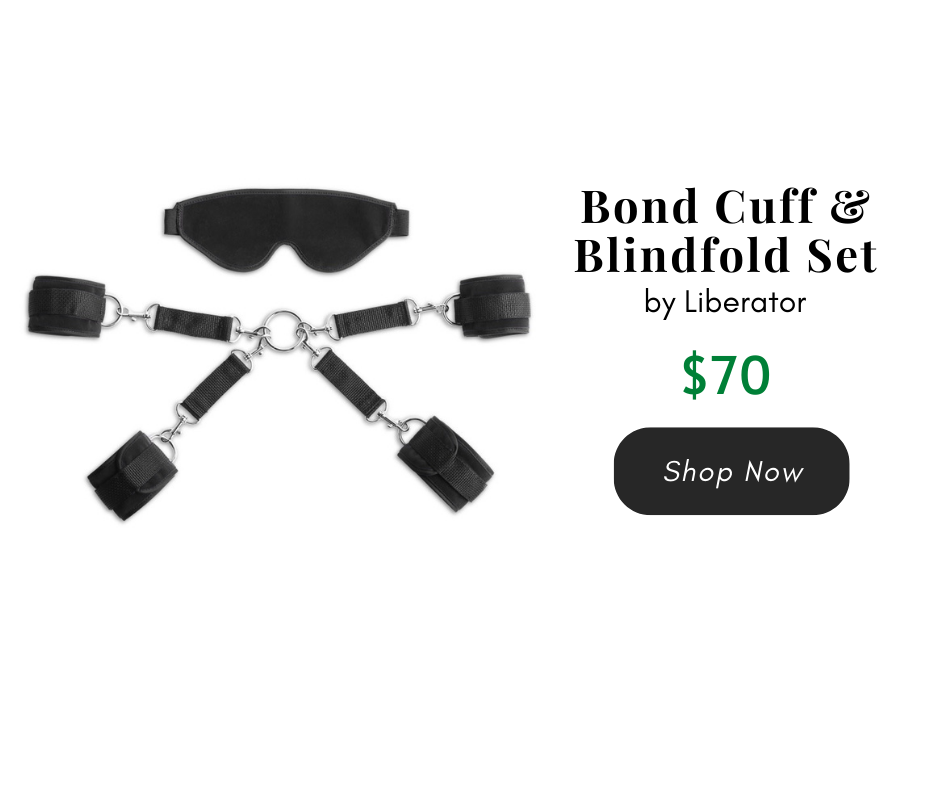 Silky, soft material makes up this blindfold and cuff set. If you are seeking to create intimacy and trust with your husband, wife, or partner, this kit comes with ankle & wrist cuffs and a blindfold to get you started on exploring bondage.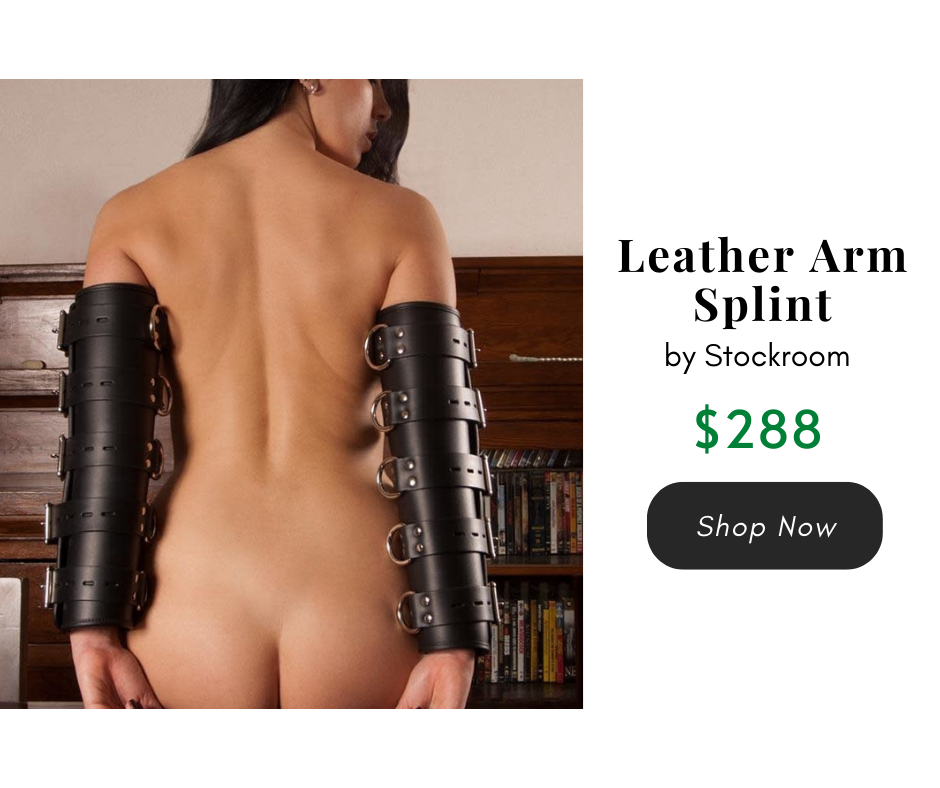 Beautifully crafted, the Premium Arm Splints will render your partner helpless to your pleasurable advances. Made with sturdy leather and durable buckles for long-lasting pleasure.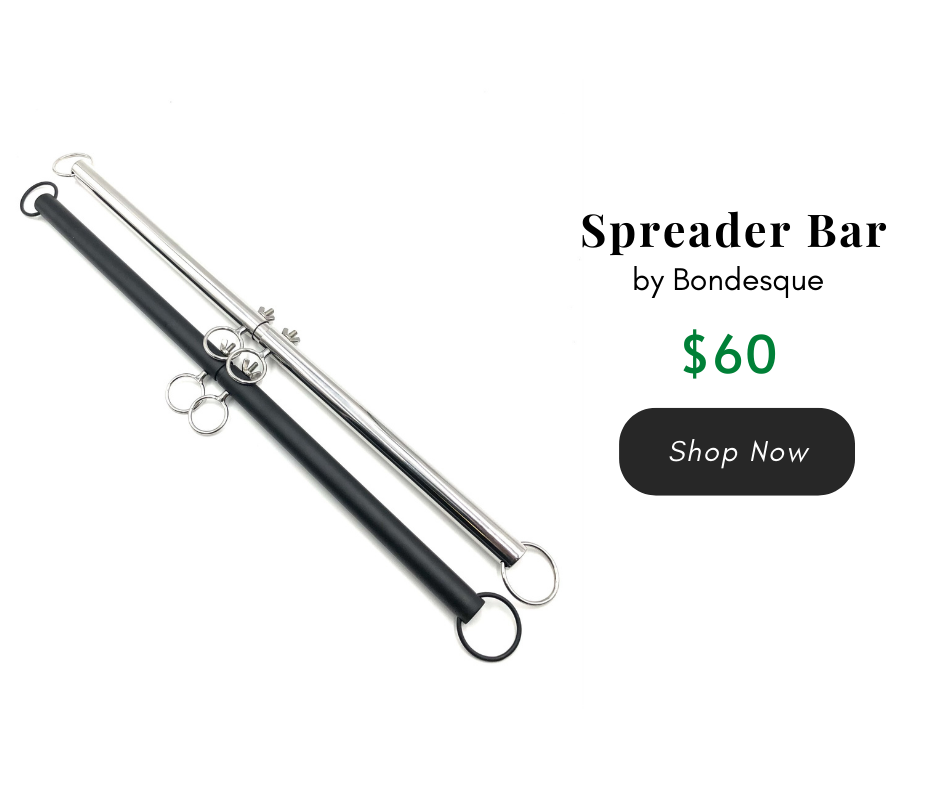 Looking to truss up your sub like a Christmas tree star? Then this Adjustable Four-Point Spreader Bar should be under your tree this season. It's sure to add a scintillating mix of pleasure and excitement to your next adventure.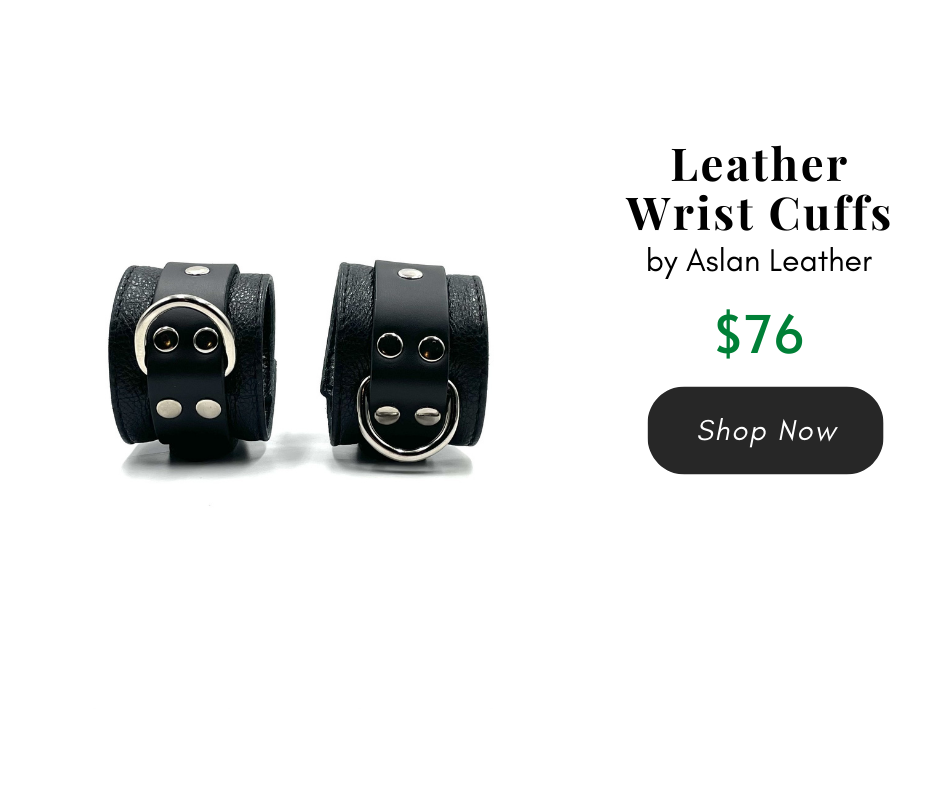 Available in red, silver, black, and white, these leather Jaguar Wrist Cuffs are the gift that you'll enjoy for years to come. Pair them with leather cleaner and polish to keep them in great condition.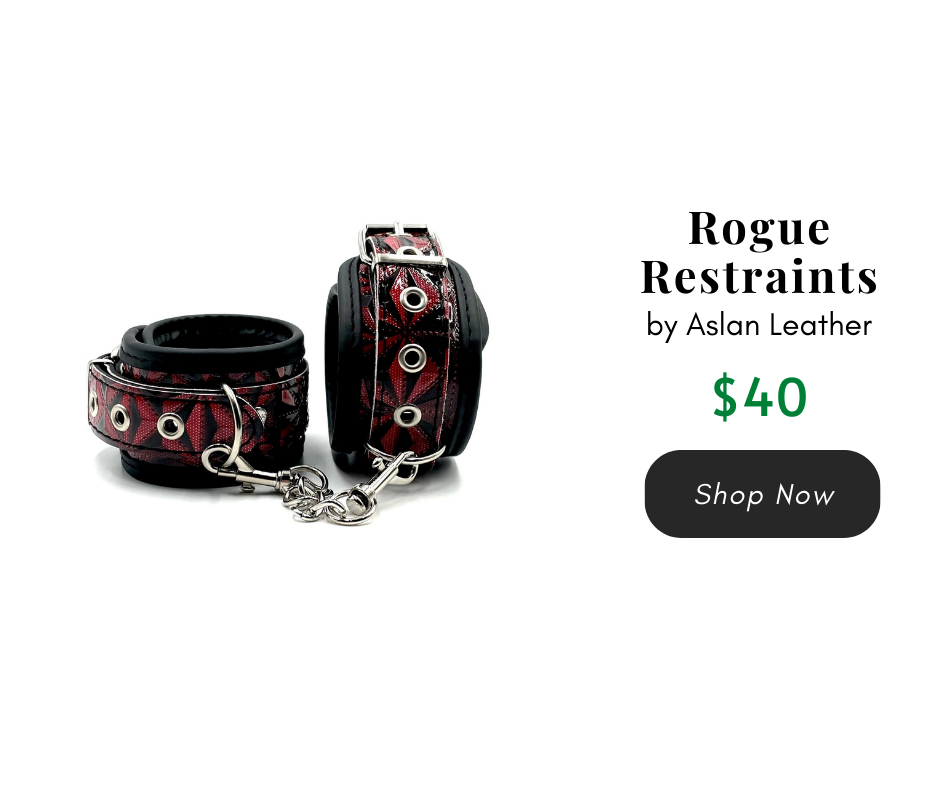 Never fight with your sub's legs again. These Rogue Ankle Restraints will remind your partner who the Master is. Gift these to that special person in your life but don't open them in front of the kids!

Sex Toys
Get yourself on the Naughty list when you ask your wife or partner to wear this wireless, app-controlled g-Spot vibrator to Christmas dinner or the holiday work party.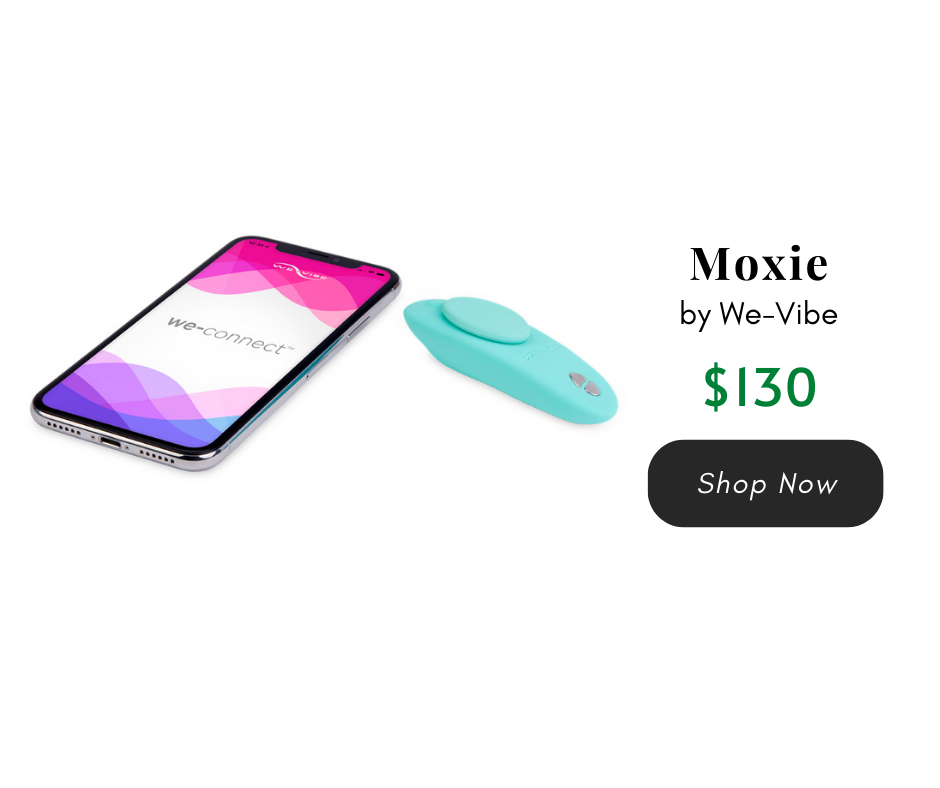 Does secretly pleasuring your partner turn you both on? This wearable panty vibrator is sure to hit the right spot this year. With the We-Vibe app, control the toy wirelessly over short or long distances. Who said sexual pleasure can only be explored in the bedroom?
Couples can enjoy elevated play when using the We-Vibe Chorus vibrator. This remote- and app-controlled couples toy can be worn during penetrative sex and can help bring on a shared orgasm. Complete with simultaneous g-spot and clitoral stimulation.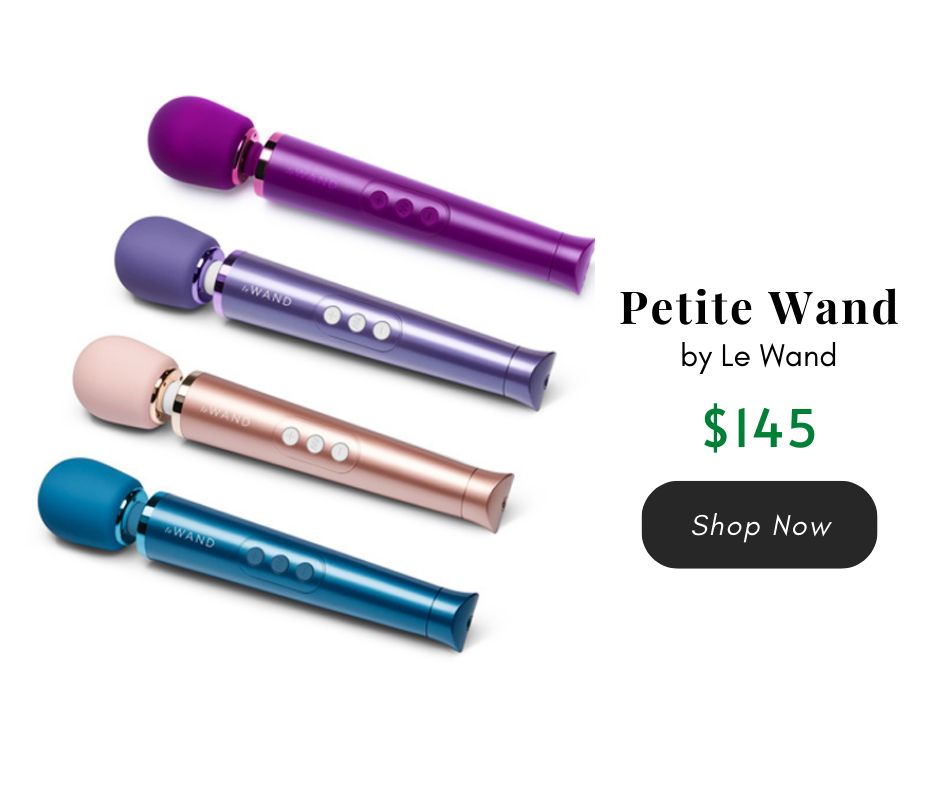 Looking for a toy that travels well? The Le Wand Petite is perfect for kinky adventures on the go. This vibrator comes with a travel case and makes the perfect gift for your special someone.
Fucking has never gotten easier. No one needs to thrust and everyone's hands are free, making this a great toy for solo and partnered play. Complete with a suction-cup base to keep this fucking machine in place!
Made with silky soft silicone that was made to wrap around the shaft for intense pleasure. This toy vibrates and pluses and features an open end, making it the perfect foreplay companion.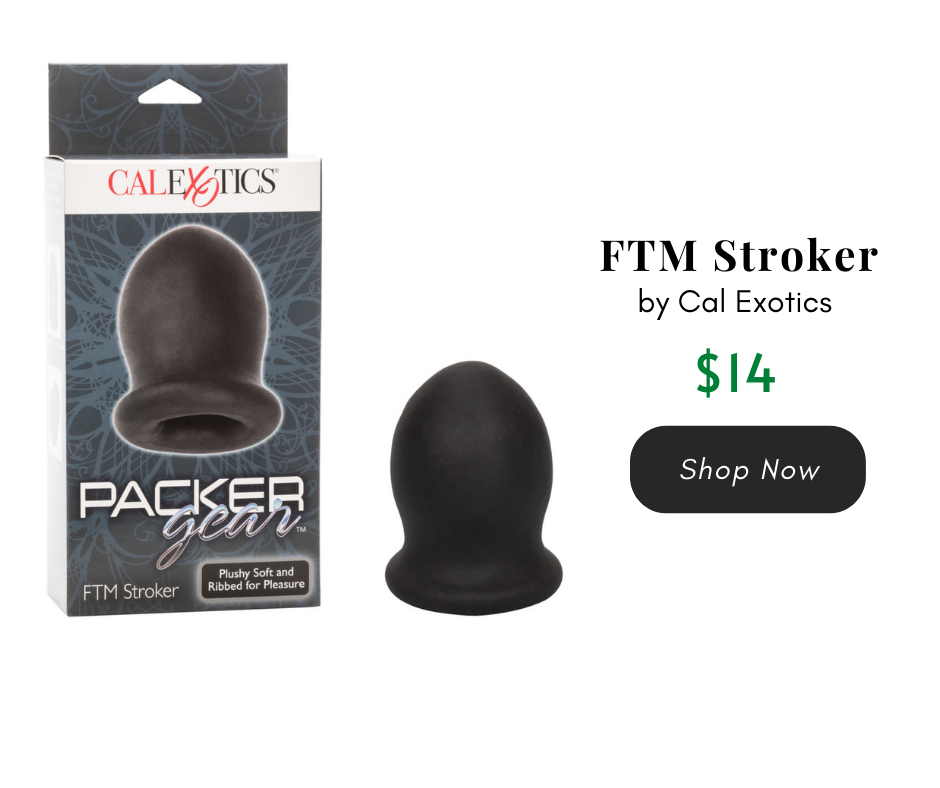 Strokers are not only for cis men! Made specifically to fit and pleasure people on testosterone. This FTM stroker uses suction to heighten sensitivity and give intense pleasure. Use with water-based lube for the most pleasurable experience. 
Collars & Leashes


This Jaguar Collar is made with high-quality, durable leather. Slip it on before heading out to symbolize submission or wear it during play with a durable leash made specifically for play.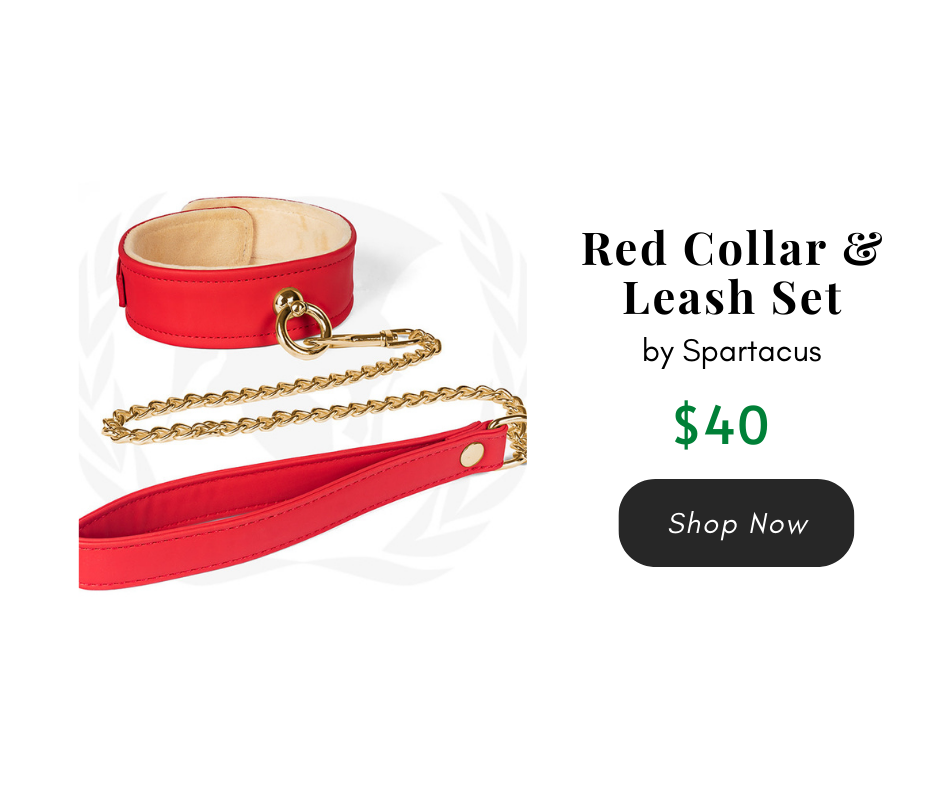 If you want to parade your pet around in style, then this Plush Lined Collar is a great gift. The collar is lined with velvety-soft, plush microfiber and features nickel-free hardware.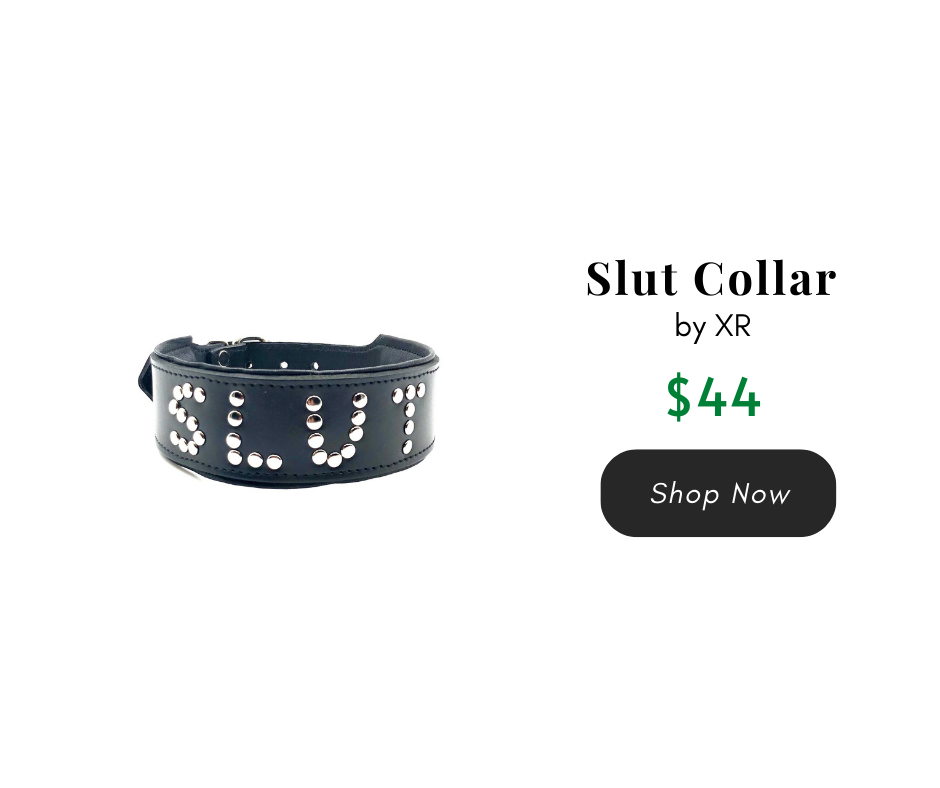 For your dirty little slut, this just might be the perfect gift. Your submissive will wear this collar proudly in or out of the bedroom.

The Femina Fashion and Play Harness can be worn for a night out and then taken to the bedroom for your Master's pleasure. This is a perfect gift for the sub in your life.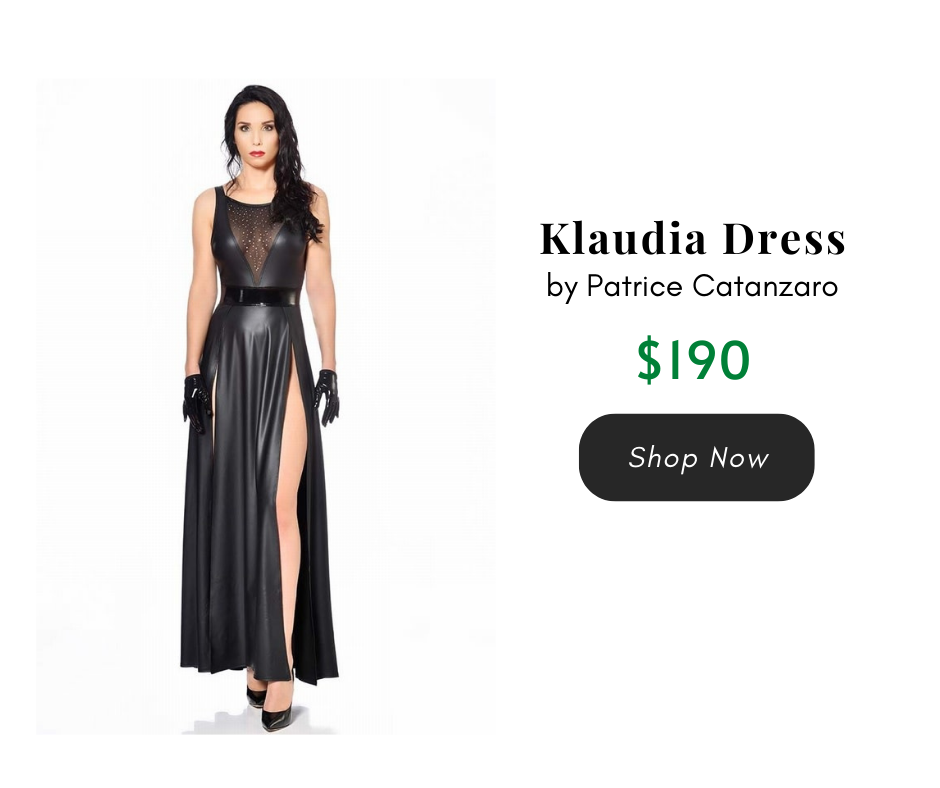 Turn New Year's Eve into a seductive affair and enthrall everyone at the party while wearing this sexy number. 2 revealing slits and a plunging v-neck make this piece a sultry piece that you can still wear in public!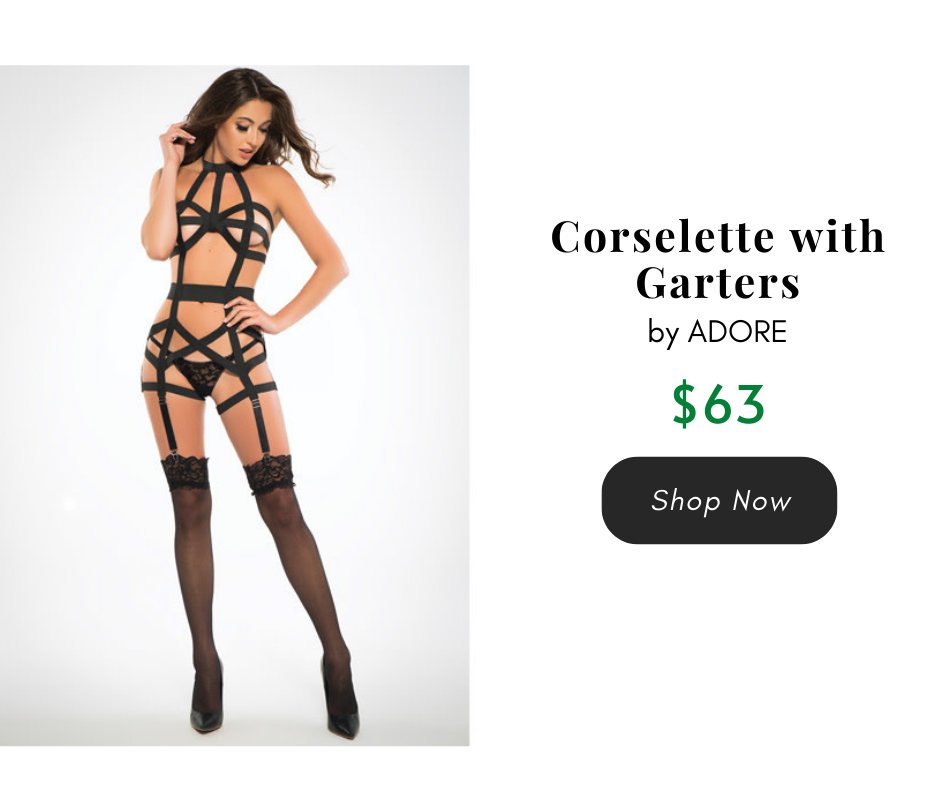 This sexy lingerie is bound to make any partner desire your every curve. Pull this out of a gift box and immediately turn up the heat. 

These steel butt plugs are the perfect size for a sexy stocking stuffer. Give these just in time to wear it out on New Year's Eve and secretly enjoy a bit of pleasure.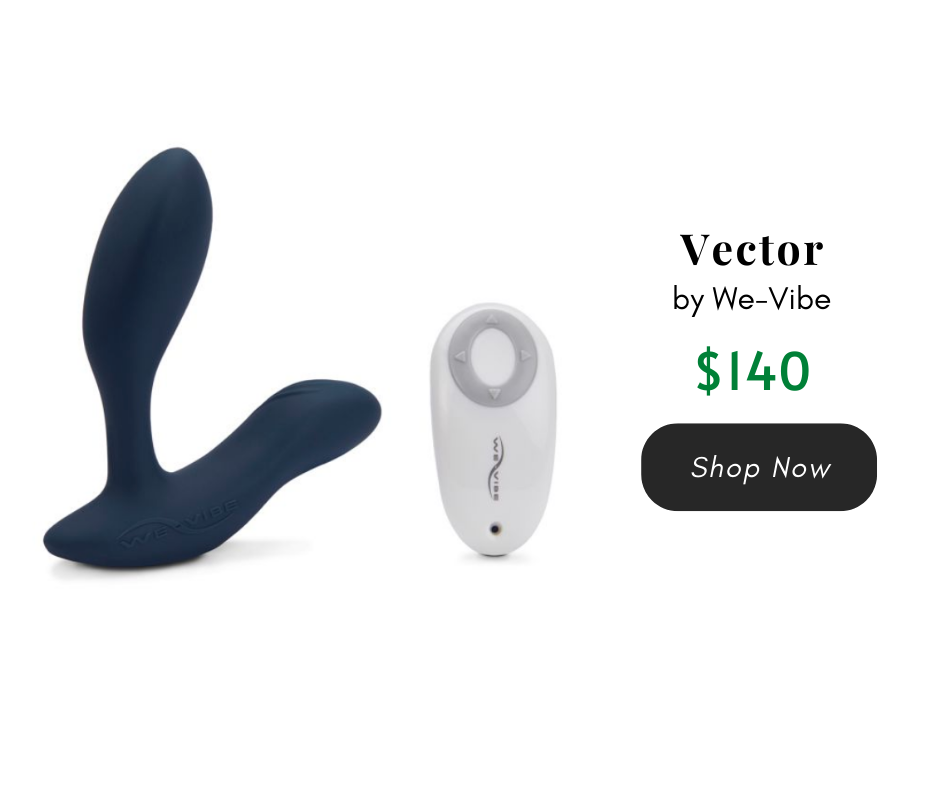 This p-spot toy has an added feature that will appeal to long-distance lovers! Control the vibrator from anywhere using the app and have your partner writhing in pleasure.  
Bedroom Furniture
Wedges are a versatile tool - use them to make keeping your partner on their knees easier or keeping your body in the perfect position for deep penetration. Plus it looks innocuous amongst your other bed pillows! 
Strap-On Play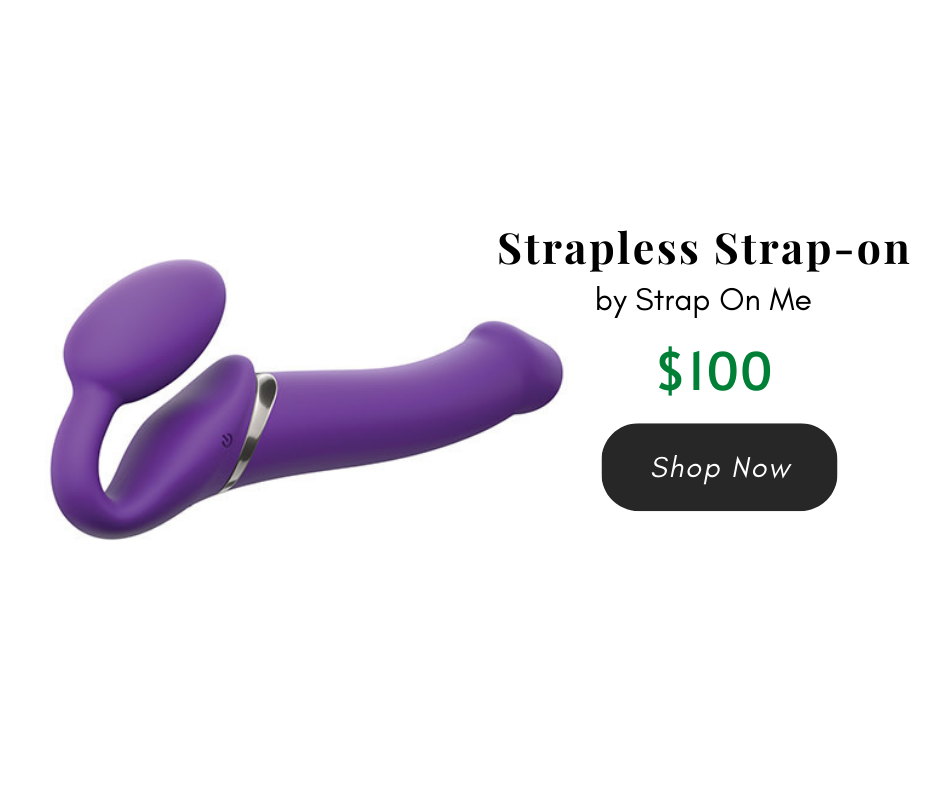 Interested in pleasuring yourself and your partner? This strap-on features 3 motors - one in the shaft, one in the insertable egg, and the last at the base of the shaft (perfect for clitoral stimulation).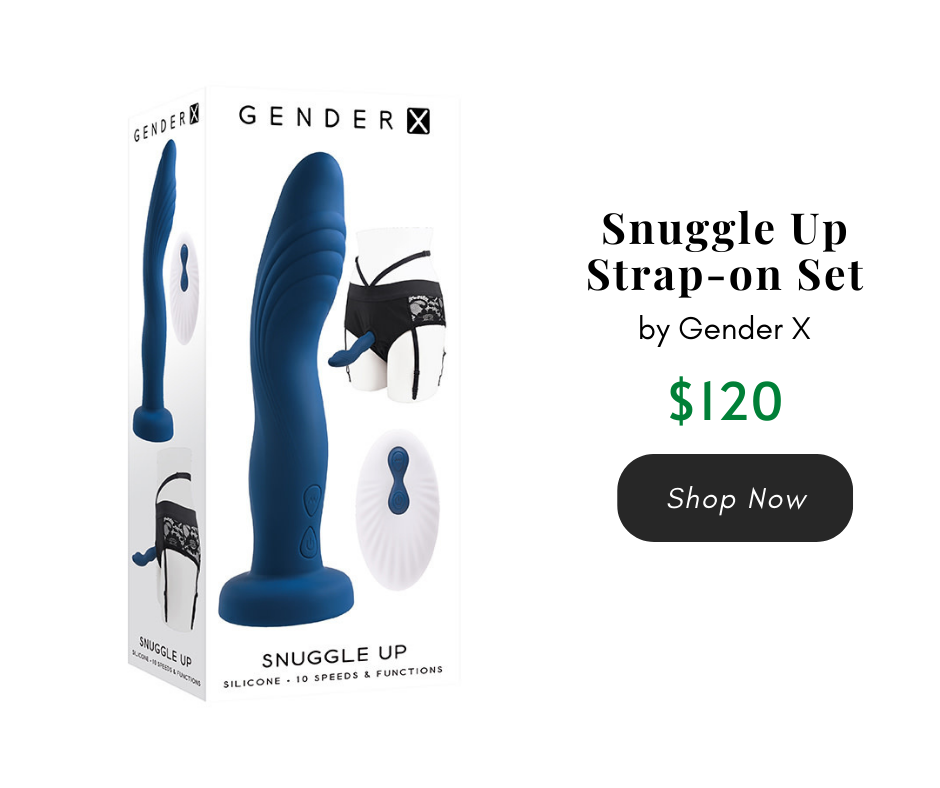 If taking control and pleasuring your partner is the gift you're looking to give this season then the Gender X Snuggle Up is the perfect gift for you and your partner. Fill the winter nights with heat and let the pleasure take over. This vibrating dildo and strap-on harness set is 2 times the fun with 2 powerful motors. Motors at the tip and base vibrate while you exert your dominance over your partner. 
Pray your sub is naughty this year and enjoy the range of erotic sensations a good paddle can bring. Listen to the most delicious slap while your partner submits.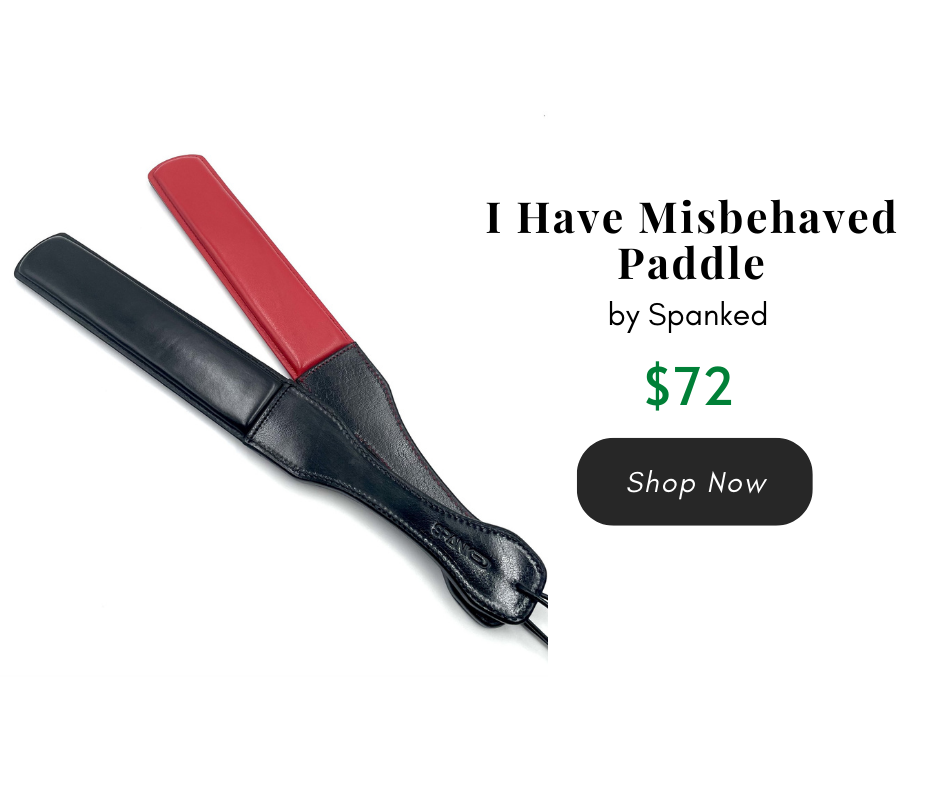 A long paddle is certainly one of the best ways to keep your partner in line. Featuring padding on one side and a smooth backside so you can switch up the impact sensations as you please. Slip this into their stocking this holiday season and watch your partner's desire spike.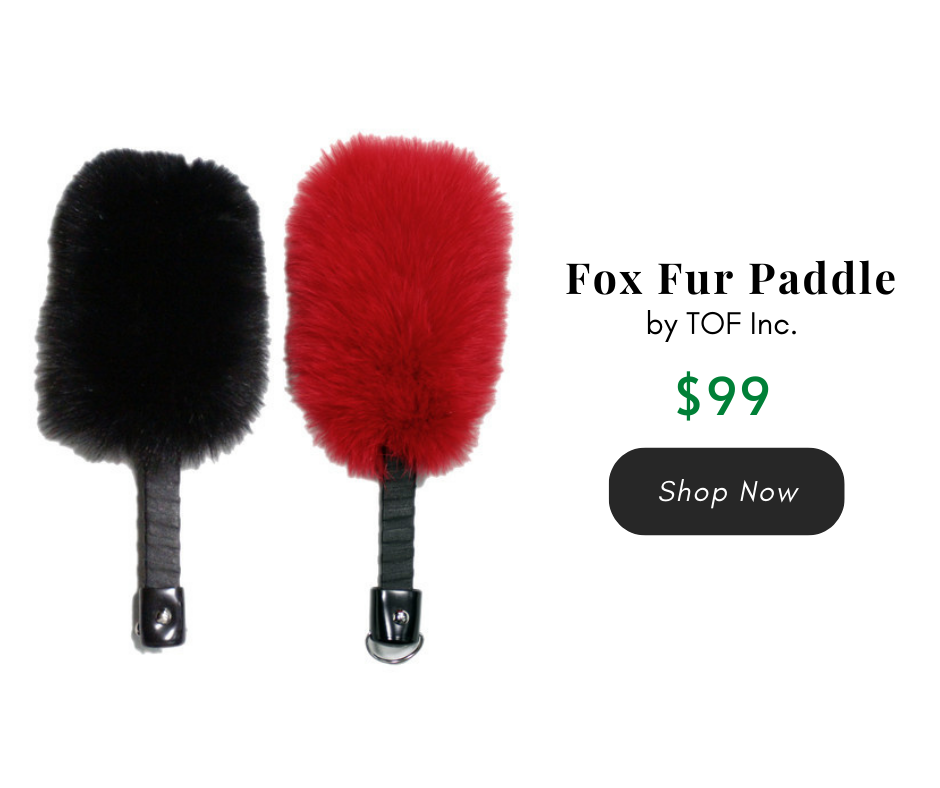 Is your sub Naughty or Nice this year? With the Fox Fur Paddle, it doesn't matter! Made with real fox fur, this paddle features an incredibly soft texture that pairs so nicely with a good spanking.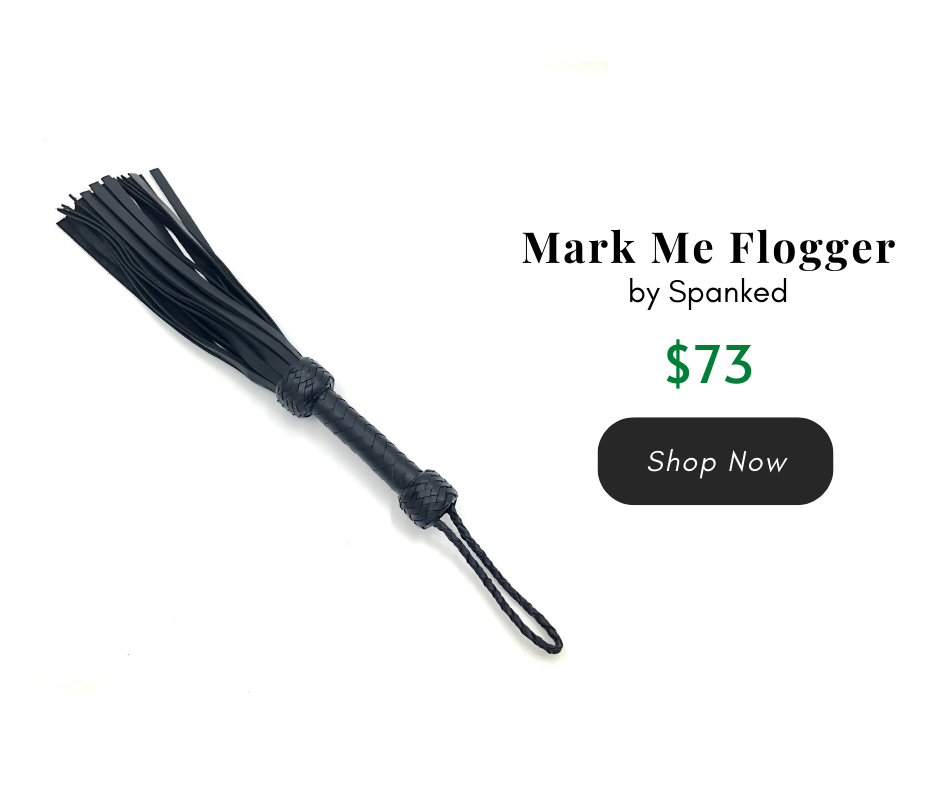 Add this quintessential flogger to your collection or start something new - either way, you'll be happy you chose to be naughty this Christmas.

Are you wishing for 30" of snow or a 30" flogger this year? The snow is beautiful but so is a freshly flogged behind. Remind your sub who the Master is this winter.
All of our orders are shipped out same- or next-day! Get your last minute Christmas gifts right when you need them.