Login
Log in if you have an account
Dont have an account? Register
The Best Fantasy Toys of 2022
23 Nov 2022
What do dragons, centaurs, krakens, wolves, and Beowulf have in common? All are available as fantasy dildos from brands including Bad Dragon® and Hankey's Toys! Lube up your holes and get ready to take a journey through the best fantasy toys of 2022!
Fantasy Toys Are Popular for a Reason
If you enjoy big toys, fisting, gaping, being stuffed extra full, or having your favorite fantasy creature ravish you until you're left sloppy and used up, fantasy dildos are for you! Fantasy toys offer something fresh and different from average human penis-shaped dildos. Their exotic shapes and textures stimulate in ways that most toys cannot. Their colorful patterns and artistic designs make them beautiful as well as functional. 
Fantasy dildos are available in multiple sizes, whether you want to wreck your holes or just experience a different sensation of fullness.
Anything from horse dildos to Demogorgon cocks; the most heavily textured dildos to the smooth and bulbous, fantasy dildos will be the perfect addition to your special toy chest. We selected our 10 favorite dildos and a few honorable mentions. 
The 10 Best 2022 Fantasy Dildos
These 10 high-quality dildos are our customer's favorites and our staff favorites. Some were chosen for being the most unique dildos with elements you can't find elsewhere, and others because of the way they hit the right spots or challenge you to take more!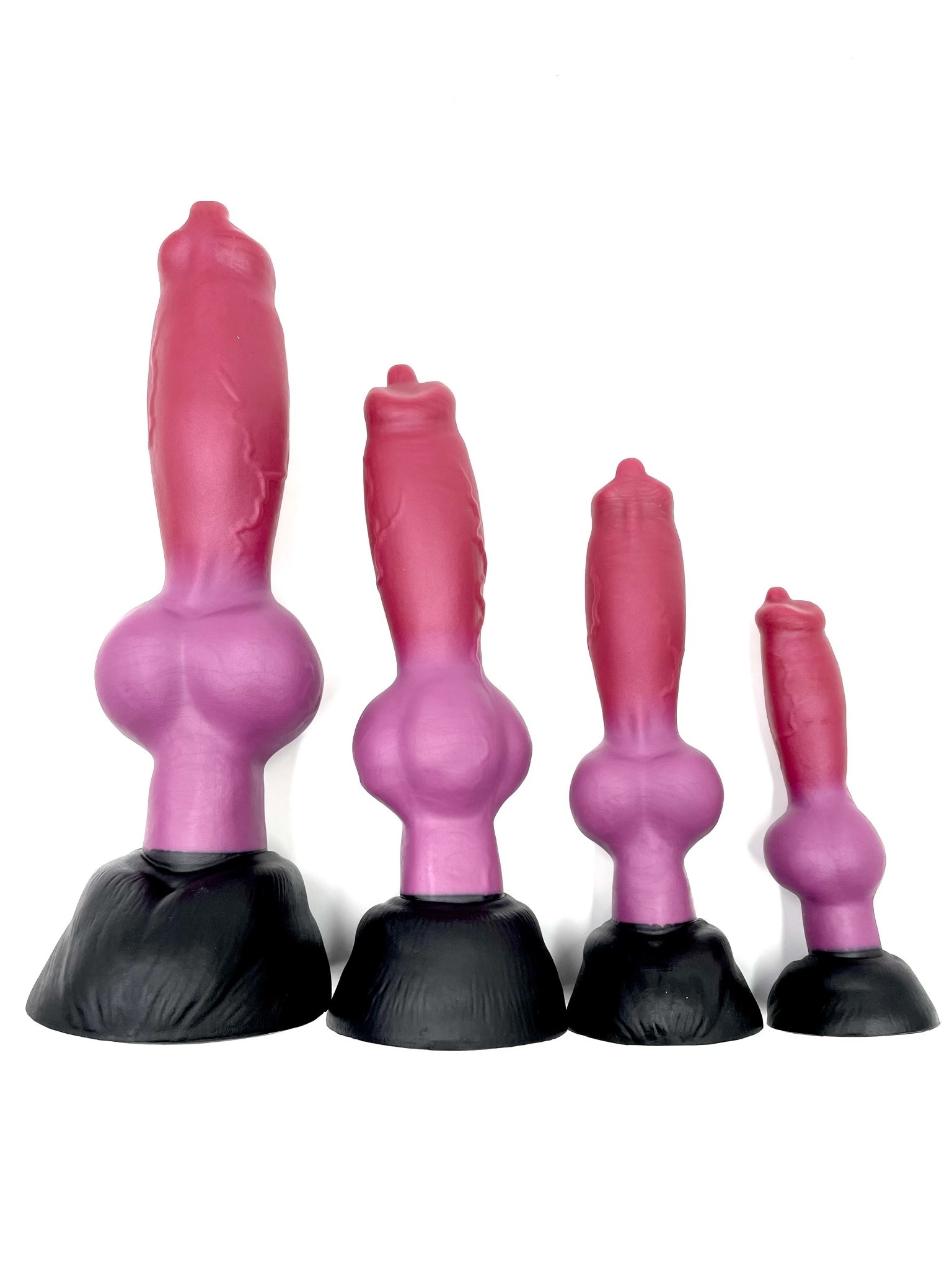 Price: $115.99-$229.00
Sizes Available: Small, Medium, Large, and Extra Large
Who hasn't imagined a massive dog humping them into oblivion, its bulbous knot swelling as it pumps ounces of cum into your greedy sex pot? We certainly have. Rex boasts an impressive length and a thick knot towards the bottom of the shaft, making it a great choice for deeper anal play. Once the knot pops past your sphincter, this toy will sit happily like a butt plug. This beautiful dildo and all Bad Dragon Toys are made from US-made, platinum-cured, body-safe silicone. Bad Dragon toys are customizable and can be made in a large variety of colors.
If you're ready to have Rex all to yourself, we ship all of our orders same- or next-day so you can get your hands on him sooner than later.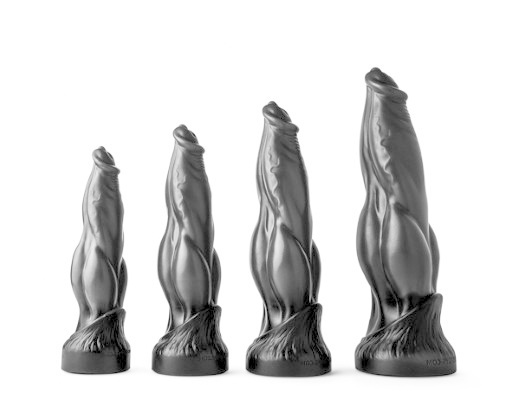 Price: $124.99-$191.90

Size available: Small, Medium, Large, and Extra Large
Beowulf puts you right where fear meets pleasure. With a dick this big and bulbous, you better be ready to submit to his every demand. Beowulf's thick veins, curves, and flared shaft make every thrust easy to get fully lost in. Don't be deceived by the slim, pointed tip -- the Beowulf packs gradual girth and length that will fill you just as you want him to. This dildo is crafted with body-safe silicone. Choose your size and color before prepping for the ride of a lifetime.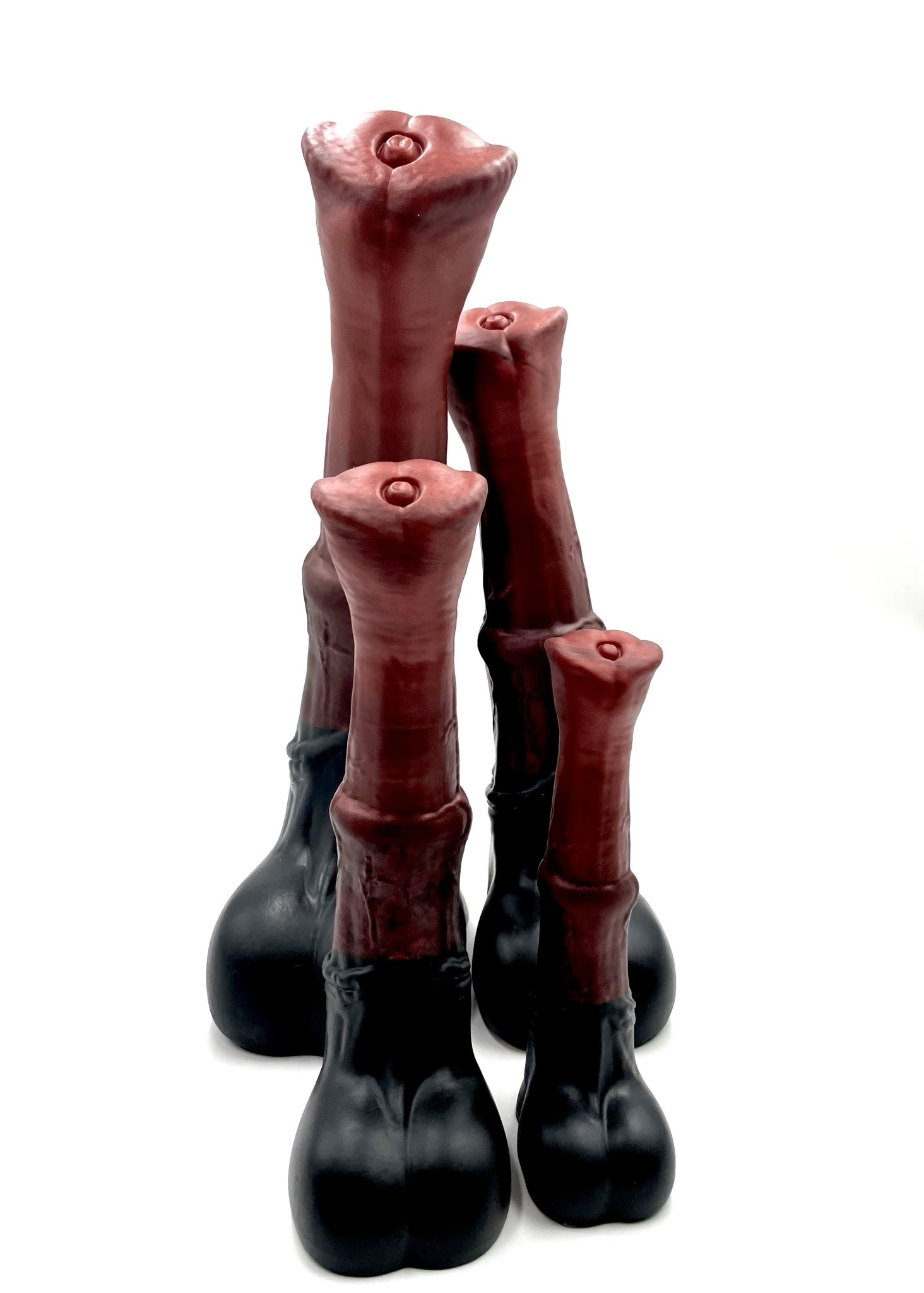 Price: $119.00-$229.99

Size available: Small, Medium, Large, and Extra Large
Ponies won't have to wonder how it feels to be overtaken by a massive stallion any longer. Chance can't hide it when he's excited. A fully unsheathed Chance is a glory to behold and an even greater glory to be filled with. His flat and wide head tapers to a thick, veiny sheath, ensuring he won't be going anywhere once he's in. As you're probably already imagining, he's just perfect for anal stretching and depth play.
If you're ready for this beast to slip in and get thrusting, we recommend J-Lube. This lube allows you to easily create the consistency you desire and each container makes 6-8 gallons of lube.
If you're ready to have Chance all to yourself, we ship all of our orders same- or next-day so you can get your hands on him sooner than later.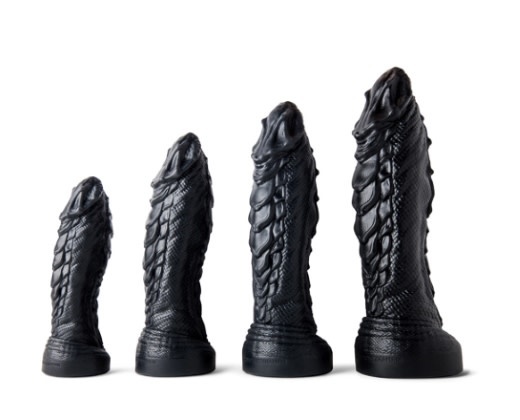 Price: $135.99-$199.99

Size available: Small, Medium, Extra Large, and XXXL
Scales weren't made to just be seen. The Dragon is a beast waiting to be stirred, and once he has been, we hope you're ready to feel each and every scale. His pointed head widens to a girthy, textured shaft that will send coursing pleasure through your body as it rubs you in all the right places, making the Dragon a suitable dick for g-spot and p-spot stimulation.
Complete with a hole for vac-u-lock strapon harnesses so anyone can wield this monstrous dick.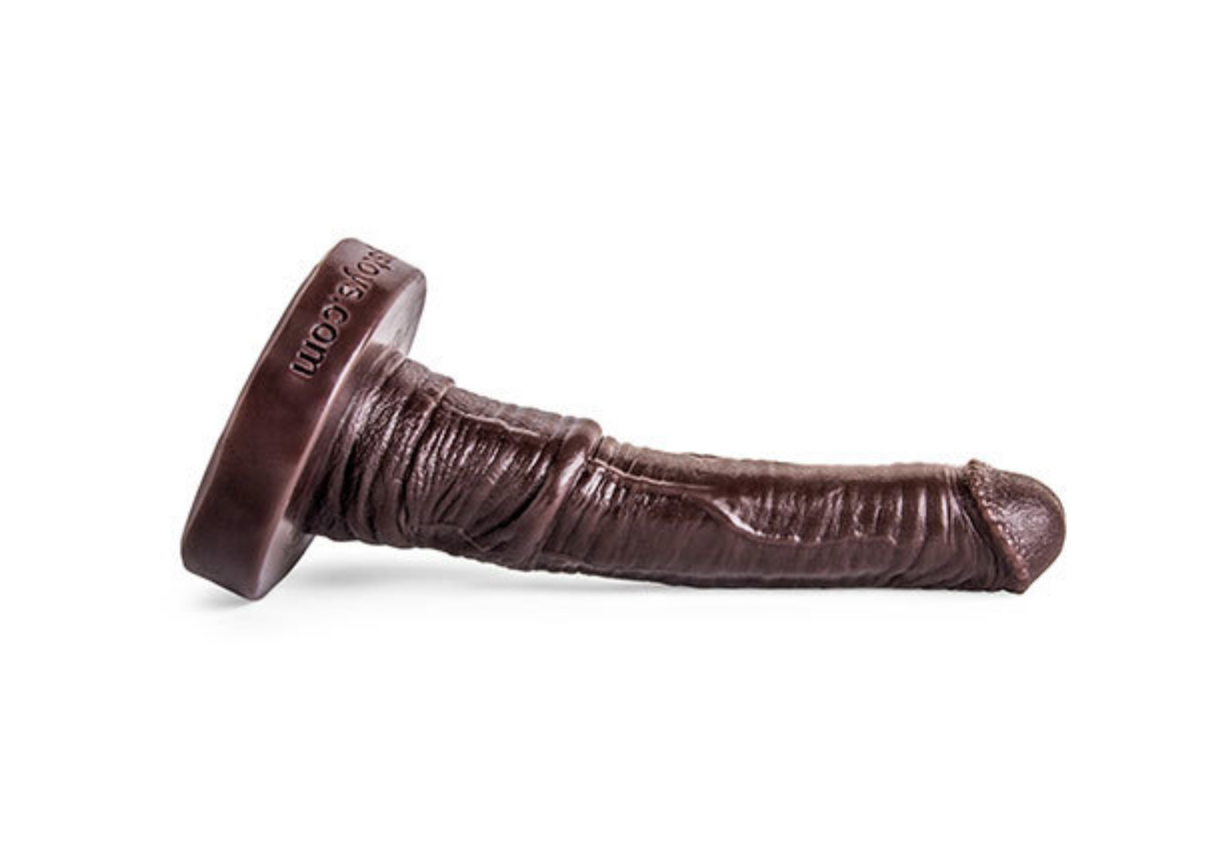 Price: $129.99-$164.99

Size available: Small, Medium, Large, and XXL
If you've ever found yourself fantasizing about the pleasures to be found in a stable, the Centaur is ready to show you the ropes. With a dick as textured as his, the Centaur would be pleased to give you rimming pleasure. His gently flared shaft will bring you closer to the edge with every thrust. The Centaur's length ranges from 10.75" to 14.75", making this dick perfect for both rimming and depth play.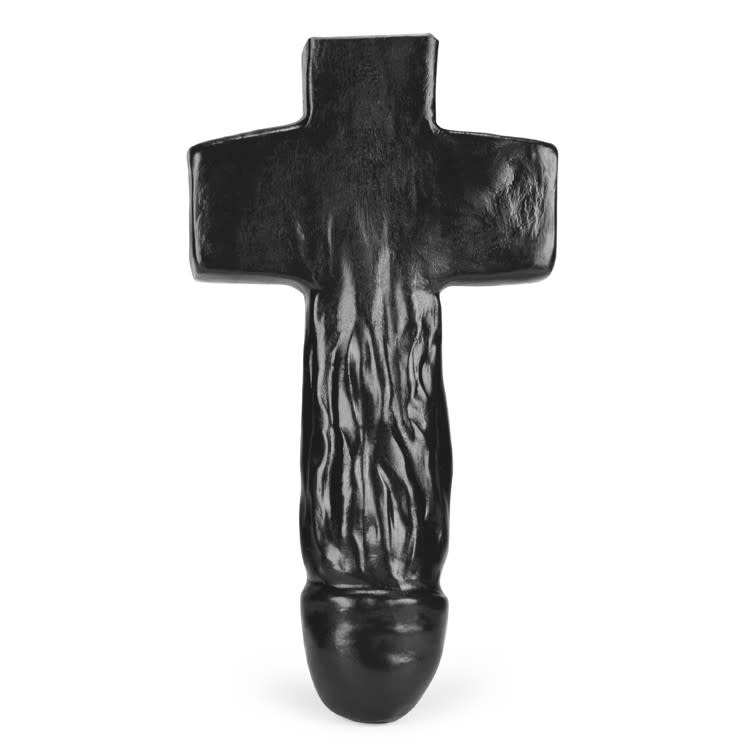 Price: $158.99

Size available: One size (7" in length)
Get on your knees to pray in the name of the Father, the Son, & the Hole-y Ghost. Damien is here to prove that Jesus isn't the only one who can hang. Be prepared to stretch yourself to accept all 7.5" of Damien's circumference. Thick veins, a sizable head, and a base just perfect for gripping makes this cross-dick combo a versatile piece. This 2 lb black dildo is fleshy, firm, and will look great on your shelf or in your partner's butt.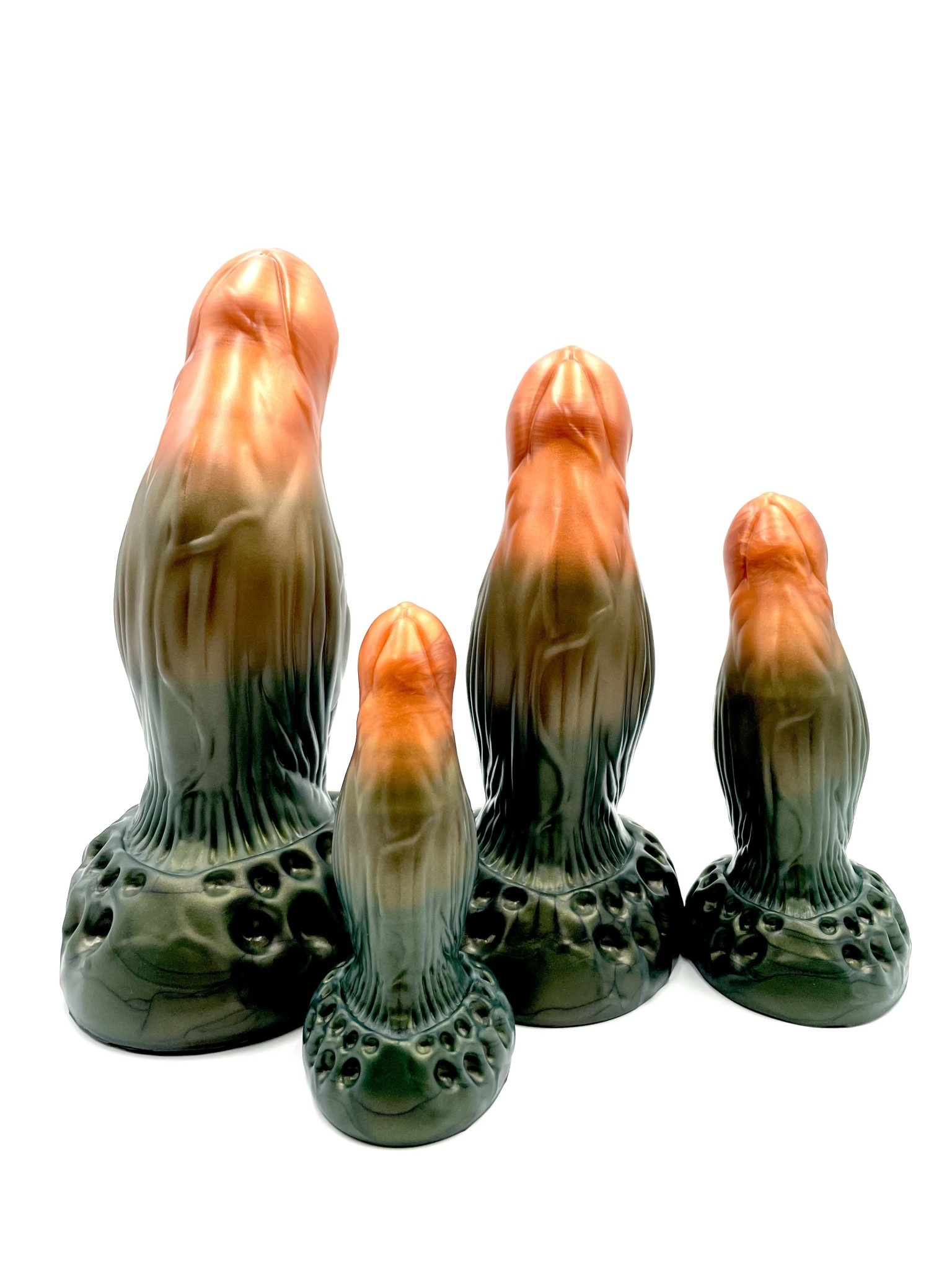 Price: $119.99-$229.99

Size available: Small, Medium, Large, and Extra Large
Jason is a beast with a monster cock. Fantasize all the ways this beast will overtake you -- he already knows your favorite spots. He maintains quite the curve when he's ready to go. Pronounced veins and textures unique to Jason alone make this dick appointment one you'll return to time and time again. 
Our ready-to-ship Jason dildos are available in four different sizes with thick bases for strap-on play & pegging.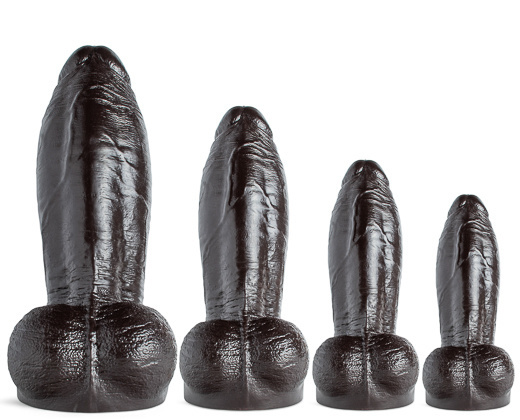 Price: $154.90-$247.90

Size available: Medium, L/XL, and XXXL
This master is waiting to be served, and he won't accept anything but your cum-hungry holes. Submit to Atlas and his thick, long dick will happily rearrange your guts. You better prepare yourself before receiving. Atlas' circumference ranges from 9" to 17.5" and his length ranges from 7.5" to 14.25". For those who love anal stretching and depth play, this will certainly be the ride of a lifetime.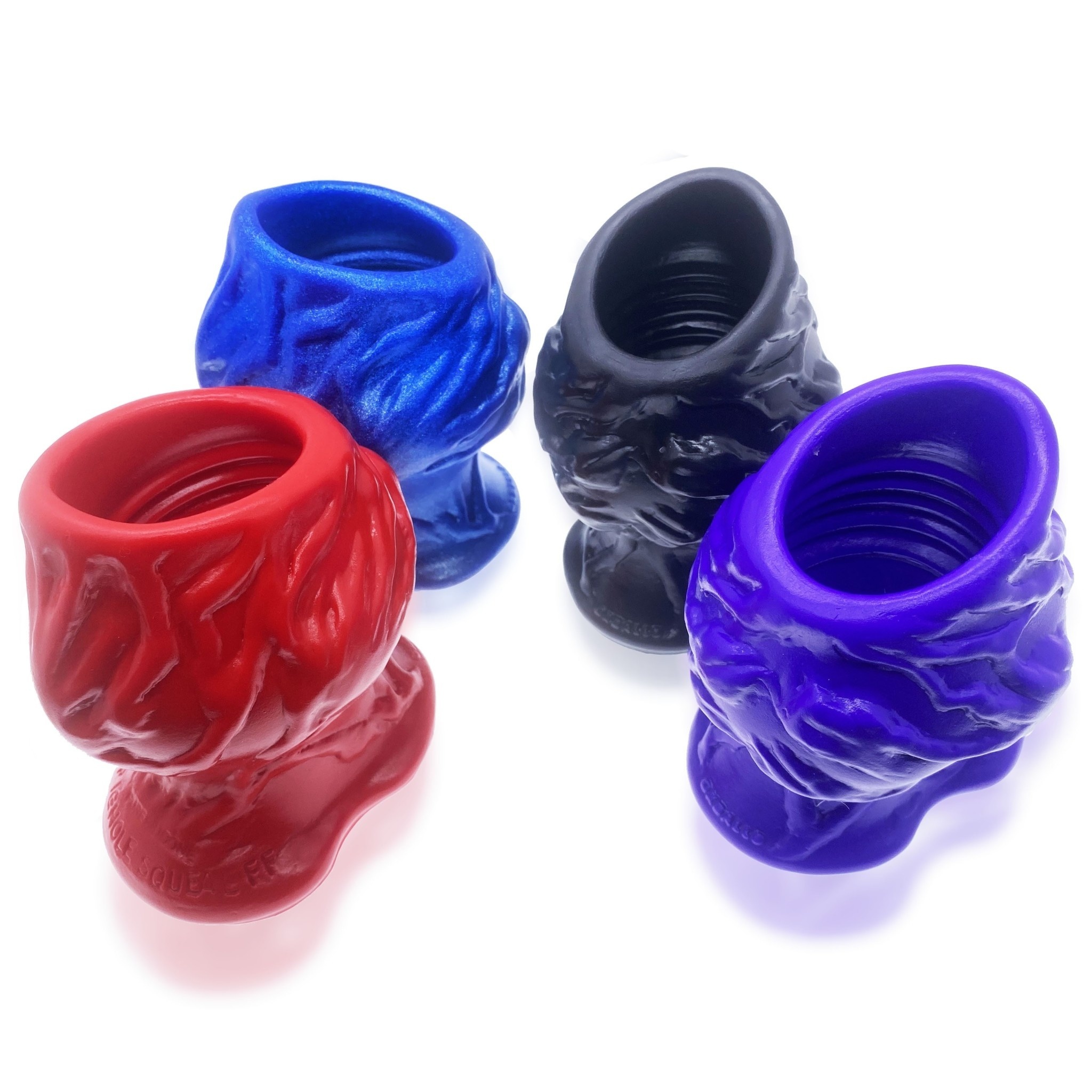 We love a slut who craves to be stuffed. The Pig Hole Squeal is a firm, hollow butt plug that will keep your hole open for as long as you need it to be. Imagine all the things one could do with a gaping hole begging to be stuffed. The Pig Hole will aid in protecting your sphincter as someone's elbow-deep inside. This plug will help to prevent tearing and scratching. And to top it all off, it looks hot too.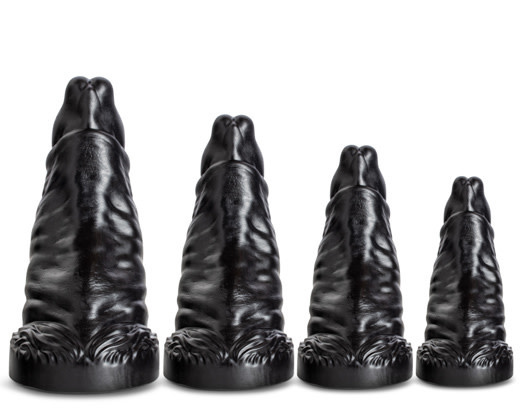 Price: $134.99-$185.99

Size available: Small, Medium, Large, and XXL
Bunnies are always hungry for a good breeding session, and the Rabbit loves it when you beg to be bred. He fucks fast and hard, so shouldn't be surprised when your explosive orgasm cums out of nowhere. Don't be fooled by his appearance -- this short dick flares quickly to a wide base that will leave you wide open and hungry for more. Those who are looking for girth but not length will be pleased to find that the Rabbit will meet your needs.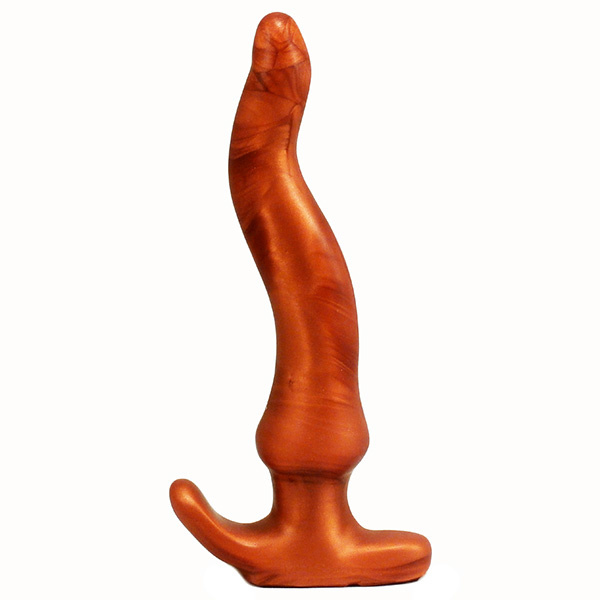 Price: $59.99

Size available: One size (9" in length)
Charlie won't be satisfied until he's all the way in. For those who want to explore the deep curve-by-curve, it's no coincidence that Charlie wiggles the way he does. Made with super soft, premium-grade silicone that was made to be flexible and move with you. The wide base was made to keep him in as you go about your day.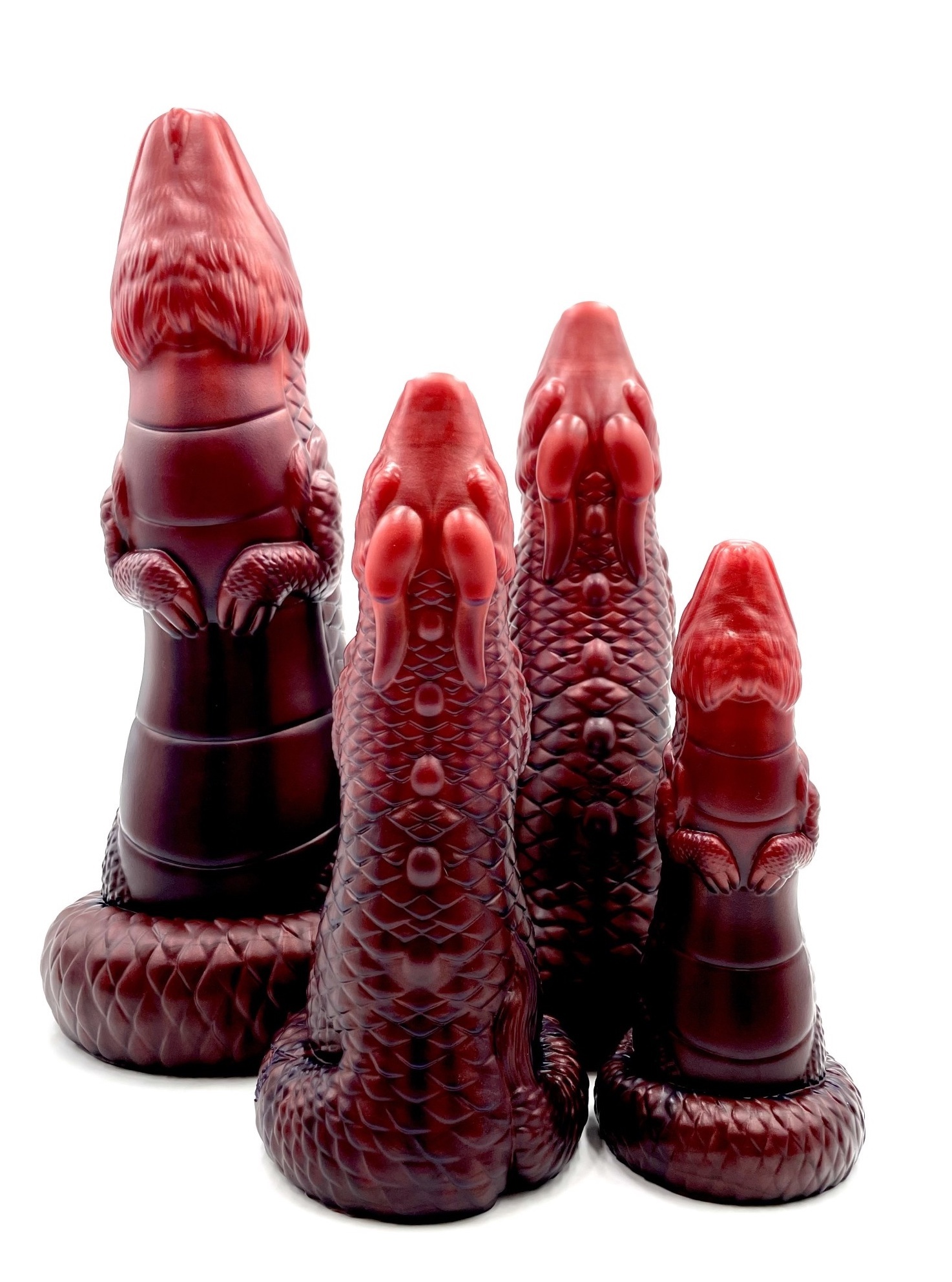 Price: $89.99-$209.99

Size available: Small, Medium, Large and Extra Large
Meng prefers dark, damp spaces. He can't wait to slip inside and show you just what he's made of. No texture will no unnoticed -- talons, beard, scales, and all. Meng is perfect for rimming and filling you all the way up. 
Meng is great for beginners to Bad Dragon and fantasy toys, and he looks great on your shelf too.
Unique dildos that didn't make the top 10 but are definitely worth checking out!
Price: $89.99

Size available: One Size (13" in length)
This Troll is searching for your hidden pleasures, and he's not afraid to wreck you in the process. Lube up and take your time slipping him in -- every inch of him is just as thrilling as you think he would be. His slightly wider base ensures he'll wait patiently in your hole until it's all said and done.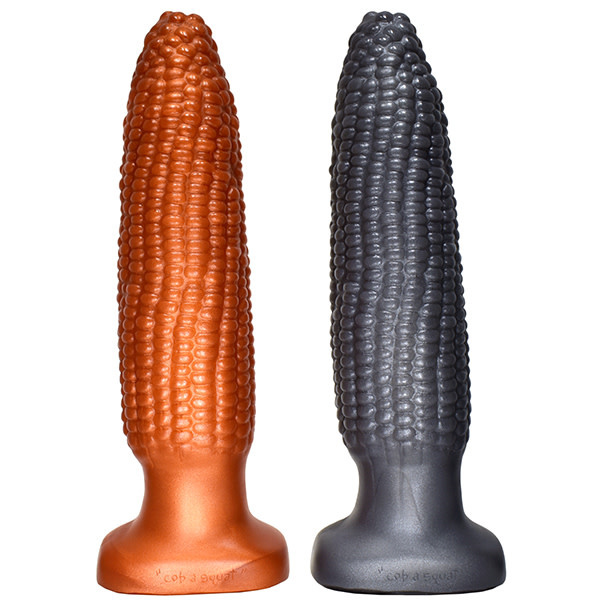 Price: $99.99

Size available: One size (9" in length)
Give your hole something to feast on. We won't judge if you've found yourself in a cornfield hungry for something other than food. All 9" of Cob a Squat's kernels will give you unique rimming pleasure. This corn aims to fill you up but leave you hungry for more. Butter up your Cob a Squat and get ready to feel stuffed! 
There is a dildo for everyone and every hole; something that frightens you, like the Beowulf, or something that makes you laugh like the Cob a Squat. These are our top 10 favorites that we've enjoyed, so far. All are available in plenty of different sizes so that you can enjoy your favorite mythical creature or fantasy dildo.