Login
Log in if you have an account
Dont have an account? Register
BDSM Dictionary: A-Z BDSM Terms
13 Sep 2023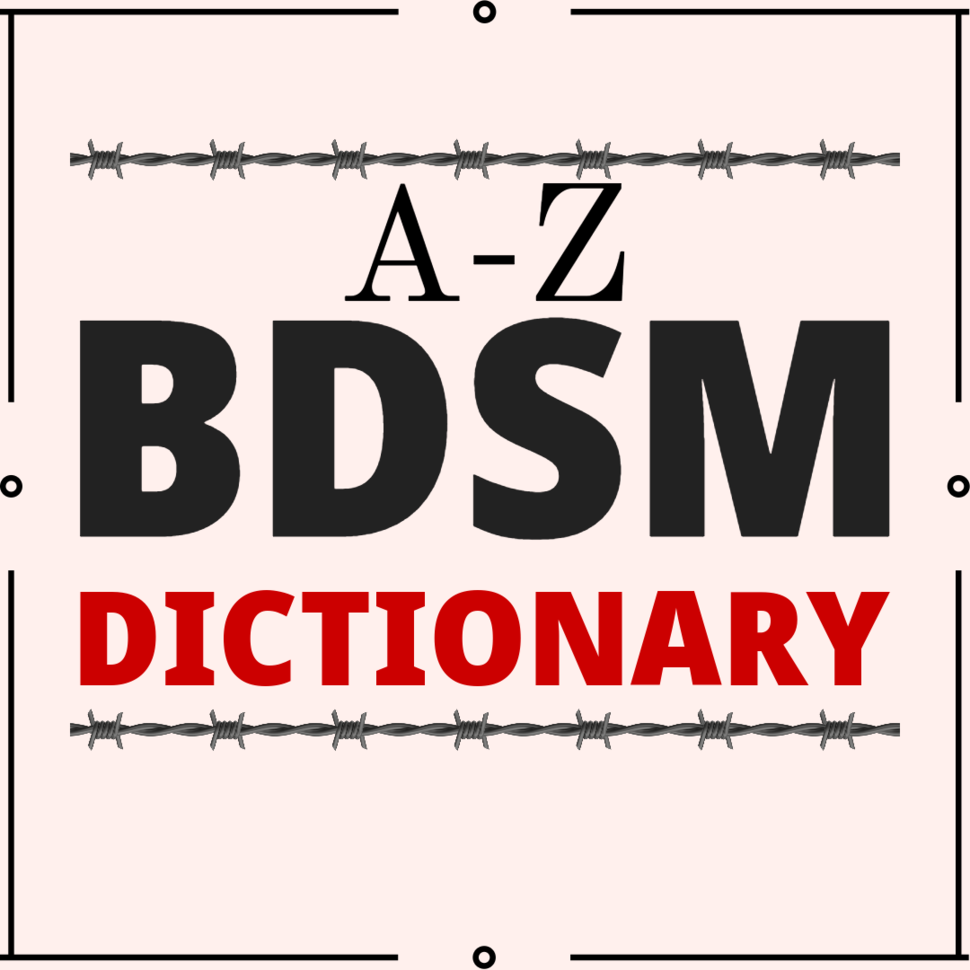 BDSM Terms: An A-Z Glossary 
Welcome to the thrilling world of BDSM, otherwise known as bondage, discipline/domination, sadism/submission, and masochism. Whether you're a seasoned kinkster or an eager newbie, there's always much to learn. 
You can brush up on your BDSM skills by reading books, watching movies, and attending events such as educational workshops, munches, and meet & greets. But first off, you need to get to grips with the BDSM lingo. Our A-Z glossary can help you with that! 
We will slowly roll out our extensive BDSM dictionary over a few months so keep your eye out for exciting new updates!
A
ABDL 
ABDL, or adult baby diaper lover, is a specific type of age play where a sub acts in an infantile way. Examples of behaviors subs will adopt include suckling on a bottle or dummy, snuggling with a teddy, and wearing & soiling a diaper.

Aftercare
Just like the name suggests, aftercare is the care partners give each other after a BDSM play session (a.k.a. Scene). It can consist of cuddles, massages, rehydrating, eating a good meal, or any other activity that helps each partner relax and connect with each other. We encourage you to do aftercare activities that best fit the play you engaged in. For example, after a heavy impact scene, you may want to complement the intensity with soft touch and gently applying cream/lotions where impacted. And any good aftercare routine includes calling/checking in on your partner the day after playing. Aftercare is essential after any play session. It is common for partners to experience emotional crashes after playing (see Sub Drop), and aftercare is the best way to prevent this. Learn more about aftercare and BDSM safety in this guide!
Age Play
Play that involves a submissive acting a younger age and a Dom that takes an authoritative, maternal/paternal role. In this dynamic, Doms tend to be nurturing, while instructing and punishing as they see fit.

Anal Play
Anal Play is exactly what it sounds like: any form of play that involves the anus. Anal play can be internal or external. The butthole is very stretchable and full of sensitive nerve endings that make anal play incredibly pleasurable. The ways you can play with the anus are seemingly endless but here are a few favored activities: anal toy play, ass eating, pegging, anal fucking, fisting, & much more. Internal anal play is a fantastic way to pleasure both the prostate and g-spot. There are plenty of fun anal toys – butt plugs, vibrators, & dildos to name a few. Learn more about how to explore anal play in this comprehensive guide!

Animal Play
Also known as pet play, this kink involves adopting the role of a creature e.g., dog, cat, or pony. The most popular forms of pet play include pup, kitten, and pony play, but there are kinks for every creature of any kind (real or fantasy). Kinksters often wear masks, ears, and tails, and adopt the animalistic habits of their chosen animal. For example, pups may enjoy chasing a ball, receiving scratches, eating from a bowl on all fours, and obeying their handler's orders. Interested in exploring pet play further? Check out this 101 guide on all things pet play!

Ass Worshiping
Submissive ass-worshipers love nothing more than planting their face between the ass cheeks of their Dom, and Doms love nothing more than to smother submissives with their ass cheeks. To take things a step further, the sub can show their devotion by licking and kissing. Doms enjoy smothering their submissives not only with their cheeks but also with their scent. Submissives have no choice but to be marked by the scent of their Doms until their Dom gives them permission to wash. BDSM outfits with crotch zippers are a must for any Mistress. As you can likely imagine, ass worship is a pleasurable activity for both Dom and submissive. Smothering and ass worship are taboo kinks that make it all the more exciting for all participants.
B
Bathroom Control
This form of discipline involves a sub relinquishing control of when they use the bathroom to a Dom. Submissives may have to ask for permission to use the toilet or a bathroom schedule might be set. The Dominant may restrict privacy too for added humiliation.

BDSM
The umbrella term for bondage, discipline/dominance, submission/sadism, and masochism. BDSM involves physical and mental play, power exchange, pain, and plenty of pleasure. An important aspect of BDSM that many beginners are not aware of is relationships. There is a large BDSM community full of kinky people who engage in BDSM to varying degrees. Some keep BDSM to the bedroom while others live the BDSM lifestyle (see BDSM Lifestyle).
BDSM Lifestyle
The BDSM lifestyle is a way of living that involves incorporating BDSM into daily life. For those who live the lifestyle, BDSM is more than just an activity – it is often a part of their identity. As we mentioned in the definition of BDSM, relationships and community are an important aspect of BDSM, especially for those who live the BDSM lifestyle. Here are a few examples of the BDSM lifestyle: frequent BDSM play scenes, one or several established power dynamics with a partner, attending kinky events, and identifying strongly with a power dynamic role (Dominant, submissive, switch, etc.).
To give you a real-life example of someone who lives the lifestyle: Rae has a dynamic with her wife in which she is the Dominant and her wife is the submissive. They do not have a 24/7 dynamic but they have agreed upon several disciplines Rae's wife follows to incorporate their dynamic in their daily lives: putting on and taking off Rae's shoes every morning and night, never walking in front of Rae when entering a room or building, referring to Rae as "Mistress" when they are by themselves or in kinky spaces, and wearing a non-discreet collar in private spaces and a discreet collar in public.
Blackmail 
Often carried out by a FinDom (financial dominant), the blackmail kink involves threatening a sub with exposure unless they pay a "ransom" (examples: money, gifts, and erotic activities), forcing the sub under the control of the Dominant out of fear. Exposure threats can include telling a sub's family and friends about their kinks or posting humiliating pictures and videos online.
Blood Sport
Play that involves cutting with a knife, piercing with needles, or whipping until the skin bleeds. Blood sport is an extreme but popular form of BDSM fun. Hygienic needles and staples can be used to produce pretty patterns and then removed, causing the sub to bleed in many cases.

Body Bags
A bag that fully or partially encloses the body. Body bags can be made out of a variety of materials such as neoprene, heavy rubber, leather, and canvas. Body bags are adored by submissives because they restrict the senses while cocooning them in a way that is comforting, helping them reach subspace. Dominants love body bags because they have total control of their submissives and all body parts, keeping their subs still while they're busy! Some body bags fully enclose the head while others leave it exposed – great for a bondage hood & bag combo.

Bondage
Play that involves physically confining or restricting someone. There are a large number of ways to restrain someone. Bondage can be very creative and is often accompanied with other forms of play. Examples: chaining ankles and wrists to bed frames with cuffs, taping arms and legs together with bondage tape, suspending a person with rope & shibari rings, and enclosing someone head-to-toe in a body bag.

Bottom
The person on the receiving end of BDSM play. The terms "bottom" and "submissive" are commonly confused as the same thing but there is a difference! A bottom refers to the recipient of play conducted by a top while a submissive is someone who consensually gives psychological and physical control to a Dominant (see Submissive).