Login
Log in if you have an account
Dont have an account? Register
The Ultimate Guide to Strap-on Harnesses
05 Jan 2023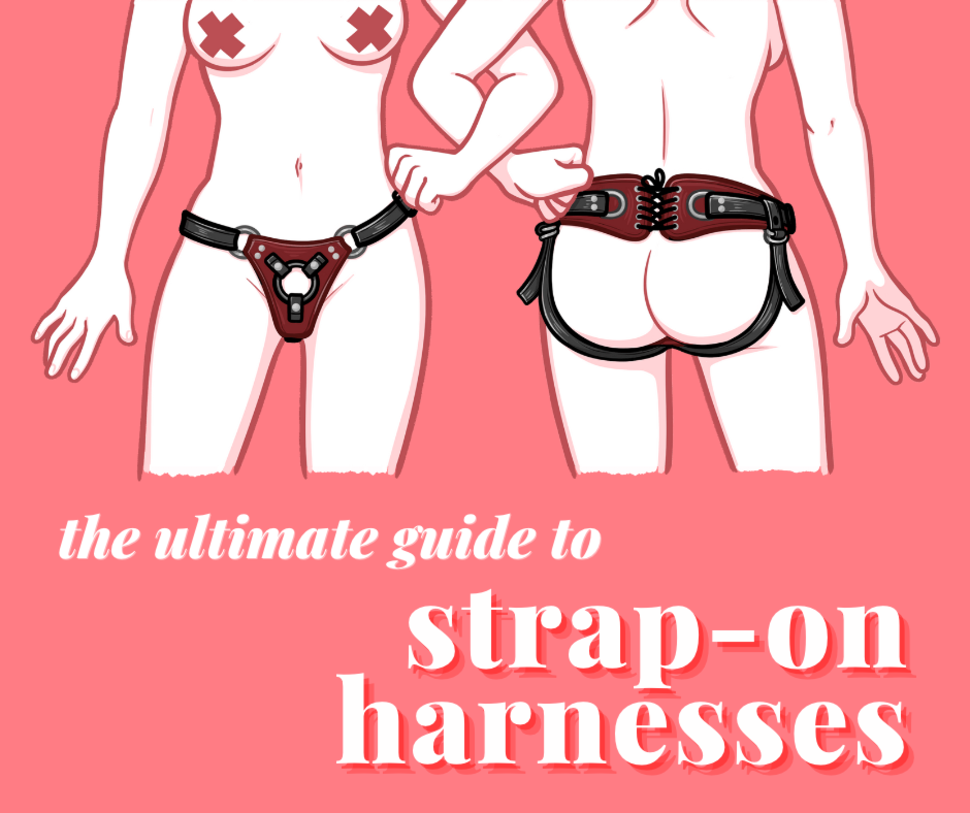 Strap-on Myths  |  Step-by-Step to Choosing a Strap-on Harness  |  The Different Harnesses Fits/Types  |  Harness Materials  |  Harness Features to Look For |  How to Put on a Strap-on Harness  |  How to Clean a Strap-on Harness
Strap in, strap on, and get ready to explore entire new avenues of sexual pleasure! Bringing a strap-on harness into your sex life can be intimidating and confusing at first – but it doesn't have to be! This article will show you how to find the best harness based on your unique needs. I will guide you through the different types of harnesses, explain how to put on and properly fit a harness, and lastly, explain how to clean your harness based on what material it is.
Let's first get something out of the way
Before we get to the nitty gritty of strap-on play, I do want to address some of the myths and beliefs around strap-on play. From the idea that only lesbian women use strap-ons to the belief that enjoying penetration might mean that a man is gay or bi, misconceptions stop many from even considering strap-on play. 
The truth is that people of all genders, gender identities, and sexual orientations enjoy strap-on play, and there are so many ways to use them! To stir up your imagination, here are a few ideas:
Pegging (great for prostate stimulation)

Vaginal penetration

Power exchange and D/s dynamics

Hollow dildos & a harness for those with erectile dysfunction

Double penetration (anal & vaginal simultaneously)

Sex while wearing a chastity cage 

For gender euphoria/dysphoria
Strap-on play can be a great way to add variety to your sex life. No matter your gender identity, sexual orientation, or sexual preferences. You can use strap-ons to find new ways to give and receive pleasure, express your sexuality, and explore feelings of power, dominance, or submission.
Choosing the right strap-on harness for your needs
Now to address the burning question: how do I decide which harness is best for me? 
Before choosing your strap-on harness, you need to decide which type of strap-on harness will best fit your body and the way you intend to use the strap-on dildo.
There are many elements to a strap-on harness to take into account: materials, sizing, features, pricing, and fit. 
Luckily, there are so many options for great strap-on harnesses that you can find the right one, even if you're on a budget.
Let's start by looking at the different types of harnesses available.
Step 1. Choose a harness type/fit
The basic types of strap-on harnesses include jockstraps, G-strings or thongs, and underwear or briefs.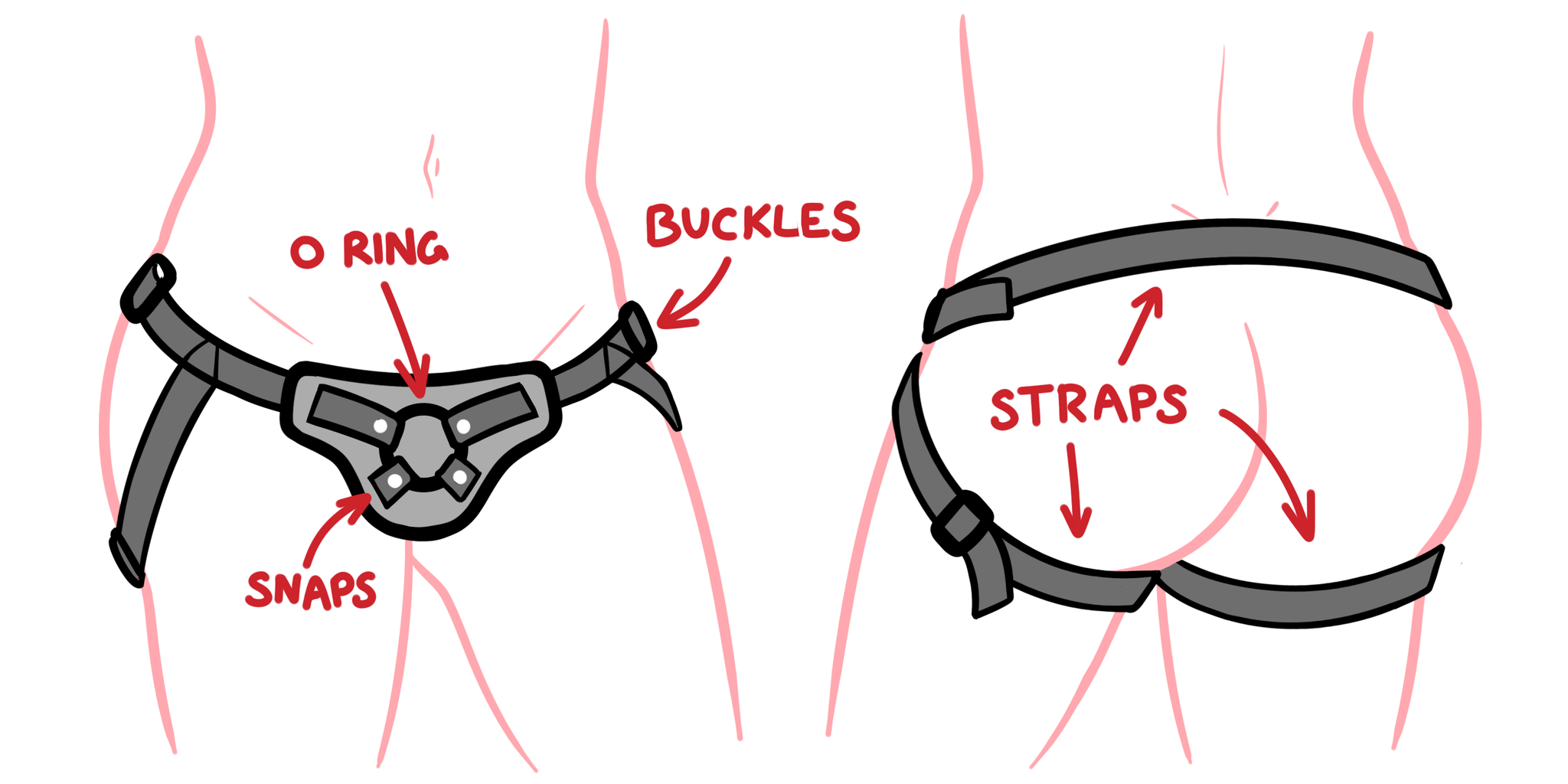 Jockstrap Strap-on Harnesses
The jockstrap harness is probably the most recognizable of all the harness types, and likely what you imagine when you think of strap-on harnesses. It looks like a typical sports-style jockstrap with a wide strap around the waist (or belt), two straps around the legs, a panel of comfortable material in the front, and usually an O-ring that holds the dildo in place. 
The jockstrap harness is generally the most adjustable type of strap-on harness and provides the best stability and control, making it great for penetrative sex and an excellent beginner strap-on harness.
It is also one of the most versatile options, making it very popular with users of all genders. It also offers easy access to the ballsack or vulva, allowing for more stimulation during sex.
There are two basic sub-types of jockstrap harnesses: slim-strapped and wide-backed (corset style). The slim back strap style is ideal for those who are looking for minimal coverage without sacrificing stability.
For those seeking a plus-size harness, the wide-backed or corset styles are typically the best options as they offer additional back support, stability, and control.
Product Recommendations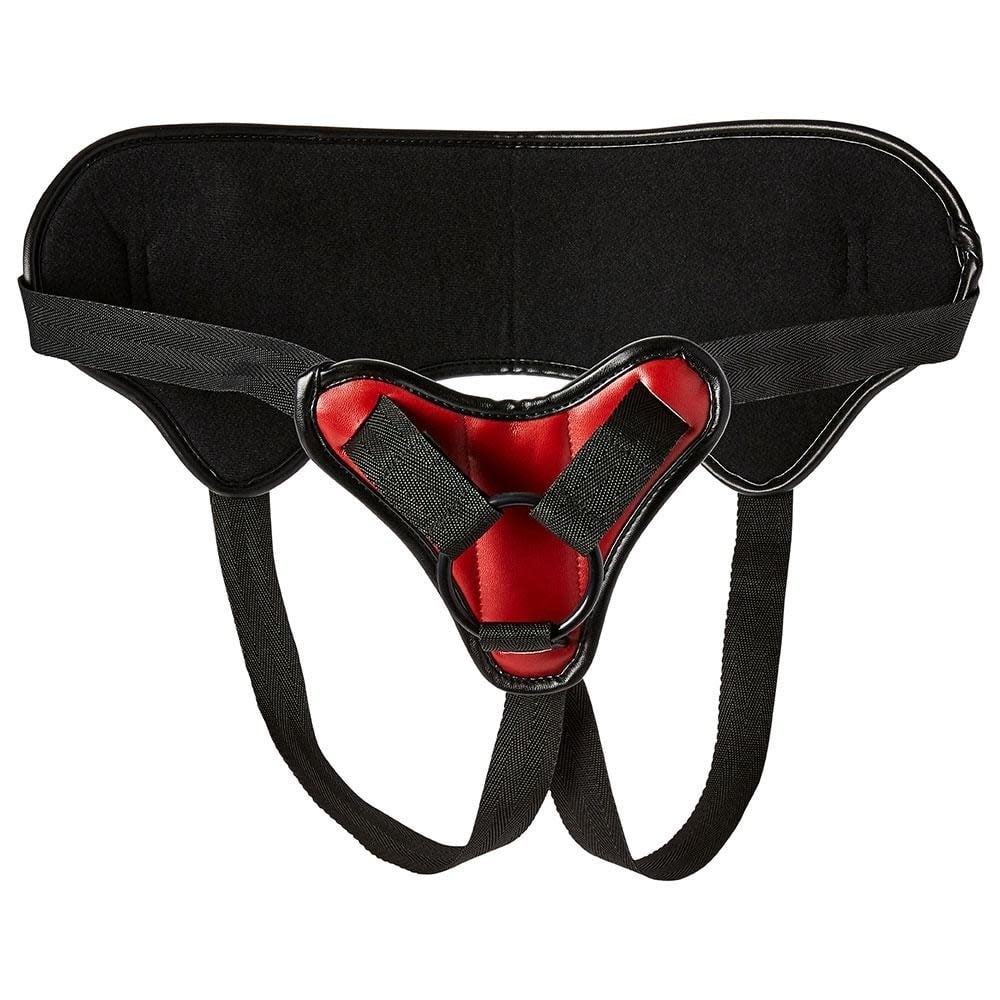 Sportsheets Saffron Harness - $41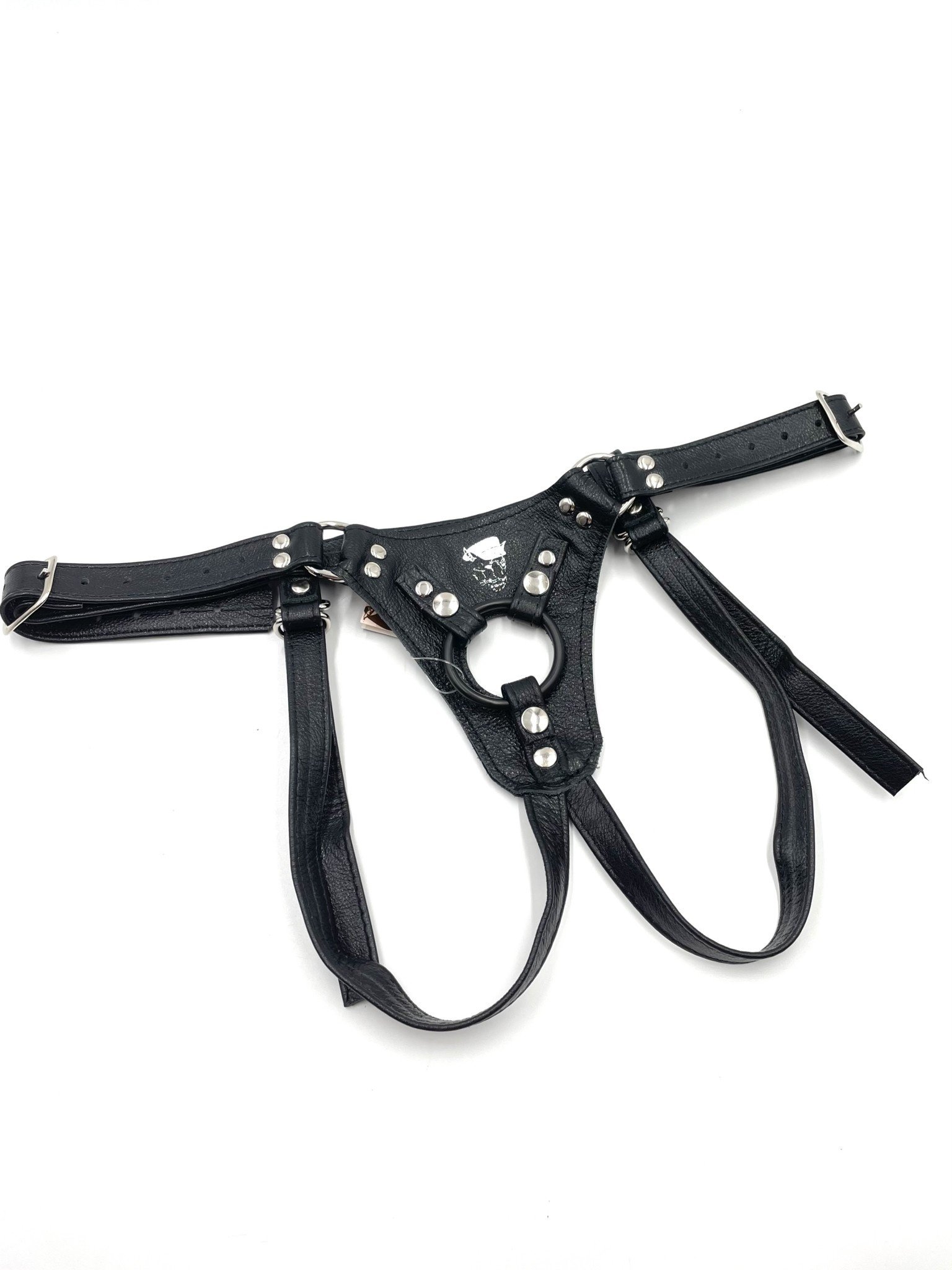 G-String or Thong Strap-On Harnesses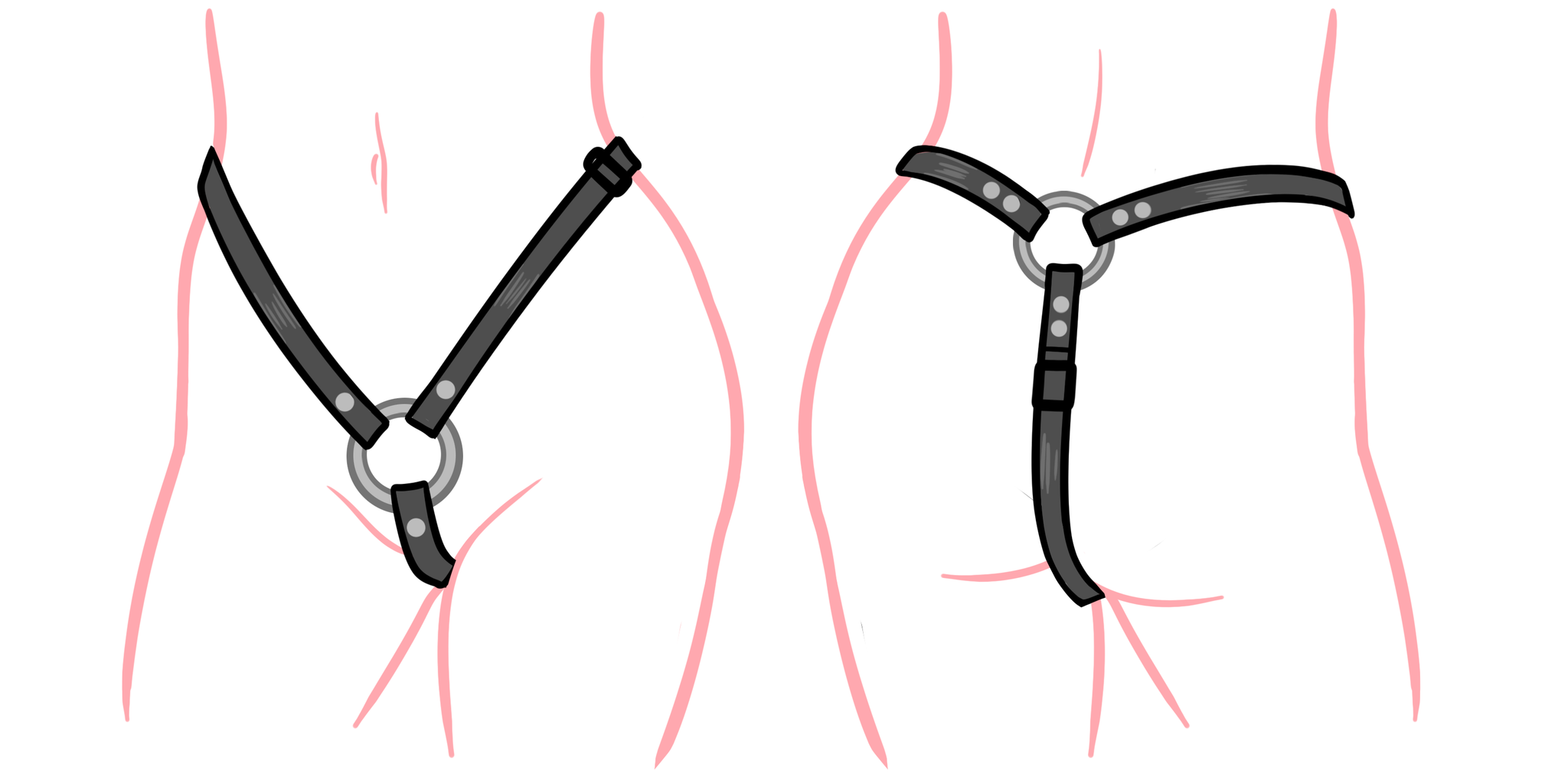 It is important to feel sexy and confident when you're wearing a strap-on harness – that mindset can lead to some seriously hot and heavy fucking. If a sexy look and feel are what you want from your strap-on harness, g-string harnesses might be a good fit for you. 
G-String strap-on harnesses fit like a traditional thong with one strap around the waist and one between the legs. Some g-string harnesses offer leg, hip, and g-string adjustability for a customizable fit while others are more limited in this aspect.
Something to be mindful of before purchasing a g-string harness is their performance. While g-string harnesses can be adjusted to fit your body, they don't offer the same level of stability as jockstrap or underwear type harnesses.
They also provide a less secure fit, causing the strap between the legs to move during thrusting. This creates lag between movements which can make thrusting more difficult and less precise. 
While we do not recommend g-string harnesses for rough or energetic sex, they can be great for foreplay and gentle sex. 
It's also worth noting that G-string harnesses may have to be cleaned more frequently because of the strap placement. However, they can be worn on top of other clothing to prevent the G-string from rubbing against the butt or vulva. 
You can wear them with anything from your own underwear or panties to a full catsuit. Not only does this help them stay cleaner, it also gives the harness more grip, improving precision and reducing lag when thrusting. 
Product Recommendation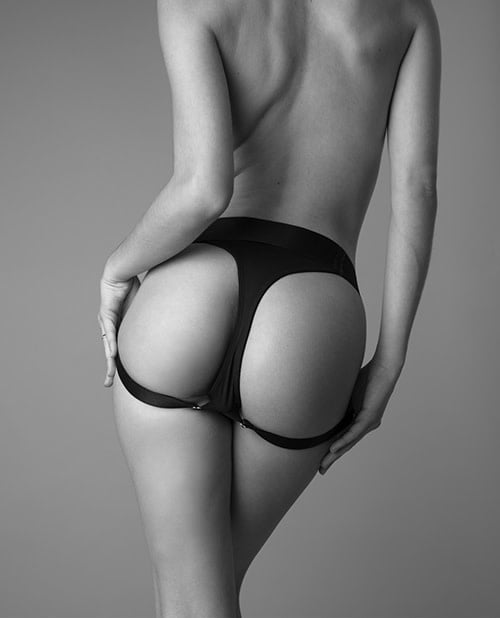 Underwear or Brief Strap-on Harnesses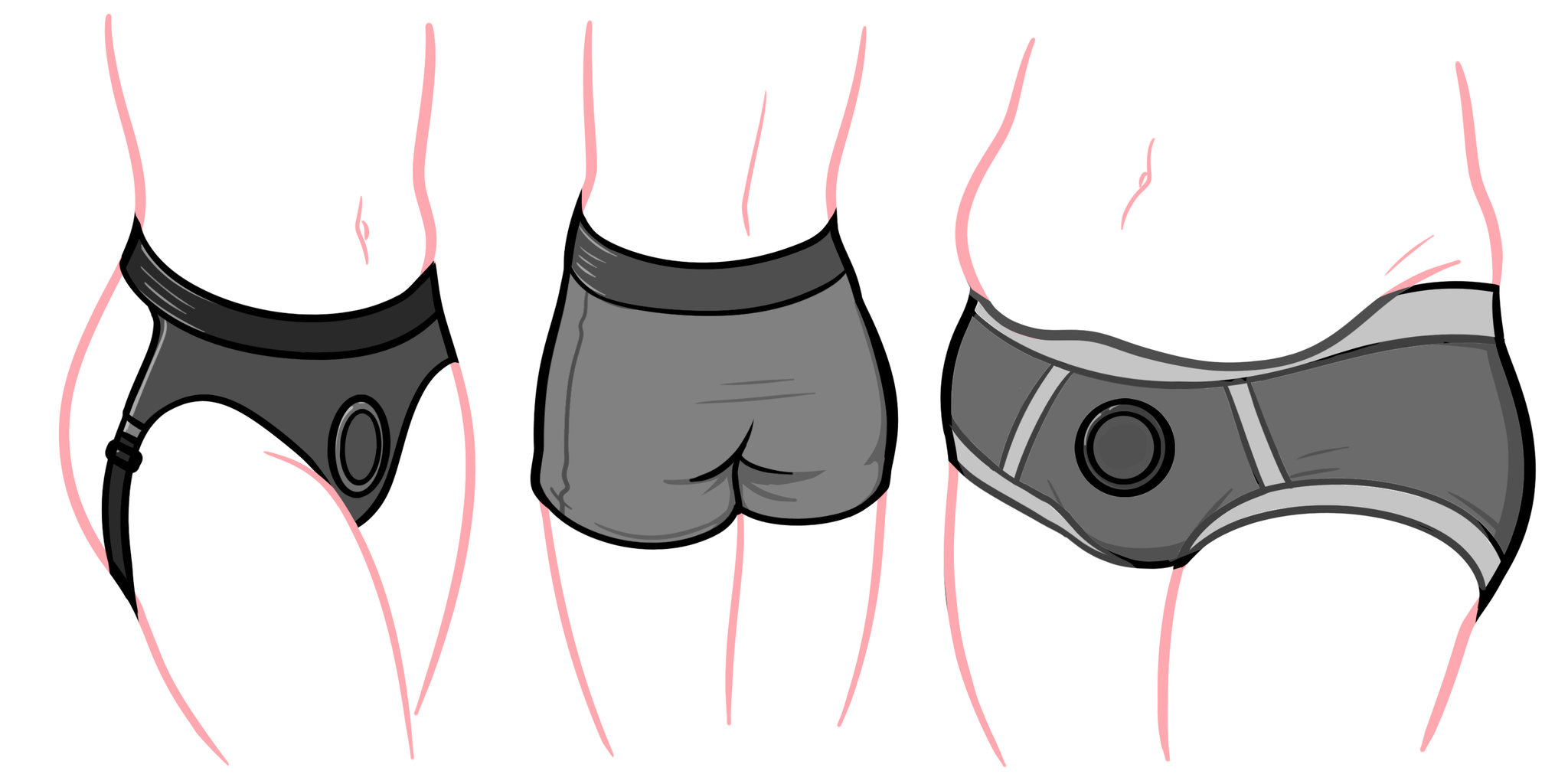 Underwear or brief strap-on harnesses are another incredibly popular option. These are often made with soft fabric and fit like traditional underwear, from basic briefs to sexy panties, making them very comfortable.
Underwear-style harnesses come in a variety of styles, including attractive elements like lace panels, ribbons, and even corset-style lacing. They are also very affordable, making them excellent beginner strap-on harnesses and a great gateway into strap-on play. 
Some styles offer an opening for easy access to the vulva or balls, making them perfect for beginner strap-on dildo users who want a little extra stimulation.
Underwear-style harnesses can be great for people with dysphoria about their bodies or genitals. Because of the natural, underwear-like fit and lack of straps, the dildo feels more like a natural extension of the body.
Underwear-style harnesses can be used with regular dildos during sex and with soft dildos/packers for everyday wear (also known as packing). These harnesses can create a sense of gender euphoria, helping trans and genderqueer people feel more like themselves.
While comfortable, this type of strap-on doesn't provide the same level of control as jockstrap style harnesses. The lack of adjustable straps makes the dildo less secure, creating lag during thrusting and making them a poor choice for rough sex.
This style of harness does not have interchangeable o-rings, so the harness is not able to accommodate all dildo sizes. If you do wish to experiment with various sizes, a jockstrap style harness would be a better choice. 
Before purchasing this style of harness, we recommend getting your exact measurements before ordering to ensure a proper fit to maximize control.
Product Recommendations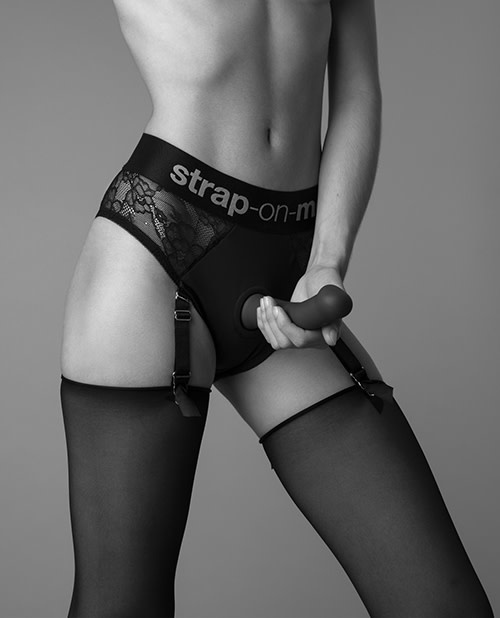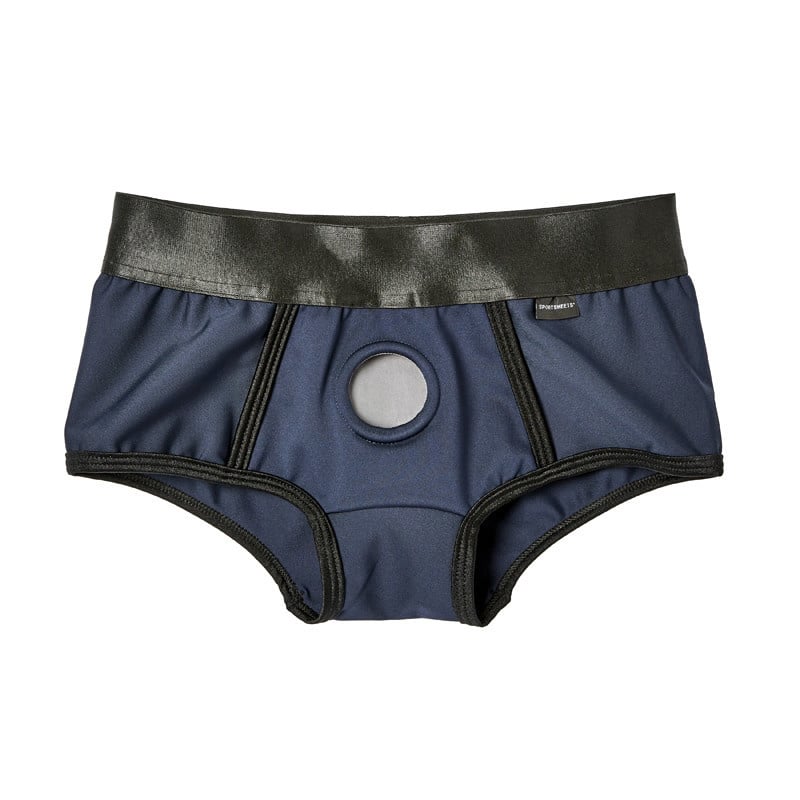 EmEx Comfortable Fit Harness - $82
Strapless Strap-ons
Strapless strap-ons are a unique way to engage in strap-on play. As the name implies, this type of strap-on is worn by the top but does not require a harness to be used. They feature an "egg" that the top inserts to wear the dildo. The egg can be inserted in the vulva or butt, making this a great option for anyone of any gender. Wearing the egg while thrusting gives incredible stimulation and pleasure to the top as well (a major benefit in our opinion).
As you can probably imagine, it is much quicker to put in a strapless strap-on than to put on a strap-on harness which is a appealing to many!
Some notable features that strapless strap-ons can have include vibration in several places of the strap-on to pleasure both the top and bottom, an egg that is designed to stimulate g- and p-spots, flexible necks to adjust the placement of the egg and dildo, and others. 
We do recommend strengthening your pelvic floor muscles if you want to use this type of strap-on, especially for rough sex. Using kegel balls daily or a few times weekly are an easy way to quickly strengthen your muscles. There are many other benefits to strengthening your pelvic muscles, including better orgasms and reducing urinary incontinence. 
For those who are intimidated by using a strapless strap-on by itself but want the other benefits of using one, we recommend wearing it with a harness that has an opening in the front panel to help with control.
Product Recommendations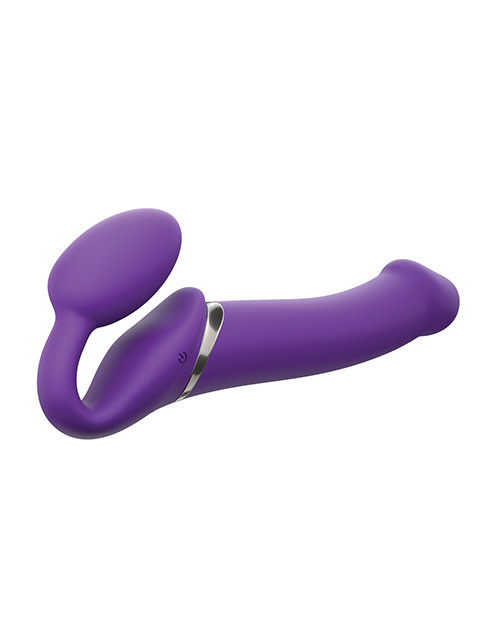 Strap-On-Me Vibrating Strapless Strap-on - $150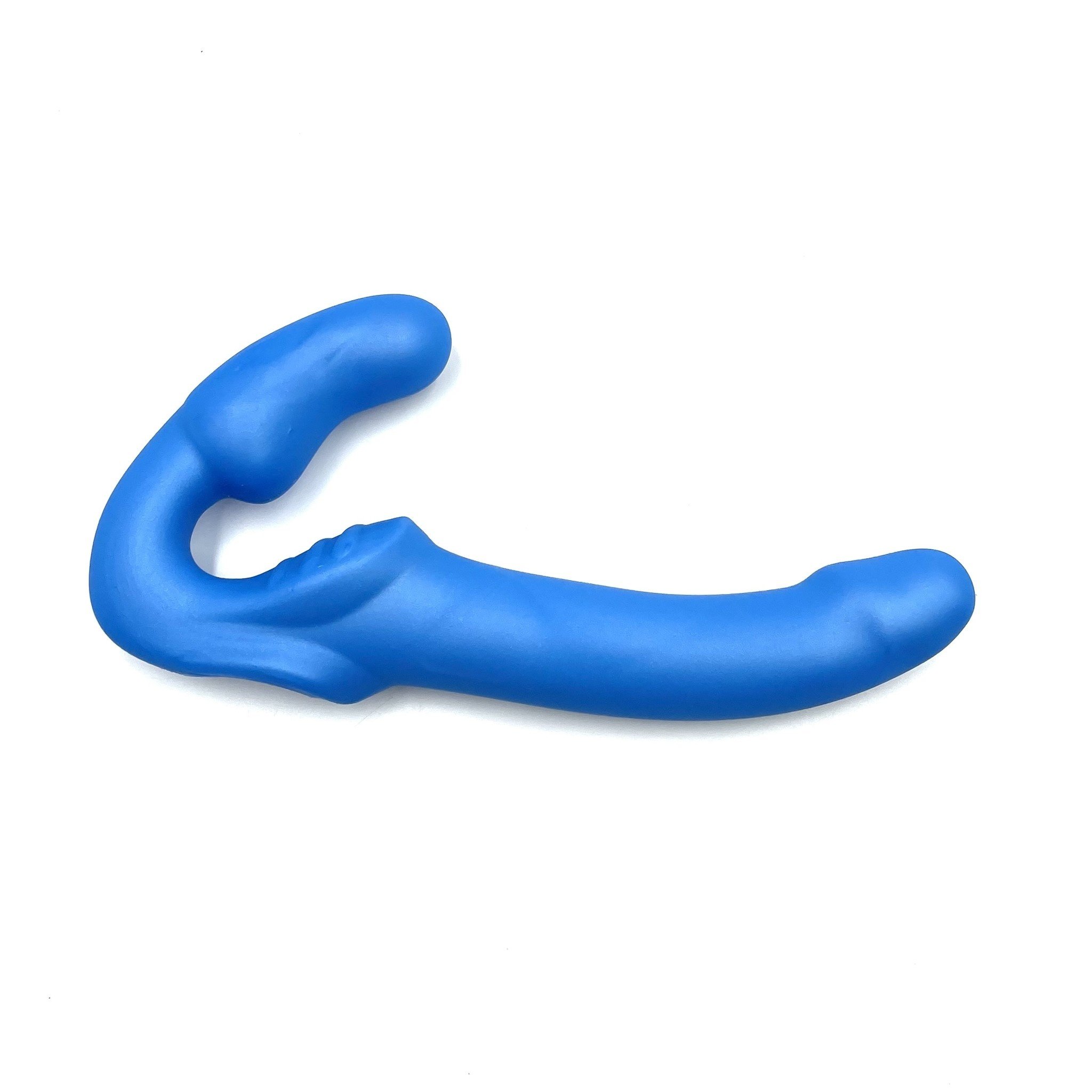 Strap-on Harnesses for People with Penises
While many harnesses can be used by people of any gender, some are specifically designed to be more comfortable or more useful for people with penises. These include harnesses compatible with hollow dildos, harnesses compatible with chastity cages, and double penetration harnesses. 
Harnesses Compatible with Hollow Dildos
Some harnesses are designed specifically to be used with hollow dildos. These harnesses comfortably hold the ball sack in place while allowing the penis to fit easily into a hollow dildo.
Hollow dildo compatible harnesses are great for those who struggle with erectile dysfunction, are on estrogen, or who just want to keep penetrating after orgasming without needing to have another erection. 
Product Recommendation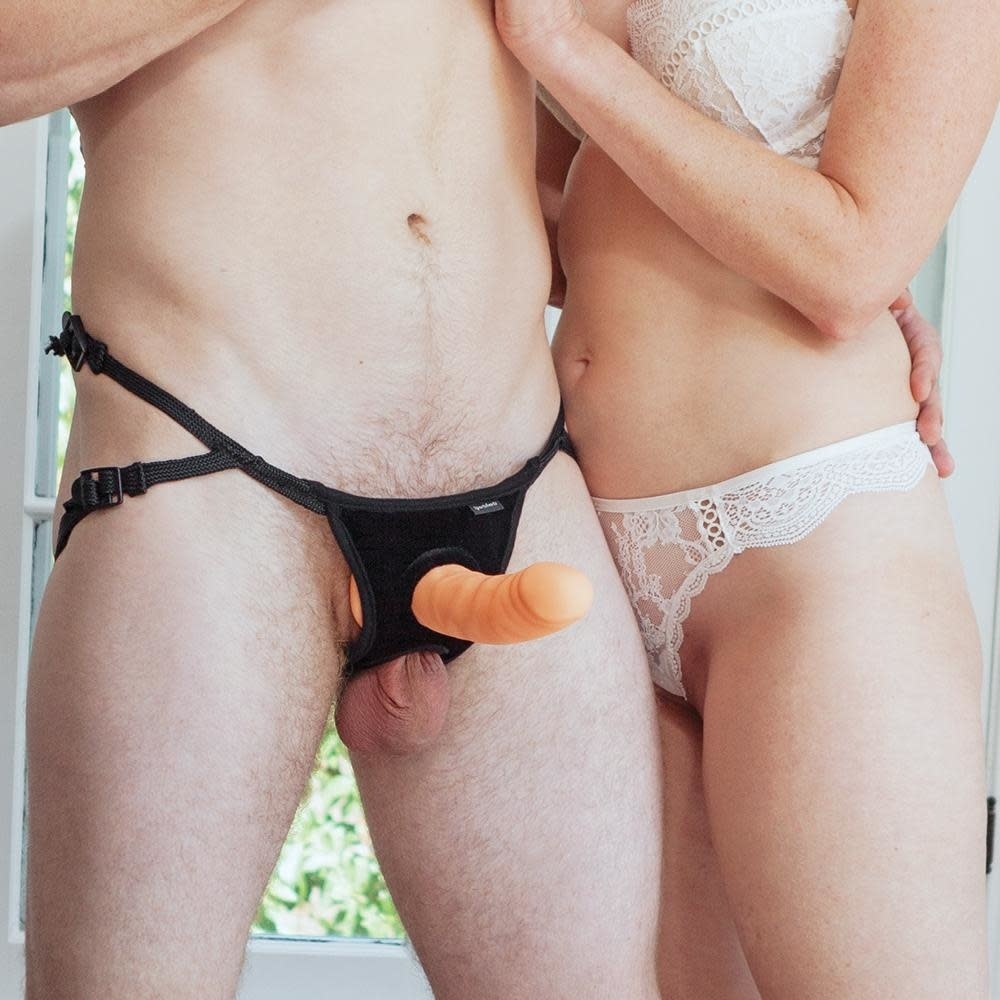 Sportsheets Everlaster Wishbone - $31
Harnesses Compatible with Chastity Cages
For subs and those who are locked in chastity cages, there are strap-on harnesses that are designed to accommodate the additional bulk. Most are basic jockstrap style harnesses with a lip that fits above the chastity cage, and featuring o-rings to hold a dildo. 
Product Recommendation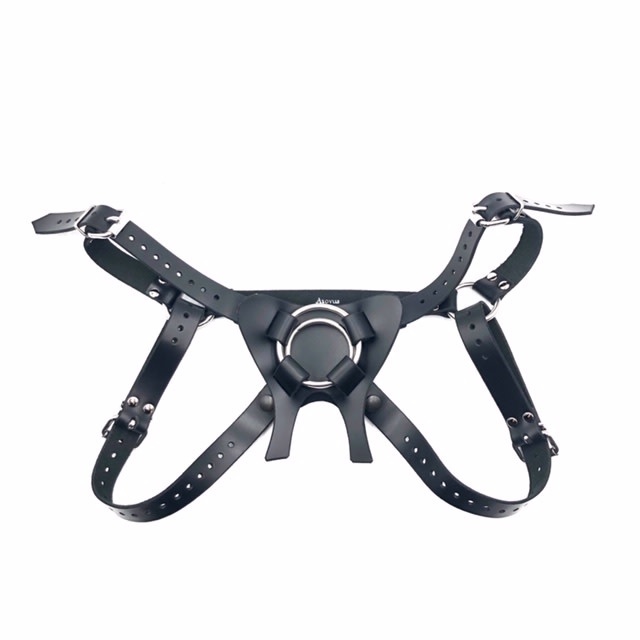 Axovus DP Leather Strap-on - $82
Double Penetration Strap-on Harnesses
Another great option is the double penetration strap-on harness. These harnesses allow you to penetrate with both a penis and a strap-on dildo. They are perfect for those who want to enjoy anal along with vaginal penetration for double penetration sex.
These harnesses include an o-ring to hold the dildo and sit comfortably above and out of the way of the penis. Some also include a second o-ring to hold the cock and balls in place.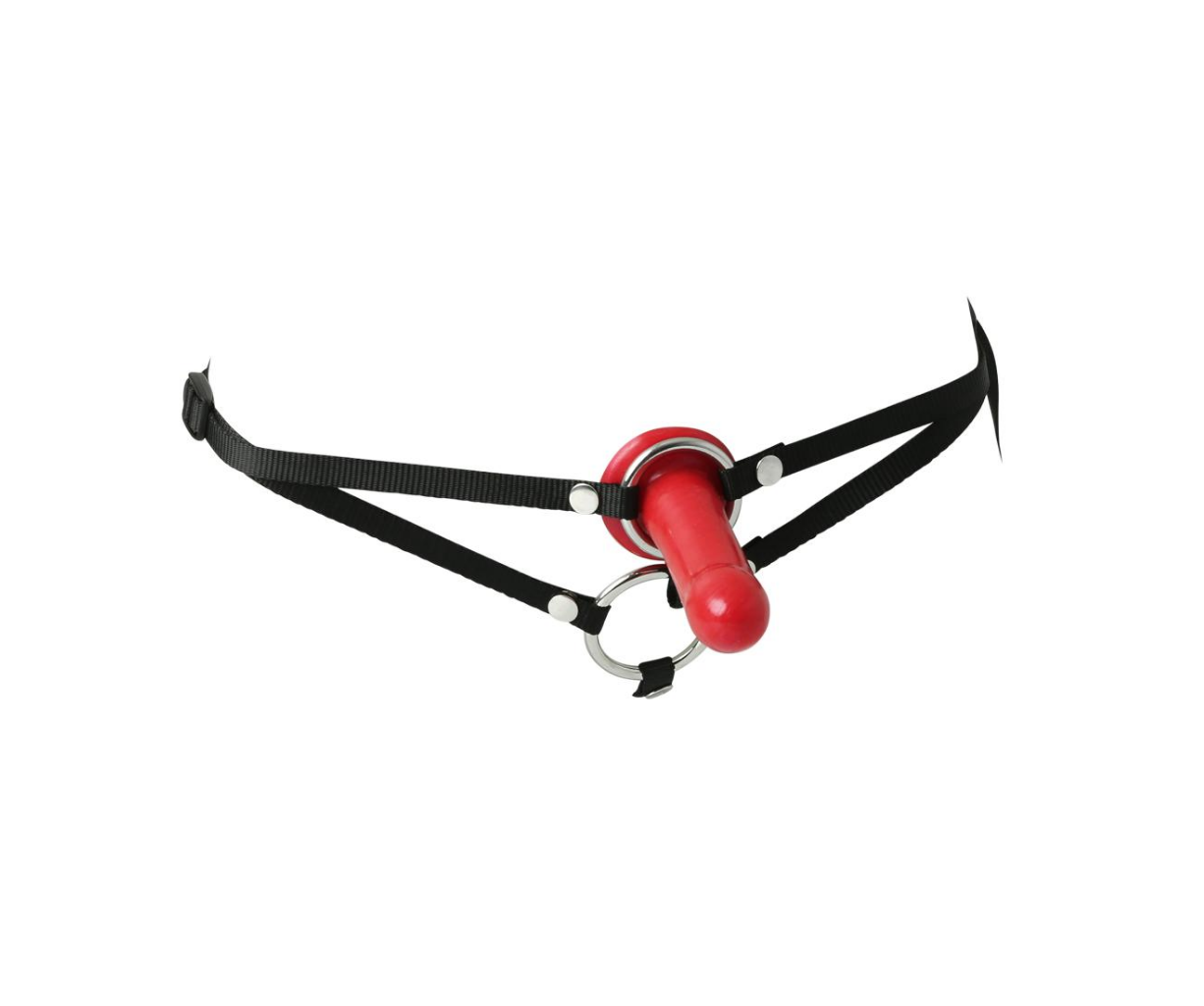 Sportsheets Menage A Trois - $67
Alternative Placement Strap-on Harnesses
Alternative placement harnesses are great for a variety of sex and BDSM play. From power exchange play to group sex, there are harness options for everyone.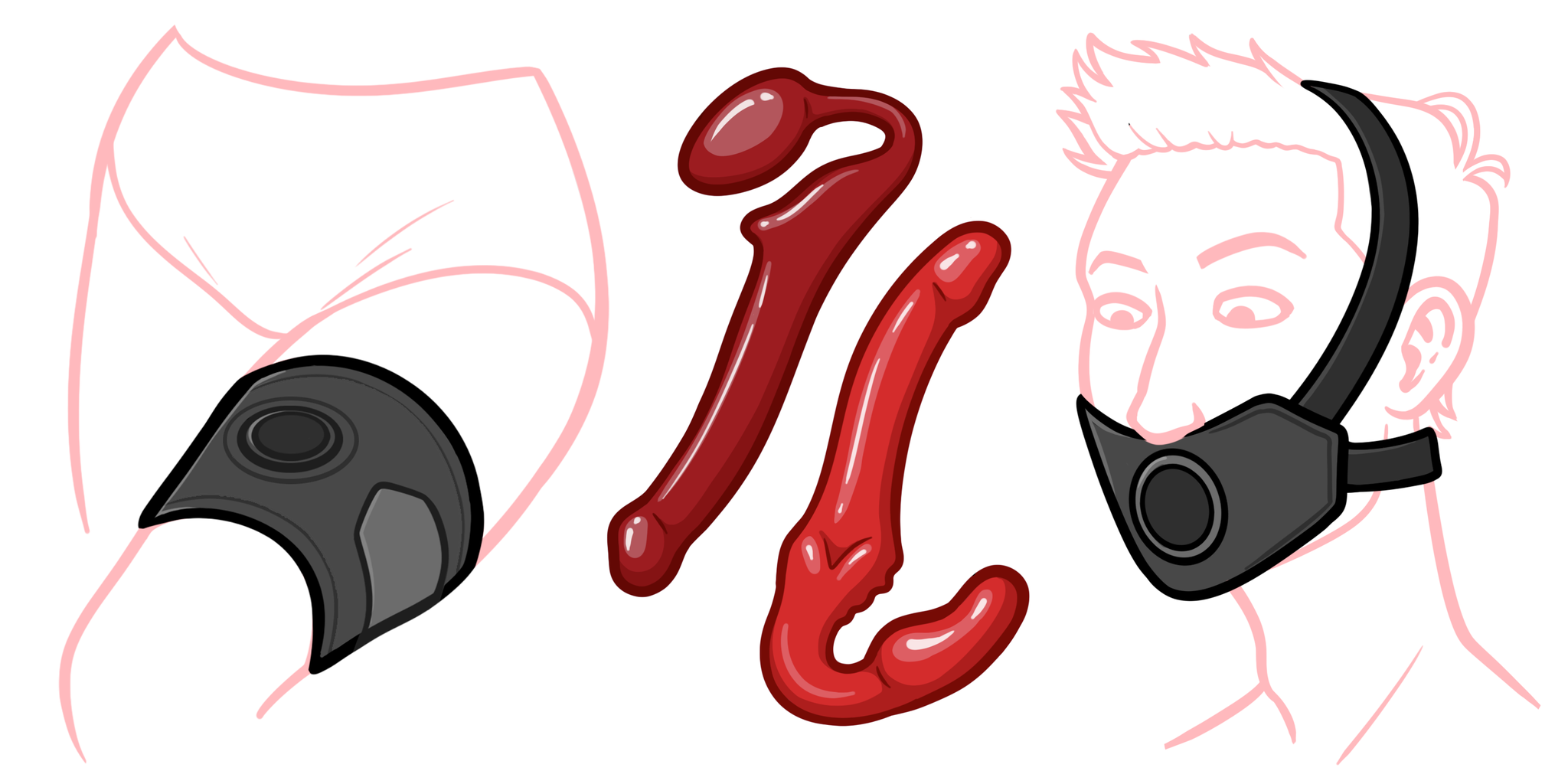 Face Harnesses
Face strap-on harnesses are a great way to enjoy various power exchange or D/s dynamics and explore new penetration positions. They are even a fun way to queen. Face harnesses are also used by people who don't want to thrust with their hips during sex. These harnesses fit over the face, allowing the wearer to have sex in unique ways.
Product Recommendation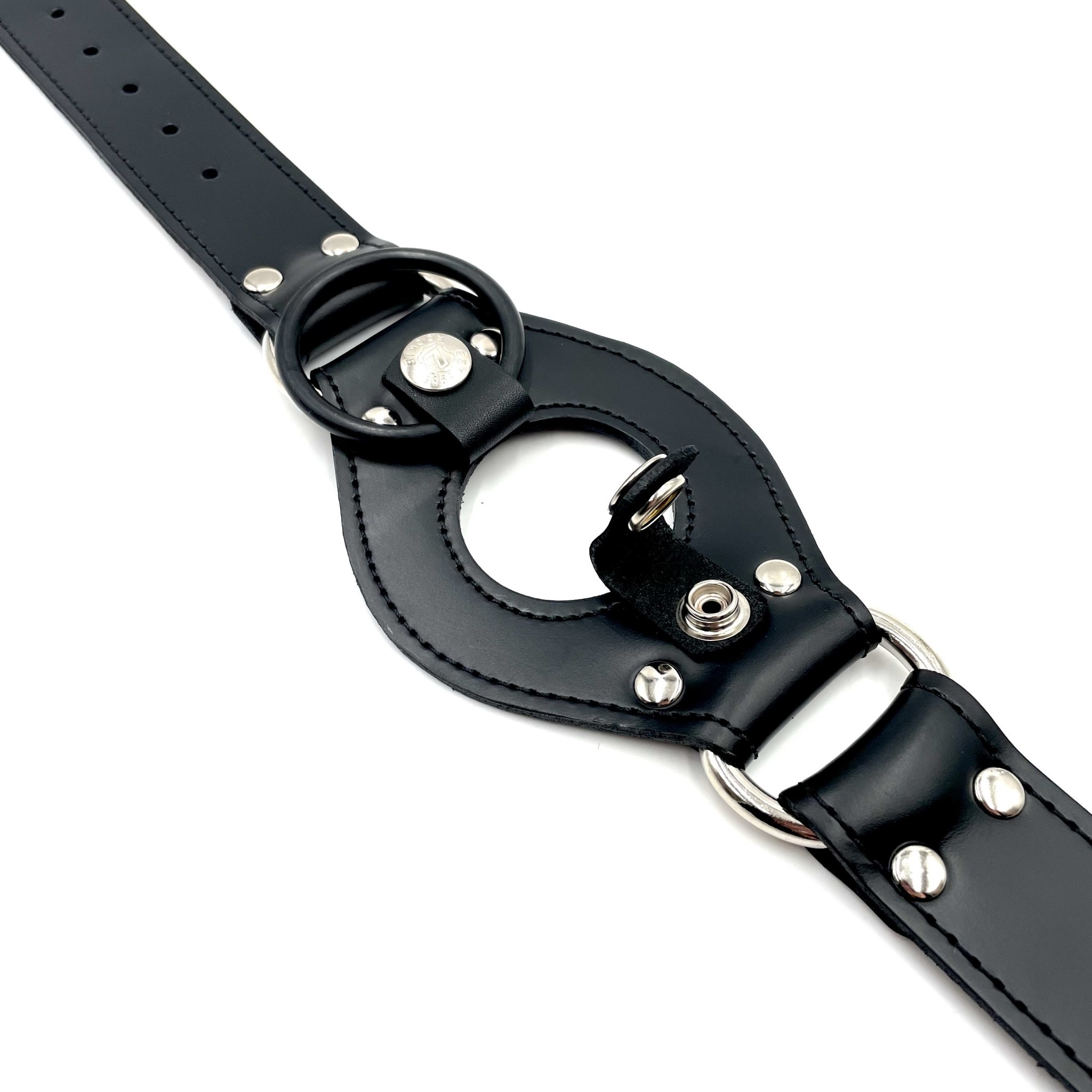 Leather Dildo Mouth & Thigh Harness - $76
Thigh Harnesses
Thigh harnesses are an excellent option for those who want to be close to their partner as they play. These comfortable, easy to use harnesses fit over the thigh and are easily adjustable for a secure fit.
Thigh harnesses are a great alternative to hip harnesses and perfect for people who don't want to thrust with their hips. Very popular with queer people and those who have genital dysphoria, they are a great way to explore new penetration positions. 
Product Recommendation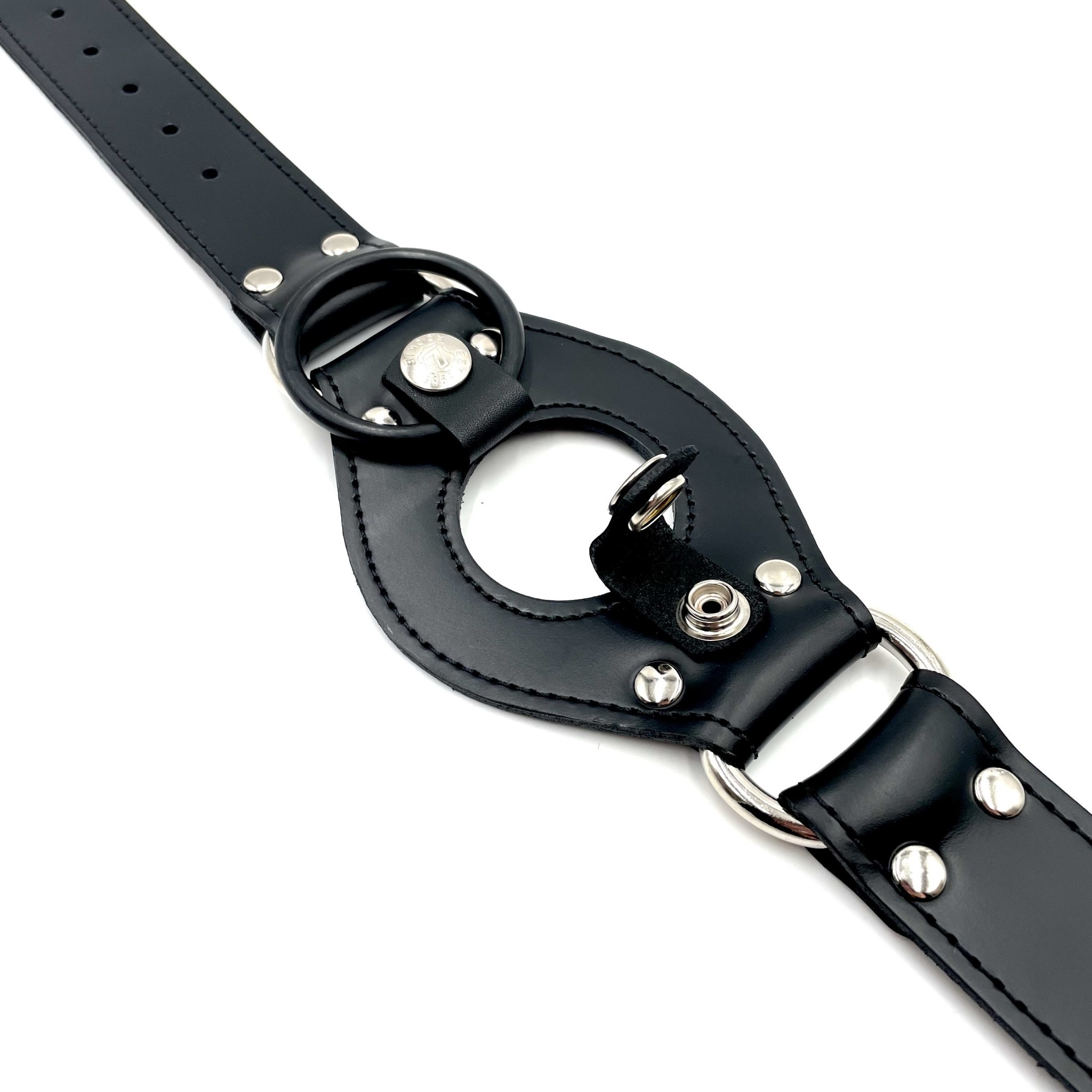 Leather Dildo Mouth & Thigh Harness - $76
Other Alternative Placement Harnesses
Of course, there are other options for alternative placement harnesses. These include hand strap-on harnesses, foot strap-on harnesses, and more. If you love trying new things, look into alternative placement harnesses. You're sure to find something you'll love. 
Step 2. Choose Your Material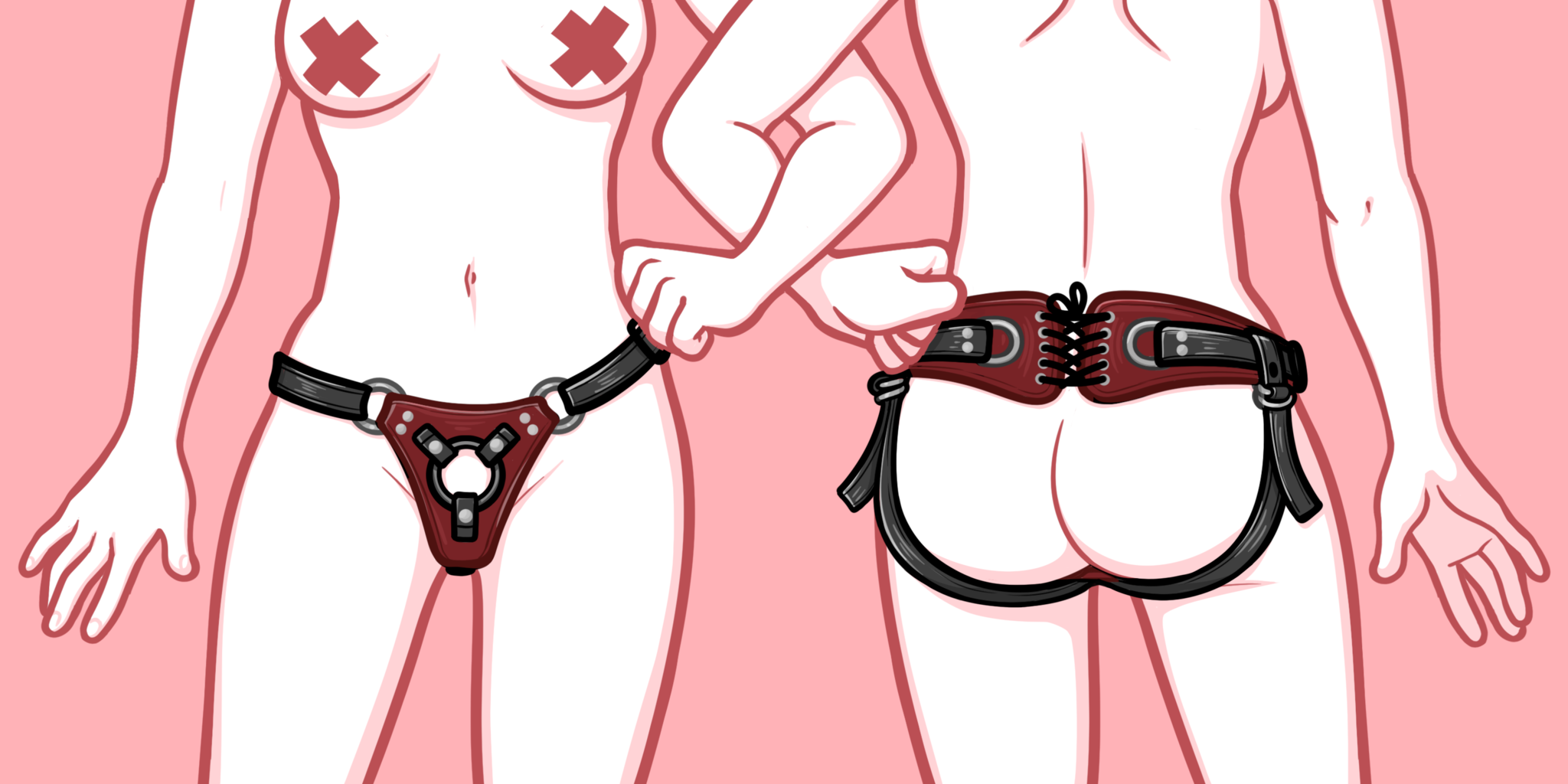 Once you know the style of harness you're looking for, you'll need to decide what material you're most comfortable with. Strap-on harnesses are made out of a variety of materials, from leather and rubber to nylon and polyester. 
Each material has its benefits. Some are more durable and easy to wash, while others prioritize comfort but need more delicate care to keep them clean and in shape. 
Price can also be a factor when choosing materials. If you're on a budget or simply not ready to invest a lot of money on a specific type of harness, you might want to choose one made from a more affordable material. However, if you have the money to spend and want a harness that will last many years, it's a good idea to invest in a harness made of a sturdy, yet comfortable material. 
Leather
Leather is one of the most popular choices for strap-on harnesses. While a leather strap-on harness can be a bit on the pricier side, it is surely worth it. Leather is a very versatile material. It can be soft and flexible like a comfortable second skin or stiff, heavy, and very durable. 
Soft leather is the most popular option. It combines durability with comfort, creating strap-on harnesses that fit a variety of needs. 
Heavy leather is great for larger dildos because it has the strength to hold up heavier dildos. It can also add power to your BDSM outfits. 
While leather is more expensive than many other materials, it is absolutely worth the money. Not only is it comfortable and durable, it is easier to adjust than stiffer materials, conforms to the body to fit better over time, and stays in place during use better than non-leather harnesses.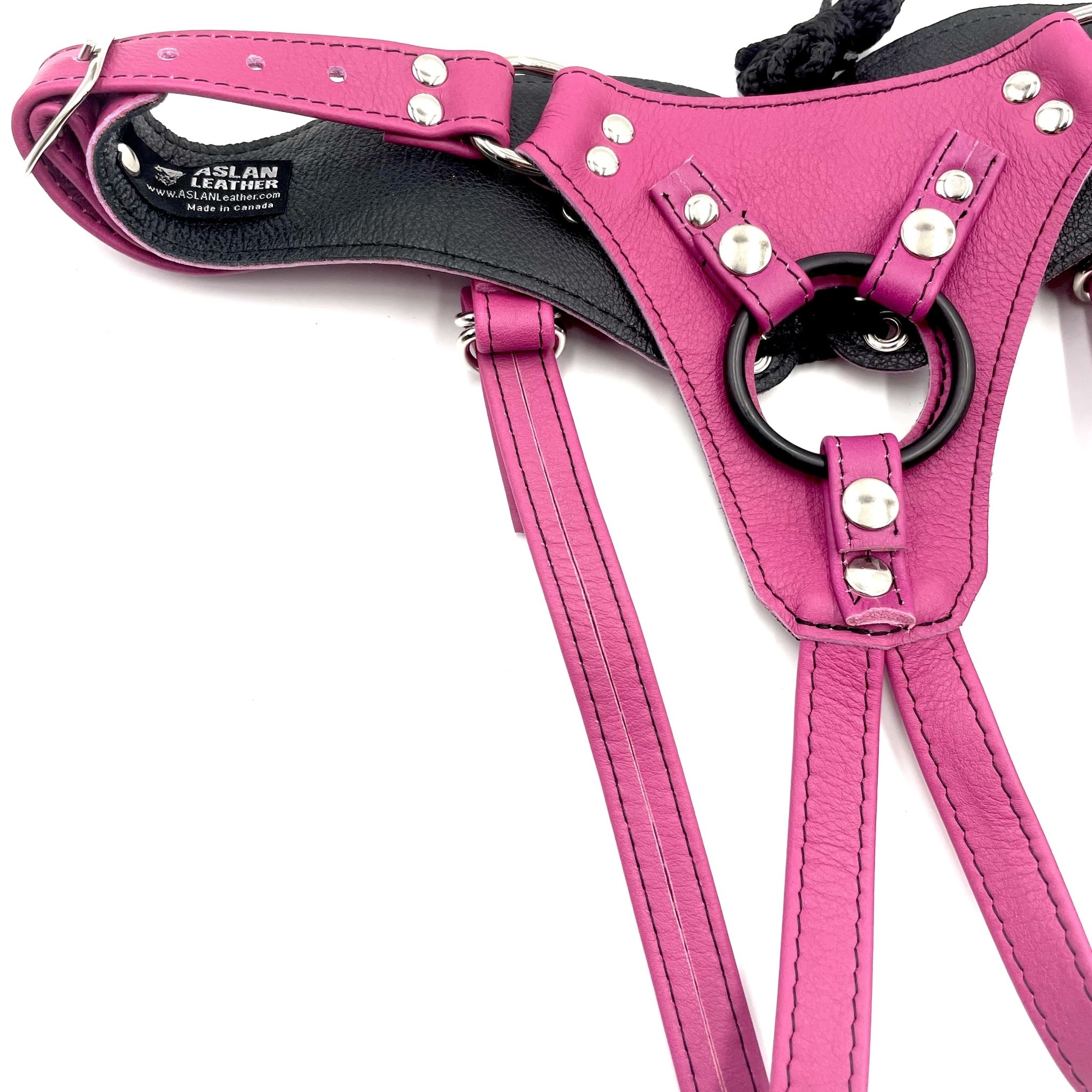 Nylon or Polyester
Nylon and polyester strap-on harnesses are perfect beginner strap-on harnesses. They are affordable and accessible to many people, making them a great option for those just beginning to explore strap-on play. 
Though these harnesses aren't as durable or inclusive of dildo sizes, they do offer a lot of variety and are often very comfortable.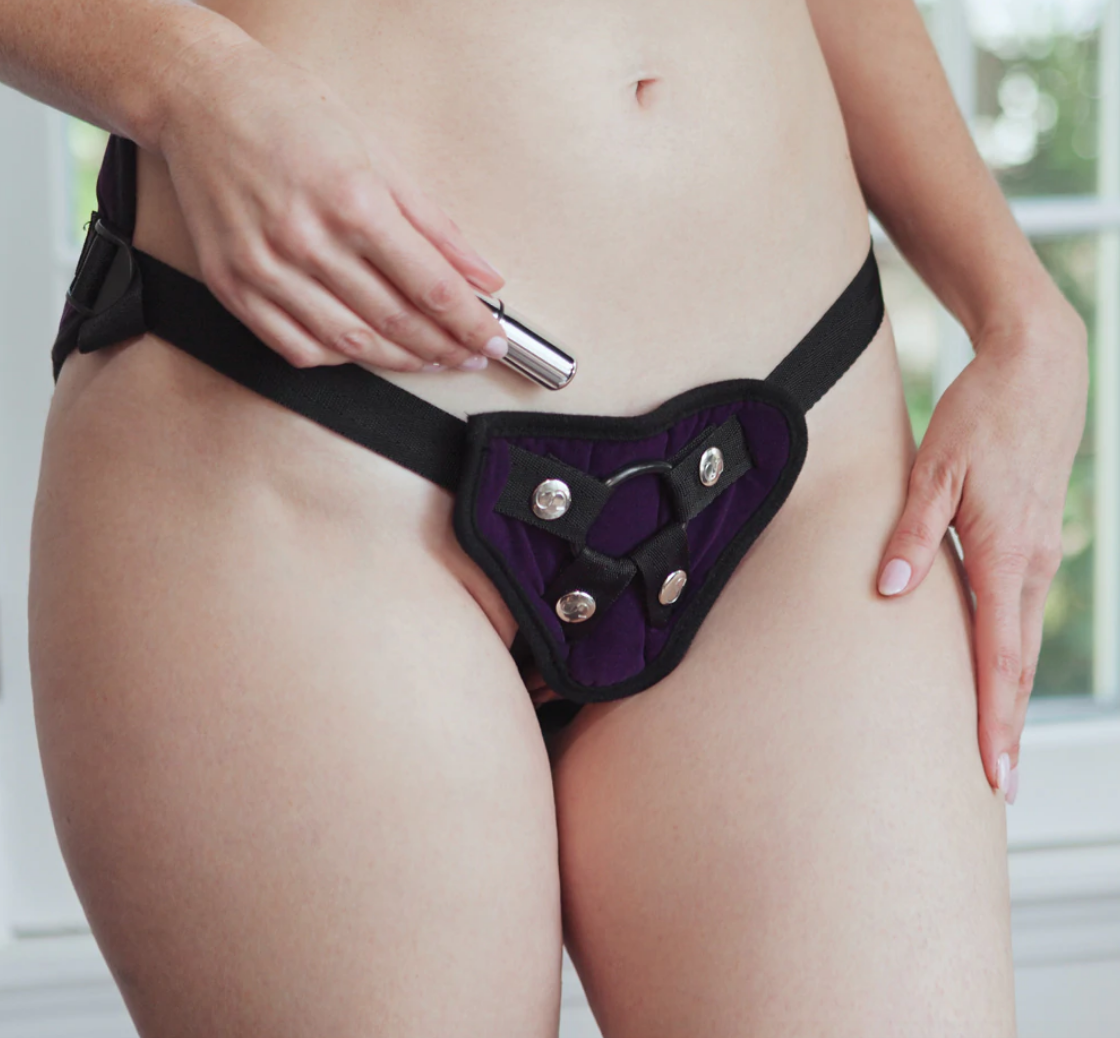 Rubber
Rubber strap-on harnesses are very durable and are the easiest material to clean. Harnesses made with rubber can be great options for heavy, large dildos. They are adjustable and can fit the body similarly to how a leather harness fits.
Lovers of latex will be pleased to know that rubber harnesses are a great option to pair your latex pieces with, and they look great with catsuits. 
We do not recommend using dark-colored rubber harnesses on light-colored latex as it can stain the latex.
Vegan Leather
Most leather BDSM gear is also offered in vegan leather. Those who prefer vegan leather won't have to sacrifice on quality as there are many vegan options that are well-made, adjustable, and comfortable to wear. 
Price does vary based on the quality and features of the harness. Similar to leather harnesses, vegan leather harnesses can conform to the body over time for a better and more comfortable fit.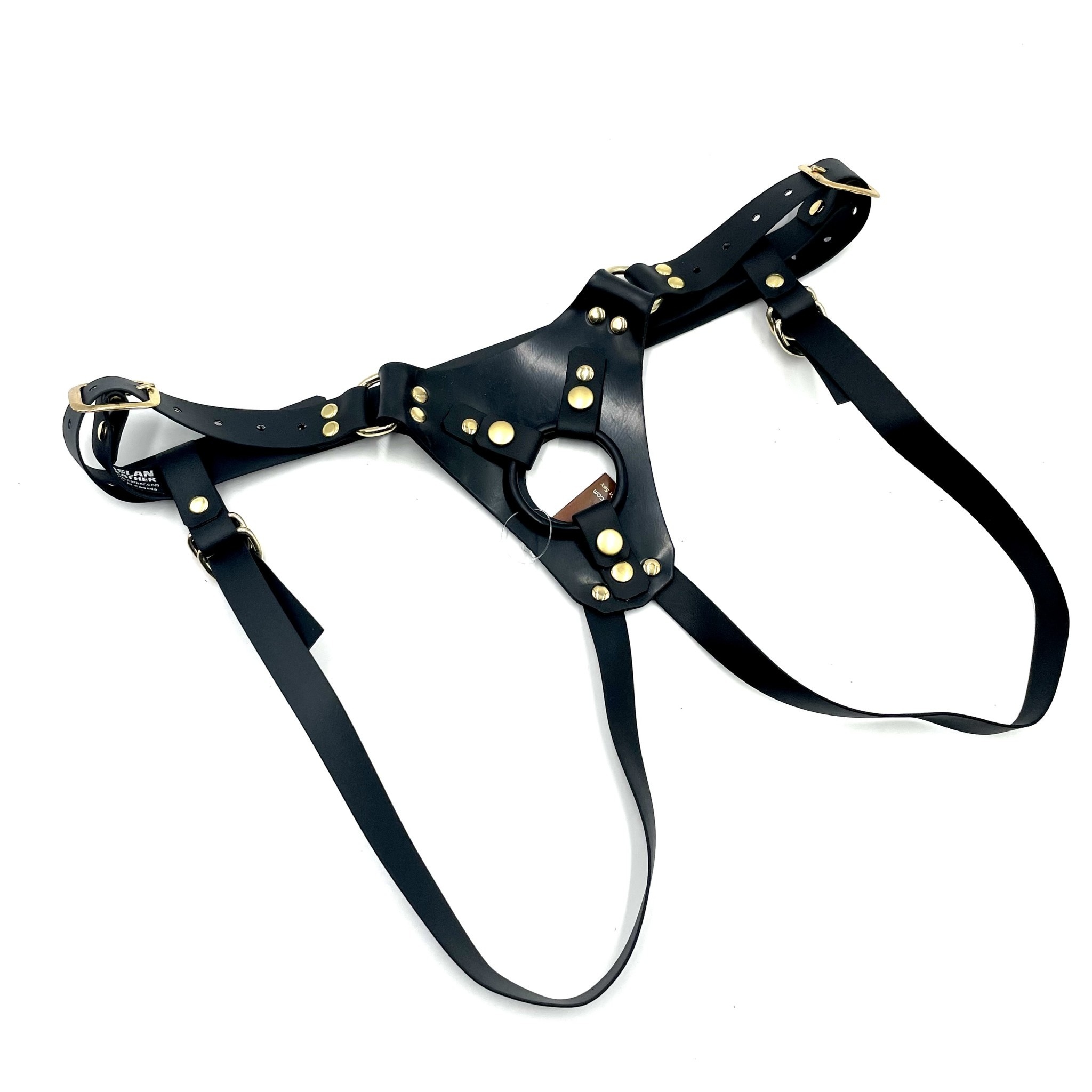 Aslan Leather Vegan Leather Harness - $146
Step 3. Choose your features
Once you know the type of strap-on you want and the material you prefer, you can start shopping for the perfect strap-on dildo harness. While shopping, you'll quickly find that strap-on harnesses come with a variety of features. Here are a few you might want to consider.
Detachable O-rings
The o-ring that holds the dildo in place is just as important as the straps themselves. Some harnesses come with built-in o-rings that restrict the size of the dildo you can use with it. However, you might want to be able to use your strap-on harness with dildos that are larger or smaller than these o-rings will hold.
In this case, you'll want to look for a harness with a detachable o-ring. This allows you to choose exactly the right size dildo for you and your partner. 
When using a detachable o-ring, just slide the o-ring over the dildo tip down to the base. Then, snap the o-ring in place using the snap clasps on the harness.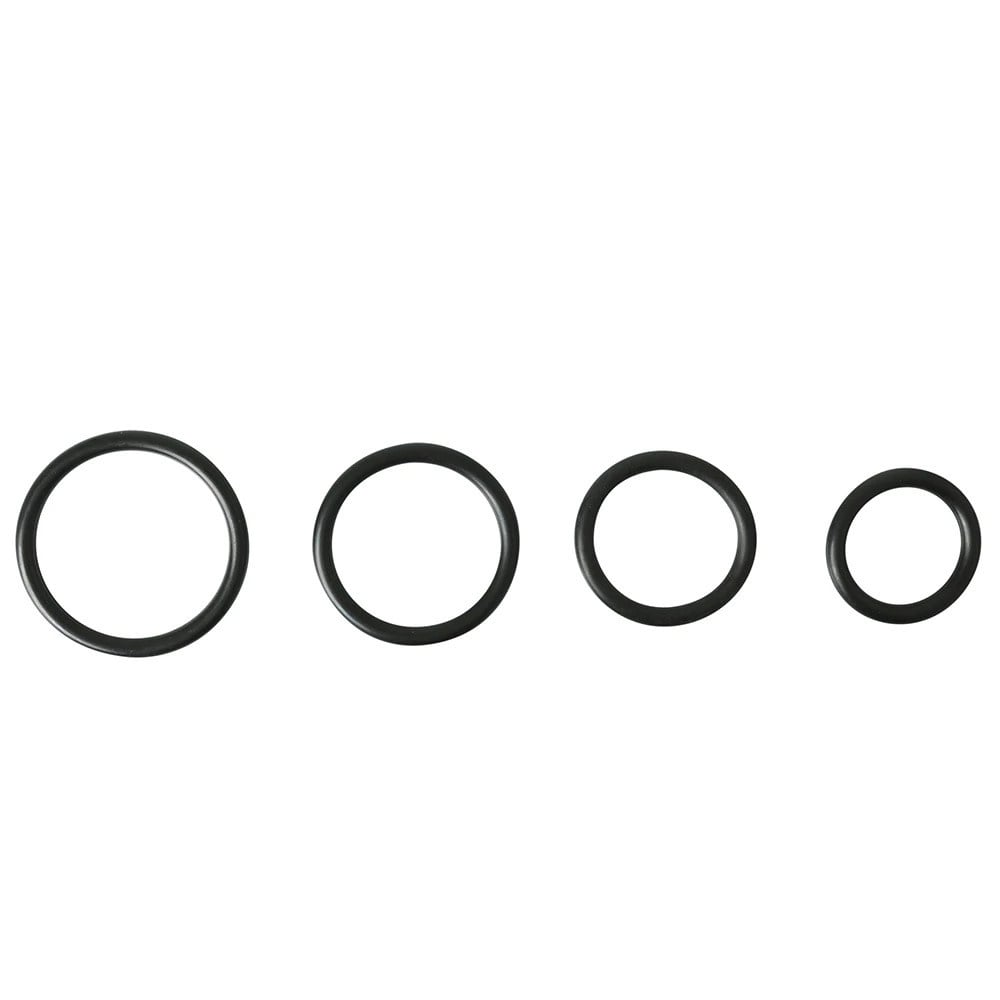 Sportsheets Rubber O-Rings - $9
Wide or Corset Backing
If you want a strap-on harness with a little extra support or are looking for a more adjustable plus-size strap-on harness, look for one that is wide-backed or that features a corset backing. These harnesses offer excellent support and are highly adjustable.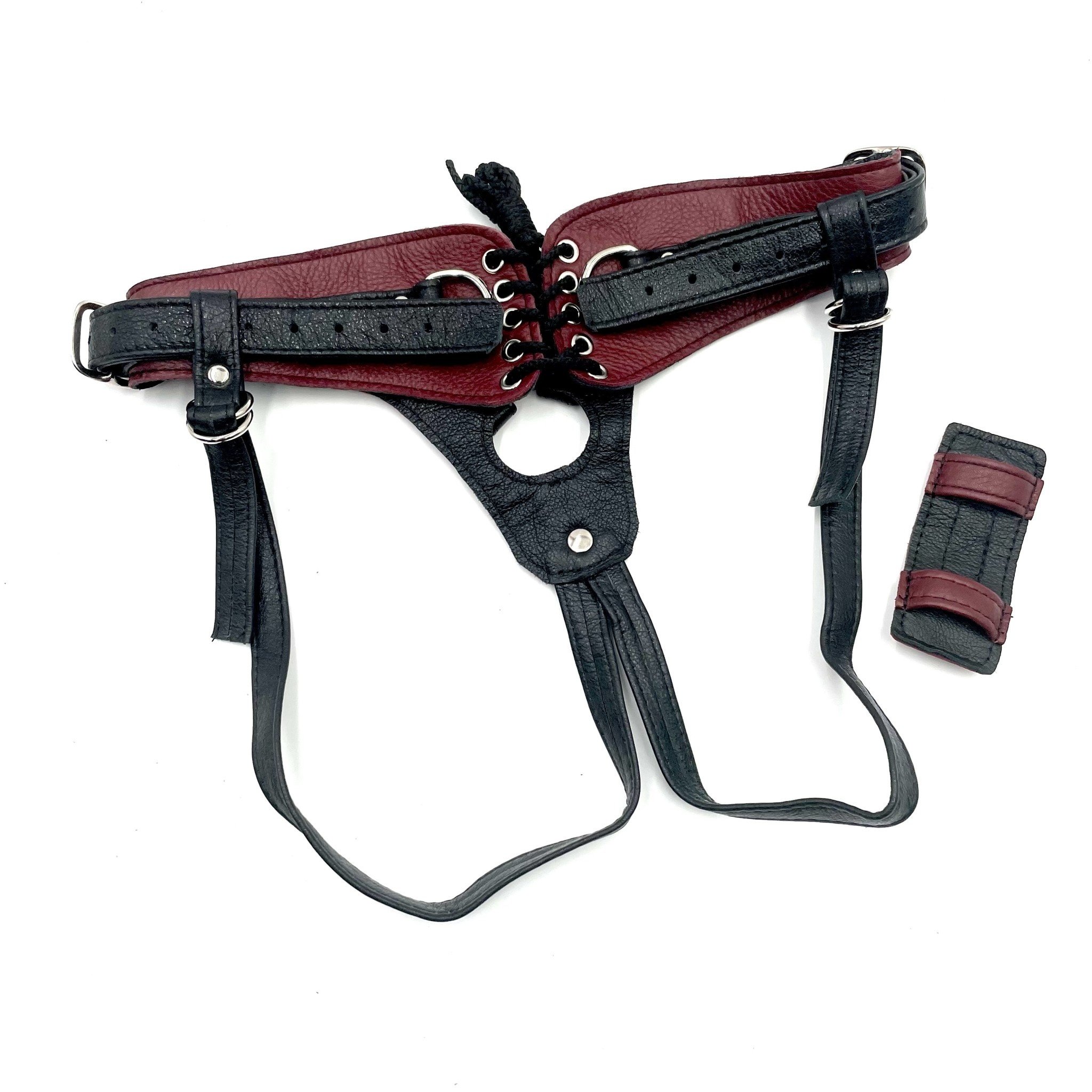 Adjustability 
When it comes to adjustability, not all harnesses are made equally. Some are easier to adjust, are more size-inclusive, and offer more control than others. When choosing a strap-on harness, look for one that is highly adjustable.
These are great for those wanting to share their harness with their partners or who want their harness to fit more snugly against the body for easier and better thrusting. You may also want to consider choosing a harness with metal buckles, as these tend to be more secure and easier to adjust than other options. 
Quick Step-by-Step on How to Put on a Strap-on Harness 
Now that you know how to choose a strap-on, let's talk about how to wear one! Putting on a strap-on can seem daunting at first, but don't worry, it's easier than it looks! 
Step 1. Loosen the straps and step in
Start by unbuckling or unclasping one or both of the straps that go around the hips to loosen the harness. Then, step into the harness. 

Step 2. Pull up and secure the harness
Next, pull the harness up and secure the straps that go around the waist. Carefully tighten the strap around the hips. They should be tight enough to feel secure, but not so tight that they are uncomfortable. 
To check the tightness, slip one finger between your hips and the harness. A properly secured hip strap should allow one finger to slide beneath it easily. If you can fit two fingers, you may want to tighten it a bit more.
Make sure the straps fit either over or under the hip bones. They should not fit directly over the hip bone, as this can cause discomfort. 

Step 3. Tighten the straps around the butt
If your harness has straps that fit around the butt, secure those now. As before, you should be able to fit one finger between yourself and the strap. This step is important for a good fit and proper thrusting. Make sure you are adjusting the straps to fit in the right place. They should not go between the butt cheeks, but over the outer part of the butt (unless it is a g-string harness).
Now, your harness should fit comfortably and securely. If you need to make any adjustments, do so. Then, move around in your harness a little.

Step 4. Get comfortable
If you are wearing a strap-on harness for the first time it is probably going to feel different than anything you've worn before. It's important to get comfortable with your harness before you engage in strap-on play. 
How do you get comfortable wearing a strap-on harness? You wear it! A lot. Wear it while lounging around, during solo play, or during foreplay. Wear it with your partner or alone. You can even try wearing it while doing mundane, everyday things just to get used to the way it feels and the way your body moves with it on. You'd be surprised how empowering doing those household chores can feel when you have a huge dick strapped onto you!
If you're wearing a strap-on that will require hip thrusting, practice the movement on your own before trying it with a partner. I recommend practicing in front of a mirror and trying out different positions and angles. Doing this made me feel very in control of my body and my newly-acquired dick!
This will help the movement to feel more natural and will allow you to make adjustments to improve the fluidity of your thrusting motions. 
Above all remember that your strap-on is not only for your partner's enjoyment but also yours. Make sure you're happy with how your harness feels and how you feel when you wear it.
How to Clean a Strap-on Harness
Now you know how to choose a strap-on and how to wear one, but there's one more thing we need to cover. No guide to strap-ons would be complete without steps on how to keep your harness clean and safe for use.
Keep anti-bacterial wipes on hand
All harnesses can be lightly cleaned with anti-bacterial wipes between uses. These are great for quick, easy clean-ups and should always be kept on hand, regardless of the type or material of harness you wear. 
Clean based on the material type
For more thorough cleaning, refer to the material type to determine how to clean your harness. 
Nylon
Nylon and polyester harnesses can be thrown in a garment bag and washed in the washer, though hand washing is better for the longevity of your harness. Once clean, air dry your harness before use. 
Leather
Leather harnesses can be wiped down with leather cleaner for a quick cleaning. 
To deep clean your leather harness, you can soak it in a mixture of water and mild detergent, rinse it, and then air dry it for at least 48 hours. 
Make sure the harness is completely dry before wearing it again or the leather will stretch. Once dry, lightly condition your harness with leather polish to keep the leather supple and to prevent it from drying out.
Rubber
Rubber harnesses are the easiest to clean in my opinion! I use my favorite sex toy cleaner to lather up the harness and give it a good scrub with a soft cloth. I just clean it in my bathroom sink. After lathering, I rinse thoroughly, pat dry with a soft cloth, and leave it out to dry for at least 3 hours. 
Vegan Leather
Vegan leather harnesses are generally easier to clean than leather harnesses. We recommend using a soft cloth, gentle soap, and lukewarm water to spot clean. 
We do not recommend soaking the harness in water as vegan leather is more prone to deterioration if exposed to water for an extended period of time. 
After spot cleaning, dry the harness completely and lay it out to dry until completely dry before your next use. 
There are vegan leather polishes that can be used to maintain the shine of your harness. Find a few suggestions for cleaning and polishing here.
Enjoy Your Strap-On Harness!
We hope you've found this guide to strap-ons useful! Don't forget that your strap-on should always feel like an extension of yourself. So make sure you choose the right strap-on for you, adjust the fit properly, keep it clean, and wear it with pride. A strap-on can be a wonderful tool for a variety of sex play and BDSM activities. It can also boost your confidence and add spice to your relationship. No matter how you use your strap-on harness, enjoy it!