Login
Log in if you have an account
Dont have an account? Register
The Ultimate Guide to Latex Clothing Care & Wear
02 Oct 2022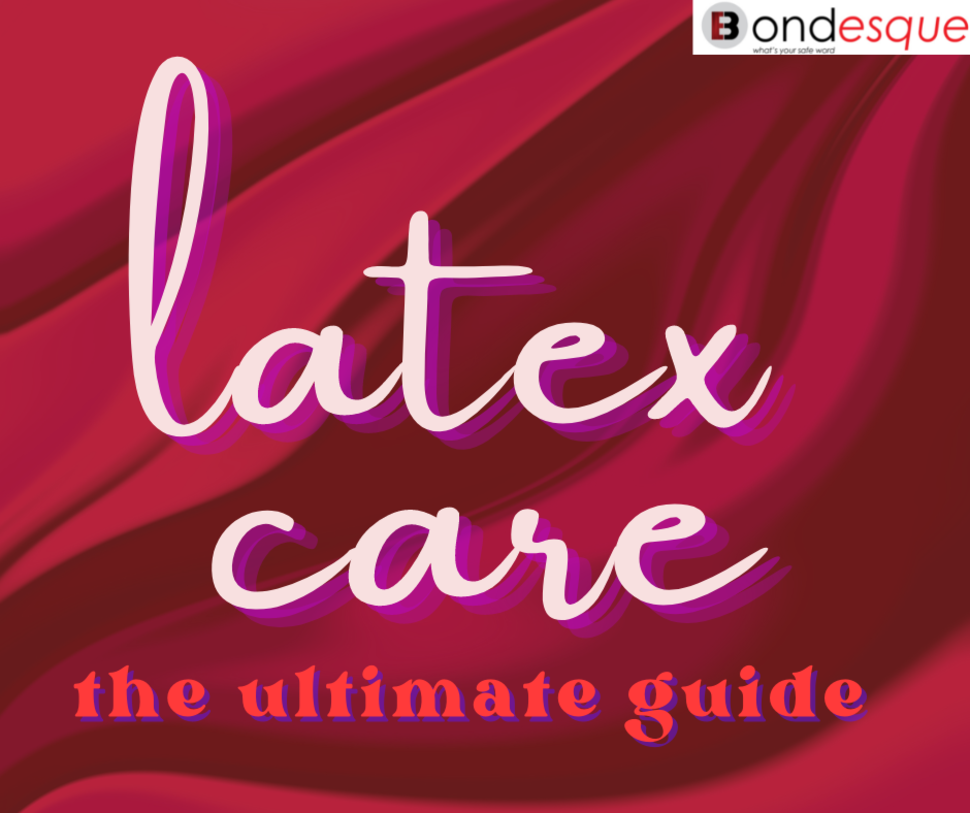 What is latex?   |   How to Wash & Polish Latex   |   How to Store Latex   |   Latex Cautions   |   How to Put on Latex   |   Talcum Powder Dressing Aid Tips   |   Silicone Lube/Spray Dressing Aid Tips
From gas masks to wellington boots, condoms to balloons, latex has traditionally been used to manufacture a range of goods. But what better way to use the versatile material than to create stunning latex clothing?
we're here to make latex clothing less intimidating
Fetish fashion has come on in leaps and bounds over the years and has gained an army of followers. From BDSM practitioners to fashion-forward hipsters, latex dresses, corsets, skirts, trousers, and bodysuits top the list for those who like to stand out.
Despite its versatility and shiny good looks, not everyone embraces latex. There's a common misconception that latex clothes are too much trouble — they are too tight, too difficult to pull on and off, too sweaty, and too high-maintenance to care for. Can we let you into a secret? None of this is true! 
Latex clothing hugs your body and shows off your best assets. It feels ultra-smooth and is surprisingly comfortable to wear — almost like a second skin.
Slip on a latex piece and you'll feel sexy and empowered, not self-conscious.
Latex clothing can take some getting used to, and you do need to look after it — but we think you'll love it. 
In this guide, we'll give you the lowdown on latex, we'll describe what it is and explain how to properly care for latex clothing.
Everything from how to clean, how to shine, and how to store latex clothing! Ready to get to grips with lovely latex? Then let's get started…
Let's talk latex
Look beneath the bark of a mature Pará rubber tree and you'll find the soft white substance we know as latex. Typically made up of 40% rubber and 55% water, natural latex is resilient, pliable, biodegradable, and non-toxic.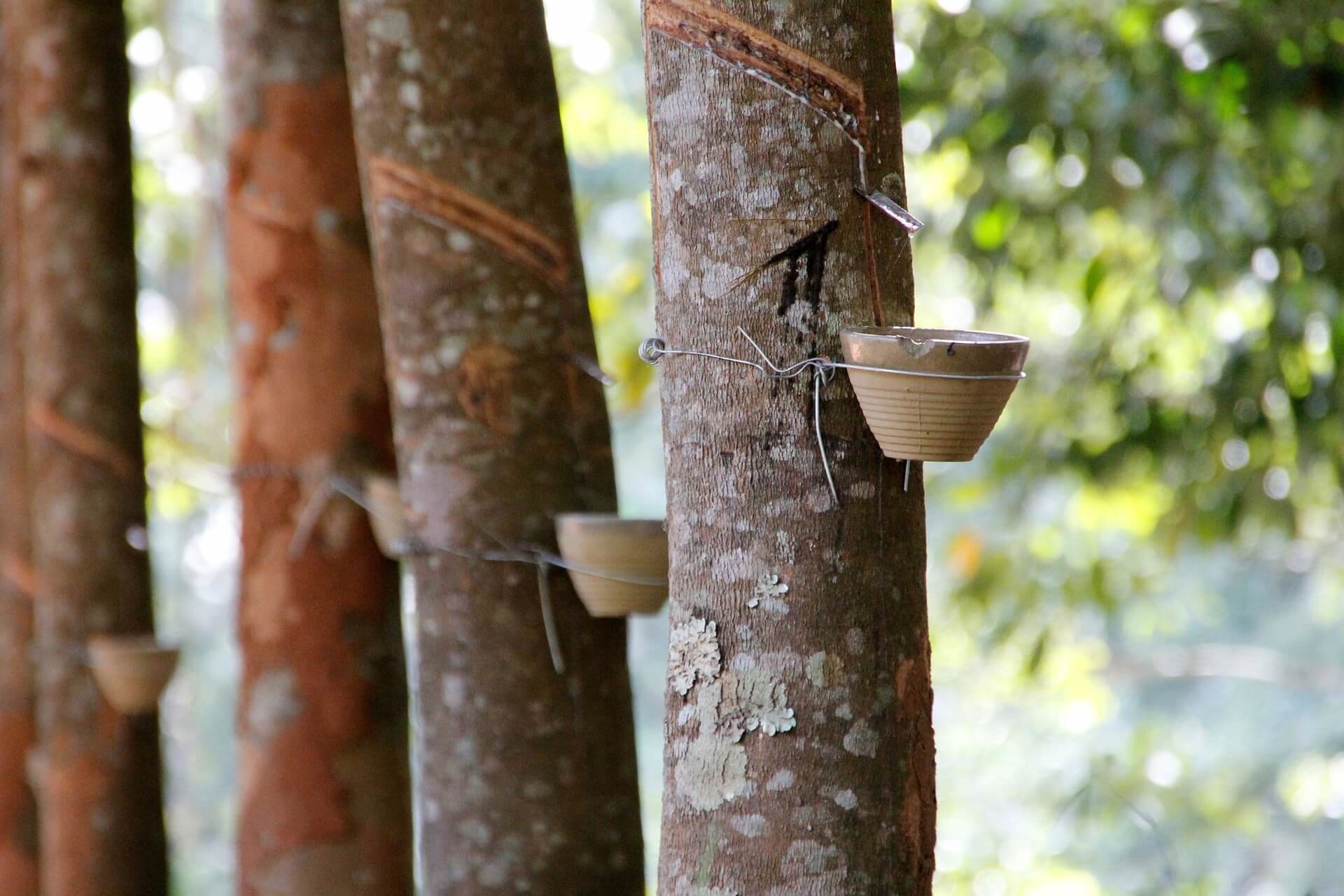 With such notable qualities, it's little wonder latex rubber is a popular clothing material. It differs from standard garments — latex offers a flattering contour effect, and that second-skin style is hard to replicate. If you want to look and feel svelte and sexy, latex is hard to beat. 
Latex comes in a range of different thickness levels, starting at 0.25mm. The majority of the latex pieces you come across average around 0.5mm thickness but some garments are 0.8mm or even 1mm thick. Despite its reputation as a material that's durable, it's important to remember that latex is delicate, no matter its thickness.
This takes us neatly back to latex care and the importance of understanding how to care for latex clothes. We'll run through this in more detail, but in a nutshell, care involves:

5 Steps to Washing & Polishing Latex Clothing
Ok, so let's get down to the nitty-gritty of latex clothing care. We've broken the care process down into simple steps, but before we get started, we'd like to point out the importance of washing latex garments shortly after use.
Sweat can discolor latex, so don't leave your clothing discarded over a chair for a few days following wear. Get into the habit of washing after wear, and your items will stand the test of time.
Step 1) Clean your tub/basin of choice — you will be hand-washing!
Where you clean it is important. You can use a bathtub (a popular choice), a deep sink, or a large bucket but your washing container of choice needs to be clean.
Make sure there's no trace of any chemicals or bleach, otherwise you might run the risk of damaging your garment. 
To be on the safe side you could use a designated tub or bucket to wash latex clothes in.
If you do decide to go with the bathtub as your go-to place for washing and polishing, remember the floor of the tub may be slippery afterward.
Step 2) Dissolve latex wash in lukewarm water
Once you've found your ideal container you need to fill it with lukewarm water.
If the water is too hot it might melt your garment, and if it's too cold you won't be able to wash the item properly.
You can use dish soap to clean latex clothing, but for better results, it's a good idea to use a specially formulated latex wash.  
Can I wash more than one garment in the same

 tub?
Yes you can but it is dependent on the pieces you are cleaning. As a general rule of thumb, do not wash dark pieces with light-colored pieces. Dark pieces can be washed together and light pieces can be washed together. 
If you have a piece that has metal pieces apart of it, use caution. Pieces with spikes should not be washed with any other garments. Do not wash light-colored pieces with pieces that have metal.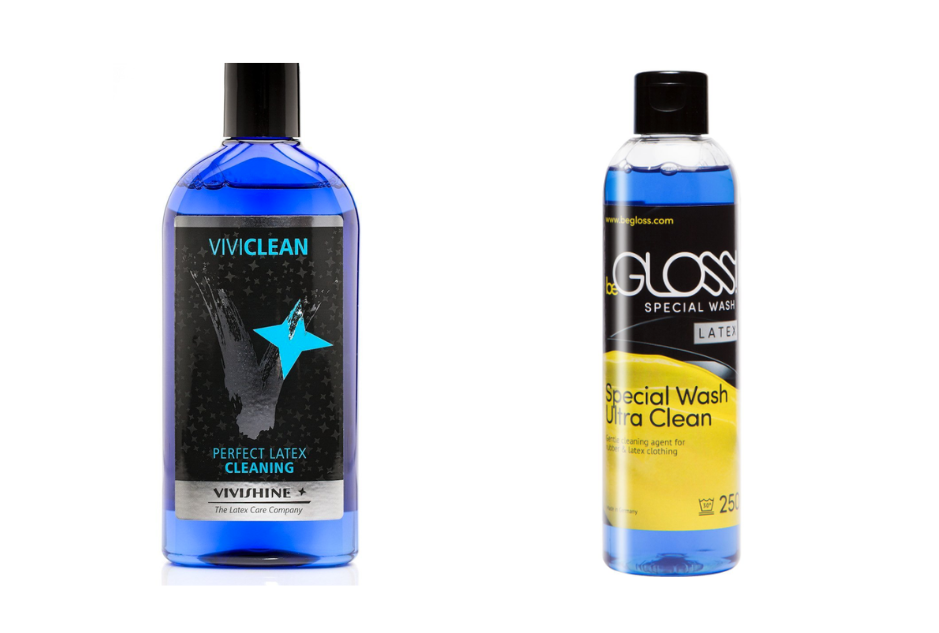 Viviclean - $29                          beGloss Special Wash - $20
There are a few types on the market including beGLOSS Special Wash, a gentle cleaner designed to purify rubber and latex garments.
Or how about Viviclean? Microbiologically disinfecting and antibacterial, the lotion has been formulated to intensively and carefully clean latex and rubber clothing. 
Begin by swishing and dunking your latex garment into the water, making sure you gently swirl, flipping the latex inside and out to give it a thorough clean.
Ideally, you should soak the item for 3 to 10 minutes before removing it for rinsing.
Step 3) Rinse latex in lukewarm water
You need to thoroughly rinse your latex item to ensure all soap and suds are removed.
Use lukewarm water and gently rinse your item, making sure you flip it inside and out for maximum cleanliness and freshness.
Step 4) Polish your garment (optional)
Polish can make a real difference to the appearance of your latex.
Here's how to polish latex clothing:

There are 2 ways to polish latex clothing: polishing in a basin of cold water or using a spray-on polish. Both are great ways to polish, and it is simply up to personal preference which route you choose. 
Water-Soluble Polish
To polish in a basin, prepare a tub of cold water. As a general rule of thumb, you should use a teaspoon of latex polish per item of clothing (depending on how large your garments are).
Add your polish to a tub of cold water and place your garment in the water. Work the polish onto the latex by swishing & dunking the garment in the water.
Rub the surfaces together to work the polish in. Flip the piece inside out and repeat the process.
If you do use the bathtub, don't forget the polish will make it slippery afterward.
Once you're done polishing and the garment has dried, you can add extra shine by using silicone lube or additional polish to your garment and if you want to go the extra mile use the beGLOSS WIPE cloth.
The double-layered cloth has a fine fiber structure, so you can expect a high gloss shine without any streaks. 
Spray-On Polish
Once you have thoroughly rinsed your piece, hang to dry for at least 12 hours. Be sure to flip the piece inside out halfway through drying to ensure the inside of the piece is dried as well. 
After fully dried, spray your polish directly onto the piece. We recommend using the beGLOSS WIPE cloth to work the polish into the latex evenly. 
Polish Options
You'll find a wide selection of polish to choose from, such as beGLOSS Perfect Shine & Vivishine. These high-gloss polishes work well to give latex clothing a professional shine – so your item will look impressively glossy and wet but will be dry to the touch.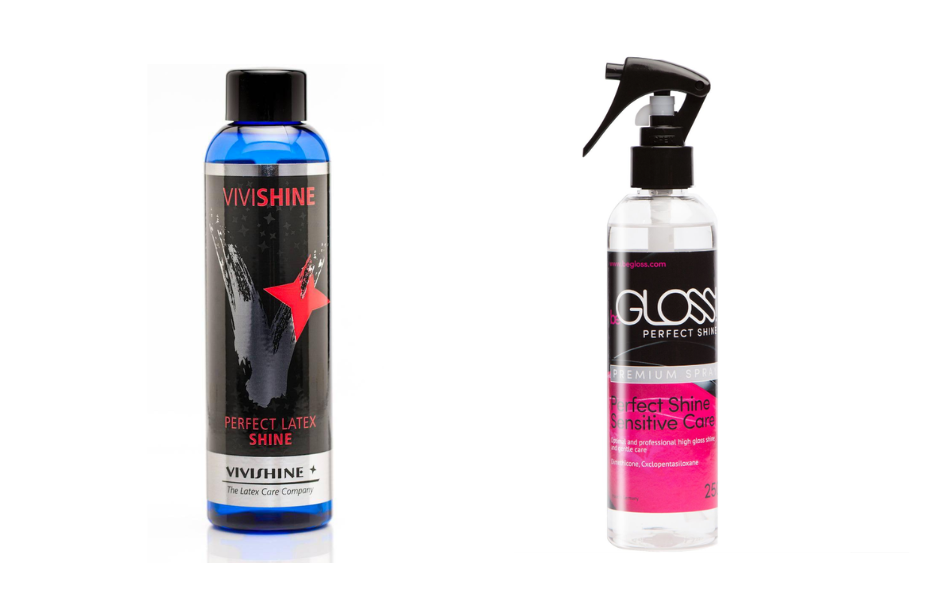 Vivishine - $29                   beGLOSS Perfect Shine - $35              
Step 5) Hang to dry
When it comes to latex it's drip dry all the way!
Never use a hair dryer, or hand your garment over a radiator as this can be hugely damaging. 
Instead, you should hang clothing on a plastic hanger (non-metallic) and leave to dry for a minimum of 12 hours.
Flip the item so both the inside and outside dry fully, otherwise, you run the risk of mold developing and ruining your favorite piece.
Storing your latex
Fresh and clean latex garments need to be stored correctly to keep them in tip-top condition. Here are a few tips to set you on the right path:
Make sure your item is spotlessly clean before you 

store latex

If you're only planning on storing your item for a short time, polish will suffice. 

If you're storing your item for a longer period, add

talcum powder

before packing away. 

Always talc the inside of the garment and talc the outside too if you're planning to fold the item.

If you're folding your item use

tissue paper

to keep the item from sticking

If you're hanging your item, use a plastic hanger rather than a

metallic hanger

and store in a

garment bag

. 

If you have two dark-colored garments you can hang them next to one another in the same bag, but don't hang

light-colored latex

by dark as the items may stain. 

Always store items in a cool place, away from bright sunlight.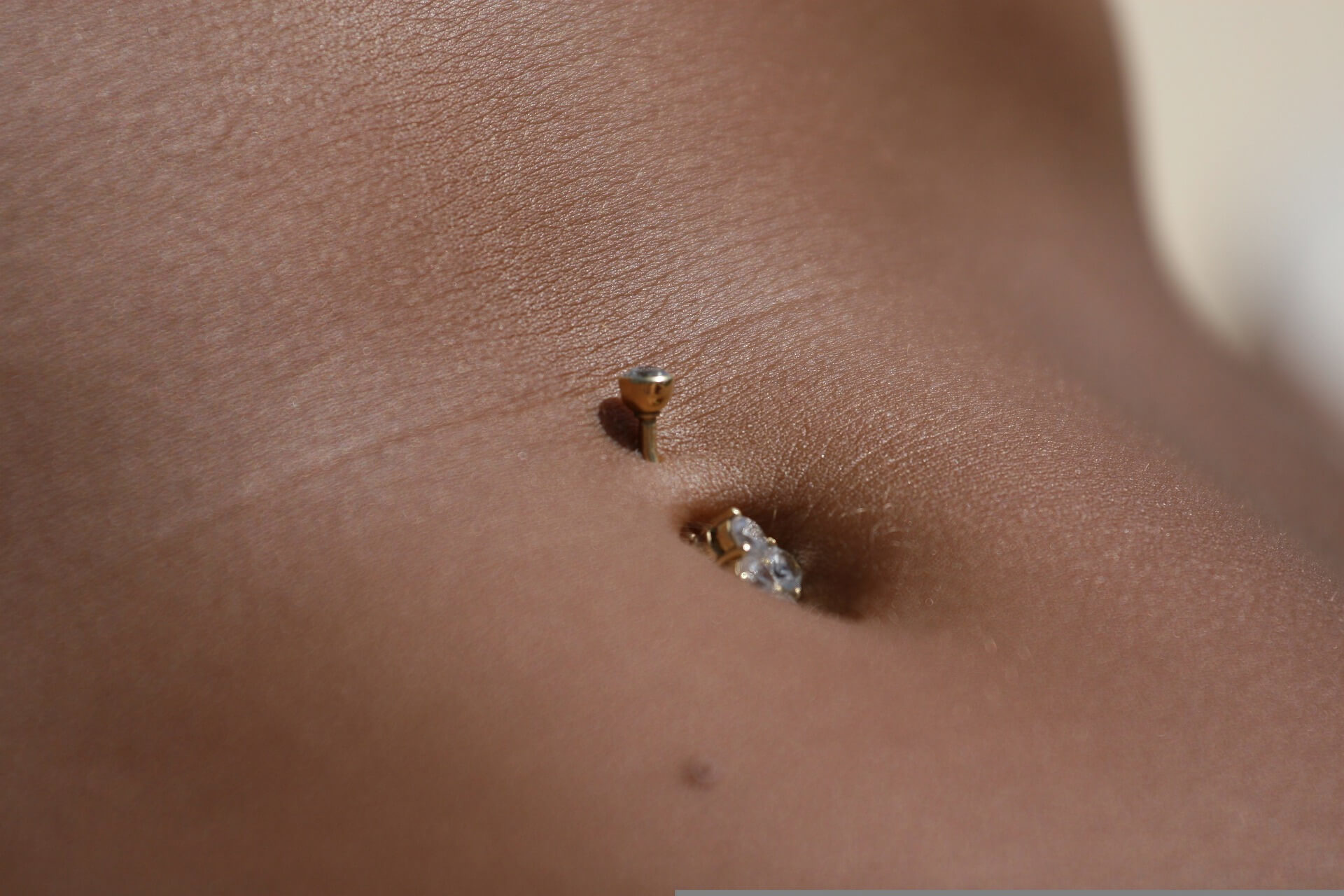 Watch out for these latex no-no's!
We've given you a long list of all the things you should do to keep your latex garment looking great, but there are a few things you need to refrain from too, such as:
Store latex away from metals such as gold, brass, nickel, and copper alloys. All are potentially harmful as they can stain. 
Keep your latex away from sharp objects

such as knives, scissors, and pins. Watch out for acrylic and

long nails

too as they are sharper than you realize and can easily tear the delicate material. 

Body piercings can cause damage too. Your belly button piercing, nipple piercing, genital piercing, etc. may look good but piercings can cause damage to latex — especially if your earring gets caught as you are popping your garment on or off. 
Oils, petroleum-based lubes such as vaseline, lotions, creams, and tanning lotions can also damage latex. It's a good idea to shower and remove any potentially harmful lotions etc. before slipping into your garment. 
Latex doesn't appreciate bright sunlight — this doesn't mean you can only wear latex clothing at night, but over-exposure to sunlight could damage your garment. When you store your item it's best to keep it somewhere dark.
How to slip into your latex clothing
Latex clothing can take a little getting used to, especially if you've never worn it before. However, once you get the hang of it, you'll be dressing and undressing without a problem. The best thing you can do is take your time — rushing is never a good idea. 
You can use a dressing aid such as silicone lube and talcum powder to help you master the art of wearing latex. Everyone has their own personal dressing aid preference. 
For those who like the feeling of a latex piece slipping up their slick bodies, silicone dressing aids are the best solution. 
Some don't like the slippery, slick feeling of silicone and opt for talcum powder. 
Whichever you use is purely based on your preference, and we suggest trying each when you're just starting out!
Using talcum powder
The best way to prepare a latex piece with talcum powder is to flip the piece inside out and sprinkle talcum powder on the inside of the piece. The first time I did this, I made the mistake of squeezing the talcum powder too hard and the powder went everywhere. Be gentle as you shake the powder on the garment and rub the powder into the material until all surfaces have been covered. 
You may have to polish the outside of the piece again after slipping it on.
Using silicone lubes or sprays
If you're ready to literally slip into your piece, we recommend silicone-based lubes and dressing aid sprays. Similar to using talcum powder, flip your piece inside out and apply dressing aid evenly. 
For added measure, you can also apply the lube/spray to your body, making it even easier to slip it on! I highly recommend applying the aid to your body for long-sleeved pieces, leggings, and catsuits. 
Disclaimer: Silicone lubes and sprays make surfaces very slippery. Place a towel beneath you as you apply the dressing aid, and be sure to mop the floor using soap and water after to prevent any dangerous situations!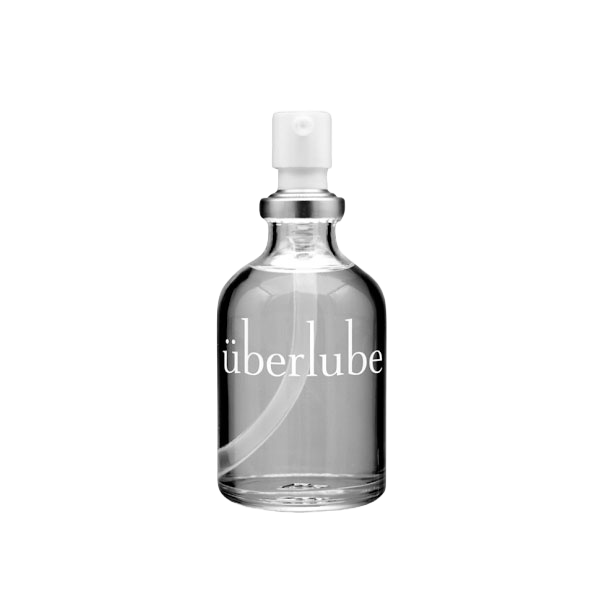 Our favorite silicone lube to use is überlube — tried & true by many, überlube is known for its silky feeling that doesn't dissolve and boosts the shine of your latex clothing. It's also great for activities of other sorts (read: penetrative sex, especially anal — not compatible with silicone toys).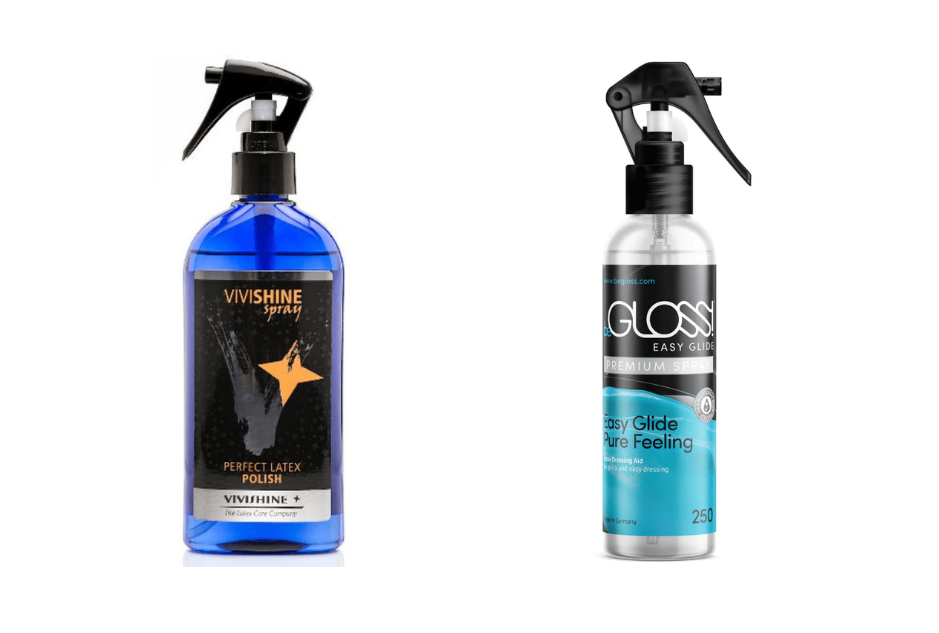 Vivishine Polish Spray - $37            beGloss Easy Glide Spray - $33.50
Vivishine Spray & beGloss Easy Glide Premium Spray are highly-regarded polishes that also serve as dressing aids. The spray bottle nozzles make for easy application.
Getting into your latex
Never tug on your latex — you're not pulling up a pair of jeans or tights! Instead, gently slide your garment on. Slipping your arms/hands between your body and the latex garment helps, but do take care if you have piercings or sharp nails.
After slipping it on, slide your hands gently on the outside (and inside if needed) to get rid of visible creases and bunching.
Latex — Stunning, Empowering, and Easy to Maintain 
So, there you have it, an overview on how to care for your latex garments and keep them in great condition. Latex may be daunting to wear but once on it looks visually stunning and will make you feel like you own the room!  
Just remember to use a dressing aid and take care as you ease in and out of your garment, and always wash, rinse, polish, and dry before you store your item safely away.