Login
Log in if you have an account
Dont have an account? Register
Latest 2022 Latex Fashion
27 Jun 2022
Latest Latex Fashion for 2022
Latex garments have always been popular amongst BDSM practitioners and fetishists who have a passion for wearing skin-tight hoods, dresses, shorts, etc. to parties and kink events.
But today, latex is not just for those who like to crack a whip or kneel before their Mistress/Master. The trend for latex has been adopted by fashionistas, celebrities, and those with a taste for something a little less ordinary.
If you didn't know already, we are hosting a big fetish ball, Rubber Ball USA, at the end of July. Fetish attire is required!
Explore trending latex styles that you can purchase online or in our store. 
Latex Fashion Trends to Follow
From Beyonce's eye-catching peachy latex number at the 2016 Met Gala to Kim Kardashian's seemingly endless array of latex outfits, it seems the stars have taken a real shine to latex fashion. 
Squeezing into skin-tight latex can be a challenge (we have suggestions to help with that), but once you're in, the close-fitting material can make you look like a million dollars.
From dramatic dresses to striking shorts and ultra-sexy catsuits, if you want to stand out from the crowd, simply slide into latex. 
Every year new latex fashion is released. Keep up on the latest latex trends of 2022 and explore this catalog of masculine and feminine latex clothing! 
For instant sex appeal, it's hard to beat a BDSM latex dress. Not only do latex dresses look amazingly hot but most are also surprisingly easy to put on and wear. 
Latex is much more forgiving than you might think, it holds in lumps and bumps, flatters curves and contrary to popular belief, latex does not make you hot and sweaty (the material adopts the temperature of its surroundings). 
Explore some of the flirtiest and sexiest styles we carry!
Price: $175.99
Sizes: S - 3XL
Colors: Black, Red
A playful dress featuring a bodice and skirt by Peter Domenie, this short latex dress is both adorable and sexy. The dress features a voluminous circle skirt along with a sleeveless body-hugging bodice with a cute heart-shaped bustline. 
Choose from a red latex dress or the equally stunning black latex dress; both are flirty and fun — great for parties and play events. Add a touch of extra sass with gloves and a neat waist clincher. 
Price: $275.99
Sizes: XS - 2XL
Colors: Black, Red
If you're looking for something a little different how about a black midi latex dress or red midi latex dress with a front zipper and asymmetrical hem? A vintage feel with a sultry touch.
This gem screams elegance, shorter at the front, with a waterfall of latex at the rear. 
The flattering halter neck provides adequate support and the open back will draw admiring glances from fellow guests.
The deep neckline draws the eye delicately to the decolletage too — this one's a real showstopper — perfect for a special kinky event. 
Price: $305.99
Sizes: S - L
Colors: Red, Metallic Lilac
Handmade in their California studio by renowned company Vex Clothing, this Vex latex plunge dress has a high-quality look and feel.
With its back zip closure and plunging neckline, the latex dress boasts lashings of sex appeal. 
Price: $296.99

Sizes: S - L

Colors: Blue, Yellow, Pink
If it's good enough for Kylie Jenner, it's good enough for us. This beautiful Vex clothing tube dress is handmade in California and fits like a glove. One of our favorite aspects? So easy to slip on and off. Tube dresses are perfect for beginners to latex apparel.
Show off your curves to perfection in the strapless tube — perfect for fetish parties or even just a night out. 
Available in blue, yellow, or pink. 
Feminine Latex Crop Tops 
Let's move on to the versatile crop top next. If you want to show off your bust, waist, or your newly pierced navel, the latex crop top is the garment for you.
Wear the crop top with matching latex pants or team it with a sassy skirt. Want to dress it down? Pair it with your favorite pair of pants or jeans. 
Not sure what look to go for? Luckily, we've found a few that might pique your interest.
Before we reveal the tops, allow us to share a tip: if you're purchasing in-store, it's always wise to try before you buy. Any Bondesque staff member will be happy to reserve you a fitting room, or to offer guidance on styling or sizing!
Price: $149.99

Sizes: S - XL

Colors: Black, Blue, Purple, Red
For a timeless piece, you might want to take a look at this classic sleeveless crop top from Vex Clothing. Handmade in their California studio, the top boasts a back zip to make putting it on or off incredibly easy.
You're spoilt for choice in terms of color too as the latex crop top is available in numerous colors including black, blue, purple, and red. 
Price: $130.99
Sizes: S - XL
Colors: Black, Red
A signature, hand-made Vex latex crop tee, this cute t-shirt features a crew neck and short sleeves. Dress it up with a skirt or wear it with high-waisted pants, shorts, or jeans for a casual, easy-to-wear style.
Available in the classic colors: black or red. 
Price: $155.99

Sizes: XS - L

Colors: Black, Brown, Transparent Blue, Transparent Pink, Transparent Aqua
This simple crop top, handmade and produced by Vex clothing, would be a great addition to your wardrobe.
Vex has taken the classic long-sleeve crop and given it a modern makeover, adding a stylish mock turtleneck and back zip closure. 
The result is inspiring, but you don't have to take our word for it — Kylie Jenner agrees as she's worn the crop top herself.
There's a range of sizes available and plenty of colors too, including transparent pink, brown and red. 
Sexy Feminine Latex Tops 
A striking top can make or break an outfit, and latex tops are perfect if you're aiming for a sexy, bold look.
Latex tops are nifty garments; match with casual jeans or pants for funky daytime style or glam it up by night with matching latex shorts or a swirly skirt. 
We have a range of versatile latex tops for you to peruse. Remember, it's a good idea to try on tops before you buy to make sure you get the right size and a style that suits.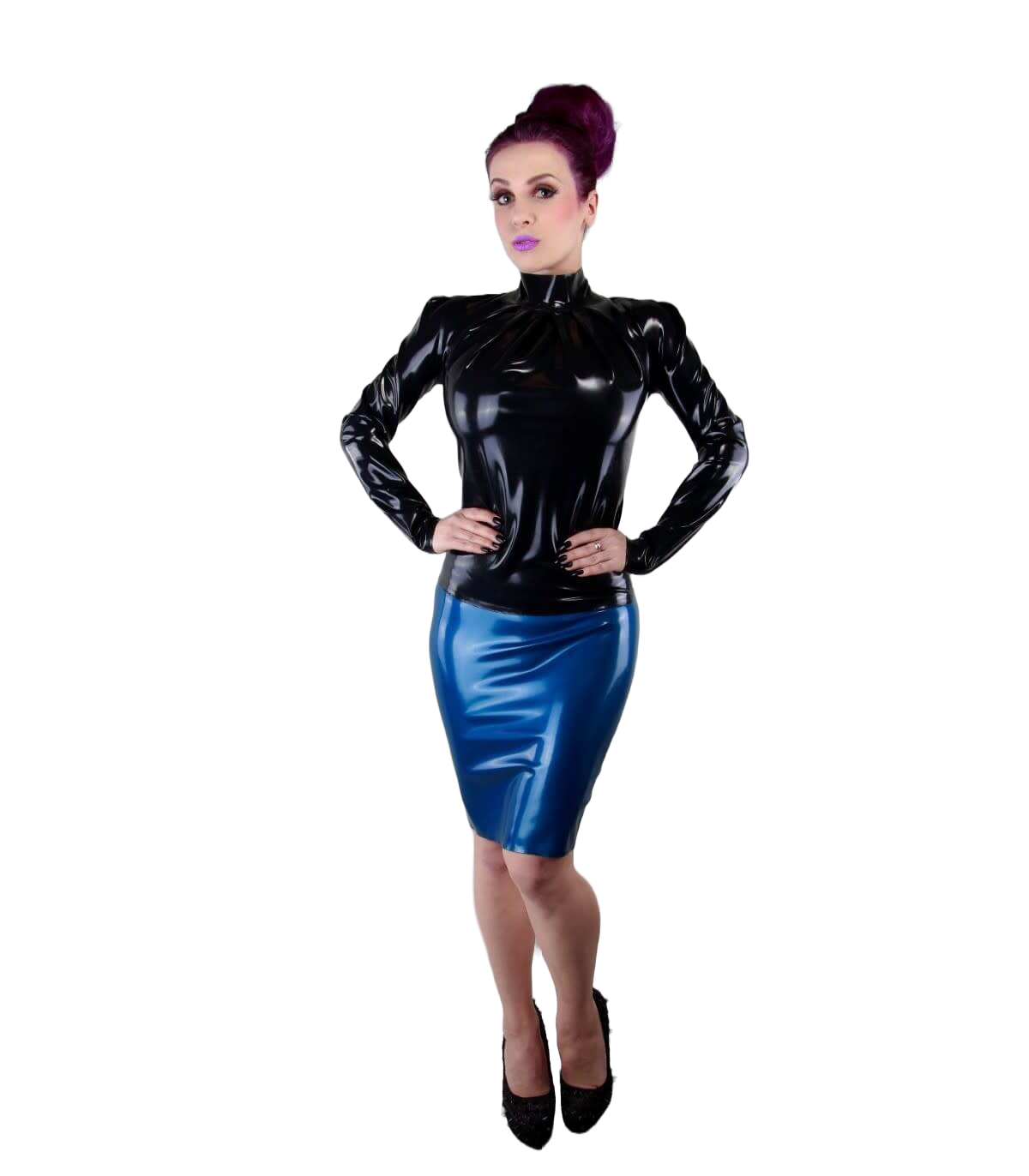 Price: $245.99

Sizes: XS - 2XL

Colors: Black
With a handy back zipper for easy access, this black long sleeve latex top is perfect if you're seeking something fun and flirty. 
Featuring long sleeves and a cute collar, the top looks great teamed with matching pants or a skirt. There are pleats in the neckline and shoulders for added drama. This top is great to wear as a formal blouse. 
Price: $225.99

Sizes: M, L

Colors: Pearl Leopard, Red Leopard
Handmade and featuring a stand-out signature print, the latex print simple-top by Vex Clothing is designed to be noticed. The classic long-sleeve top features a back zipper, mock turtleneck, and princess seams to enhance your look.
Choose from pearl leopard or red leopard in color. 
2022 Latex Lingerie
Sex it up with racy latex lingerie. Whether you're on the lookout for BDSM latex lingerie or plus size latex lingerie, these striking bras, knickers and garters will make you look and feel like a goddess.
Ordering online is convenient, but to get a true sense of fit and to check out how something looks up close, it's better to try things on at the Bondesque store. 
Price: $157.99

Sizes: 34B, 32C, 34C, 36C

Colors: Black, Red, Metallic Purple, Hot Pink
The handmade Vex latex garter-underwire-bra boasts adjustable garter shoulder straps for a comfy fit. There's also an underwire for support and a snapback closure too. Pair it with latex underwear and a garter belt and you have a complete look! 
The latex balconette bra comes in a range of sizes from 32A to 36D and a variety of colors including black, red, metallic purple, and hot pink.
Price: $275.99

Sizes: 34C, 36C

Colors: Red, Black
This is a stunning example of BDSM latex lingerie, a handmade Vex Clothing ride-on bra that boasts versatility and good looks. You can wear it as a bra or pop it over a t-shirt for a more casual look. 
The balconette bra features an eye-catching bandana-print overlay, available in both black and red. 
Price: $275.99

Sizes: 32A, 32C

Colors: Black
Another handmade latex bra from Vex Clothing, the pyramid bra has a distinctive look, with cheeky cutouts highlighting the bust. Seriously, everyone looks fantastic in this piece! 
There are well-thought-out practical elements too, such as the snapback closure and adjustable straps. 
Available in black and sizes 32A & 32C. 
Feminine Skirts & Stockings
Classic additions to your latex collection. Latex stockings topped with a latex skirt will take your look to the next level. Latex is flattering and flirty, but you do have to take care of it as the material can be delicate. 
You will need to handle latex stockings with particular care as they can rip or puncture if they come into contact with sharp objects.
Metal stocking clips can prove problematic, so it may be best to avoid them (as they can snag the latex and ruin your stockings). 
Price: $156.99

Sizes: S - L

Colors: Black, Pink, Red
Moderne stockings for a modern look and handmade from Vex Clothing, these latex stockings are thigh-high and look the part. You can clip the stockings to a garter (but take care)!
The Moderne stockings are available in a variety of other colors, such as black, pink, and red.
The stockings are available in sizes small to large.
Price: $163.99

Sizes: S, M

Colors: Black
Let's move on to a luscious latex skirt, and this one is best described as eye-catching. The handmade skirt features an attractive silver-tone hook and eye detailing on the sides.
Ideal if you want to make a striking impression — wear it on a night out or to your next fetish party!
Price: $112.99

Sizes: S - L

Colors: Black, Red, Transparent Lilac, Transparent Aqua
This handmade Vex Latex pencil skirt skims the knee (length 25") seductively and is a classic staple for any latex wardrobe collection. The high waist is flattering and the skirt can be worn for all sorts of occasions, from work to play parties!
This go-to black latex skirt is a celebrity favorite and has graced the pages of Vogue on several occasions. If you prefer color, choose from red, transparent lilac, and transparent aqua.
Price: $260.99

Sizes: S, M

Colors: Black w/Gold Hardware, Black w/Silver Hardware, Red w/Silver Hardware
With rockstar good looks, the handmade zip-back pencil skirt is sleek, sexy, and edgy. Embrace your inner rebel and don a latex skirt that features a peekaboo cutout at the rear and belted waist.
Opt for hardware in gold or silver, and for the latex dress skirt itself you can choose from a massive range of colors including plum and nightshade blue. 
Latex Accessories 
Finish off any outfit in style with stunning latex accessories. You'll find a wide range available; why not try a stunning latex corset?
Or maybe a pair of latex gloves (go for short and sweet or elbow latex gloves for a dramatic look). Other latex accessories include belts, collars, purses, etc. 
Price: $149.99

Sizes: M, L

Colors: Black
A versatile, sexy black latex corset by Peter Domenie. This waist clincher boasts a textured swirl pattern.
The corset also features latex side panels, back snap buttons, and a lace-up front. This one also runs small — so order a size up for a better fit. 
Price: $112.99

Sizes: S - L

Colors: Black, Red, Black/Silver, Purple/Gold, Red/Gold, Red/Silver, Purple/Silver, Smoke/Silver, White/Silver
Add a touch of class to your outfit with these Vex latex wristlet gloves. The classic gloves extend just past the wrist and have been worn by several celebrities including Kylie Jenner and Rihanna.
Go for traditional black latex gloves or one of the many other colors available. The gloves are available in three sizes: small, medium, and large as well as a variety of colors. 
Masculine Latex Tops
Latex fashion isn't just for women. Latex clothing for men is just as impressive. Masculine latex tops are popular and there are plenty of styles to choose from.
There are sleeveless shirts, tees, tank tops, or how about a top with a men's latex hood?
Men and masc-individuals have to wear fetish wear to Rubber Ball too, so don't skimp on your look!  
Price: $119.99

Sizes: S - 2XL

Colors: Black/Red
If you like the idea of men's latex clothing with a sporting edge, the Raglan T-shirt could be for you. Made from quality 0.5mm thick latex, the t-shirt boasts a black latex body and red latex sleeves.
There's no zipper, and the top is skin-tight — we promise a little dressing aid will make the whole process seamless.
Price: $119.99

Sizes: L, XL, 3XL

Colors: Red
If you're building a collection of men's latex clothing it's a good idea to add in a few timeless pieces.
The solid color red latex tee by Latex 101 will add a pop of color to your men's latex outfit and draw plenty of admiring glances. 
Price: $179.99

Sizes: S, XL, 3XL

Colors: Black/White/Red
For a unique latex top, look no further than this funky color-marbled black, red, and white tee.
Great quality and handmade, the black shirt is marbled with striking white and red spots. There's a front zipper too for easy wear, and the tall collar adds to the quirky design. 
Price: $145.99

Sizes: L, XL, 2XL

Colors: Black
Men's latex outfits should be edgy, and this Collared Front Zip Tee would work well with a pair of latex pants or jeans. The tee is crafted from 0.5 mm thick latex and has short sleeves and a tall collar.
The front zipper adds a funky touch — wear the shirt zipped up or open at the front, depending on your mood! The tee is available in sizes L, XL, and 2XL.
Price: $145.99

Sizes: S, 2XL, 3XL

Colors: Black
The casual hoodie works well for numerous occasions, it's relaxed and has a chilled-out vibe. A very unique piece that isn't limited to formal events.
This sleeveless hoodie comes in a range of sizes and boasts a men's latex hood (the hood comes in a variety of colors).   
Masculine Latex Bottoms/Shorts
It's time to get to the bottom of men's latex clothing, in particular the shorts and pants! There are all sorts available on the market from latex pants to leggings.
Latex clothing for men also includes sexy shorts and striking undies — great for parties and play events. 
We've included a range of bottoms and shorts for you to browse, perfect if you're trying to create a well-put-together men's latex outfit.
Price: $259.99

Sizes: S - 3XL

Colors: Black/Red, Black/Blue
If you fancy getting wet and wild, try out the Black Striped Surf Suit by Latex 101. This short-sleeve surf suit is made from 0.5 mm latex and boasts a front zipper for easy access.
Just as you'd expect from men's latex clothing, the surf suit hugs the contours of your body and shows off your muscular form.
When you first try it on the garment feels weighty, but it's actually quite flexible and will move with you. 
Price: $139.99

Sizes: S - 2XL

Colors: Black
You might not think of leggings immediately when picturing men's latex outfits, but the tight bottoms are now considered mainstream.
The Latex Black Leggings are made from 0.5mm latex and sexily hug your lower half. 
If you're new to latex, you might struggle to get a pair of leggings on at first, but a little dressing aid will go a long way. We recommend the beGloss dressing aid to help you ease your feet in carefully before you try and pull them up — and take care with sharp fingernails
Price: $74.99

Sizes: S - 3XL

Colors: Black, Red, Blue
Black seems to be the go-to color for latex lovers, but why not mix things up a little and go for blue or red instead?
The Ultimate Shorts are vibrant and will help you to stand out from the crowd. They are also comfy to wear and boast a roomy front pouch! 
Latex Hoods 
Complete your outfit with a latex fetish hood for maximum impact. Hoods look fabulous and play a huge part in the kink scene. We know there are lots of bondage hood lovers out there! 
You'll see a range of designs from open face latex hoods to those offering partial coverage. 
At the more hardcore end of the scale, you could try out a fully-enclosed latex bondage hood — great for sensory and breath play.
Pet players are well catered for too; they can enjoy pulling on a latex cat hood and slinking around the room. 
Price: $180.99

Sizes: S - L

Colors: Black, Red
The Moderne Hood by Vex Clothing is handmade and offers superior quality. Sharp cat eyes and an open mouth make this hood easy-to-wear and ultra sexy. This BDSM latex hood comes in a range of sizes (small through large) and in red, black, pink, and purple.
The latex fetish hood is made with thick latex and features a zip-back closure. 
Price: $229.99

Sizes: S, M

Colors: Red Leopard, Pearl Leopard
This one is just perfect for kitties! The handmade Vex Clothing Cat Hood is made with 50mm thick latex and has a snap closure at the back.
The pointed kitty ears will help you to look the part and you can choose from pearl or red leopard. Comfortable to wear — great for a night in or a night out. 
Basic Latex Care & Cleaning
Need some guidance on how to care for your latex? Read through our Ultimate Latex Care and Wear Guide, or keep reading for some quick tips and recommendations!
Latex is flattering and fun, but you do need to take good care of your items if you want them to last and maintain their shape. Keep latex away from: 
Moisture: Can seep into latex and cause the material to deteriorate

Heat: Draping latex over heaters or tumble drying can melt latex garments 

Sunlight: Can cause decolorization — faded latex doesn't look great! 

Metal: Can snag delicate latex and discolor the material

Oils: Avoid self-tan and moisturizer (aside from silicone oils) as they can stain

Perfume/antiperspirants: chemicals can react badly with latex
How to Store Latex
Look after your latex and put it away carefully after wearing and cleaning. A few tips:
Store in garment/clothing bags in a dry and dark place

Avoid plastic bags with logos/prints as they can transfer to garments 

Separate dark, light, and bright latex items to prevent staining 

Keep latex away from metal hangers and metal items

Take your time! Latex is delicate and should be handled with care

Smoking and nicotine do not mix with latex — odors are easily absorbed
How to Clean & Shine Latex Clothing
Over time, sweat and oils can spoil latex, so it's important to wash and clean garments. Here's how you do it:
Only worn the item for a short period? Simply wipe it over with a damp cloth

For a more thorough clean, hand wash in a bath or large sink

Use luke-warm water and latex wash to gently wash the item — rinse after

Do not wring out the item, tumble dry, drape over a heater, or iron! 

Place the garment on a large towel and use another towel to gently dry 

When dry, sprinkle with talc or cornstarch then turn the item over and repeat
You can use latex shiner / silicone-based oils to keep your latex looking polished. Simply place a small amount onto a cloth and gently rub (avoid the seams).
Recommended Products for Latex Care
With so many products available it can be hard to choose, so we've picked out three for you:
A high-gloss latex polish, beGLOSS perfect shine premium pump spray is very effective and provides professional results.
The spray is specially formulated — your garment will look shiny and wet, but will feel dry and soft to the touch.
You can use the spray in conjunction with the beGLOSS wipe polishing cloth for a mirror-like finish. 
Specially designed to maintain and protect latex clothing, beGLOSS Special Wash Latex is gentle, hygienic, and odorless.
The wash has been formulated to eradicate fat, oil, and dirt, and can also be used as a pre-treatment for any repairs. 
Perfect for delicate latex garments, the latex dressing aid – easy glide premium spray is easy and quick to apply.
The nozzle has been designed to work from all angles, so you can coat those intricate places too. The spray nourishes latex and also helps you to put on and remove the latex garment more easily.  
Shiny, Happy People Love Latex
What's not to love? Latex clings to your body like a warm, sexy hug. The material shapes you and can make you look and feel amazing.
Whether you're off to a club, heading to a kink event, or just going for a few drinks with friends, latex can take you from dreary to dazzling. Why not try a few styles for yourself? It's your time to shine!